April 30, 2020 | Does the Housing Market Still Have Legs?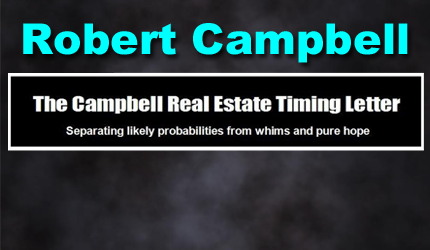 Robert Campbell is a real estate analyst and economist. He's been publishing The Campbell Real Estate Timing Letter since 2002. His book (Timing the Real Estate Market) presents a clearly defined method for predicting the peaks and valleys of real estate cycles.
The coronavirus outbreak has sparked a tsunami of concern about what impact it will have on the U.S. economy and its housing markets. – and rightfully so.
Recent surveys show that approximately half the service firms and over one third of manufacturers have already shut down – either partially or completely – and more firms plan to do so in the future.
The magnitude of such disruptions could lead to permanent scars in the labor market – and not just temporary bruises.
Fed Projection:  Coronavirus Crisis
Could Drive Unemployment to 32%
"47 million jobs could be lost next quarter," say economists at the Federal Reserve Bank of St. Louis.
This translates to an unemployment rate of 32.1%, well above the 24.9% rate of unemployment  that occurred during the worst of the 1930's Great Depression.
Unemployment claims have exploded.  A record 3.28 million people filed for unemployment benefits for the week ending March 21, 2020 — which is more than quadruple the previous record of 695,000 set in 1982.
How this is ultimately going to play out is unknown.  We are likely to be looking at some scary unemployment and GDP numbers in the next six months – and there's no telling how fast the U.S. economy will snap back.
What about housing?
Existing Home Sales
Are A Glance into the Future
Existing home sales is one of the key leading indicators I use to determine where housing prices are headed.
The chart below shows that Existing Home Sales spiked higher in Feb 2020 – up a healthy 7.2% on a year-over-year basis.
Be advised, however, that this strong 7.2% YOY upward trend did not take into account the negative effect of cororavirus outbreak and the subsequent growing number of "stay at home" lock-downs that has been occurring since early March.
Looking forward, home sales in March, April, and May are almost guaranteed to be less rosy because prospective home buyers are likely to pull back after a significant wave of job losses.
Housing prices are driven by the psychological mood at the time.  If potential buyers feel good about the future, they will buy homes.  If they are scared to death, they won't.
Final Words
How real estate buyers and sellers behave in the months and years ahead is the big question.   Financial hardship has always been a great wake-up call – and it will adjust how people see the world.
One thing should be pretty clear:  We know the numbers are going to deteriorate – but we don't know how much.
Don't let anyone tell you the world isn't a risky place because it is.
"Shit happens" is a truism – which means you can never become complacent.  This is why I wrote an eight part series on "Why You Should Question the Buy and Hold Strategy" for my Timing Letter readers.
You can "wish" and "hope" all you want, but everything may not be "just fine" in the aftermath of this pandemic.  It could be a long road back.
If you are going to err, err on the side of caution.  Good defense is what wins Superbowls – and it's what wins in the markets as well.
"The secret of success," Dad would always say, "is avoiding disaster."
Dad was a smart man.
:::::
WANT MORE?
To register for my July 25, 2020 seminar,  Click HERE
To subscribe to The Campbell Real Estate Timing Letter and stay ahead of the pendulum,  Click HERE
STAY INFORMED! Receive our Weekly Recap of thought provoking articles, podcasts, and radio delivered to your inbox for FREE! Sign up here for the HoweStreet.com Weekly Recap.