April 14, 2020 | America's Economy in 'Free-fall' – yet Stock Market Goes UP irregardless!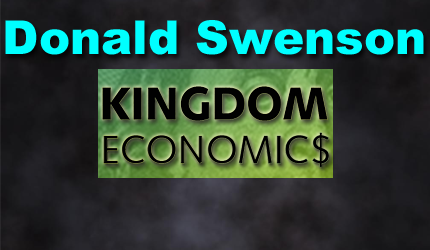 Donald B. Swenson: Born January 24, 1943, Roseau, Minnesota. Graduated H.S. 1961, Moorhead High, Minnesota. Graduated College 1968, Moorhead State University, Minnesota. Designated member of Appraisal Institute (MAI), 1974. Employed with Western Life Insurance Company, 1968 – 71; Iowa Securities Company, 1971 – 73; American Appraisal Company, 1974 – 81. Part-time teacher/valuation consultant/bartender, 1979 – 2008 (taught workshops at Waukesha County Technical Institute, Wi. and Madison Area Technical College, Wi.). Retired 2008 (part time teacher/blogger), AZ. Self educated economist/philosopher/theologian: http://kingdomecon.wordpress.com.

This Model has now expired and a New Model is needed for our Future!
Today's Wall Street Journal points out that America's economy is expected to decline some 8% in 2020 and Europe some 12%. The numbers come from the article "IMF Aims for Unified Crisis Response". My view is that this number is much too low. Double the declines to get a realistic number.
America's budget deficit is now projected to be $3.8 trillion in 2020 and this also could be low when the final numbers arrive. All this is happening as our stock market goes up and up (now at nearly 24,000…up some 552 points as I write this missive). What gives? Could our stock markets be 'decoupled' from our real production economy? I think so! The entire stock market is pure fantasy and the virtual numbers are unreal.
America's economy is heading for the biggest depression in our history. This could happen prior to the end of 2020 (some nine months). All the pump-priming by our central planners will not create a new prosperity for America. The game is essentially over and we now need to watch as the game plays out. The GREAT, GREAT, GREAT economic depression will likely arrive by the end of 2020.
I have been writing about our economy for some 50 years. My blog called Kingdom Economics started in 2008. But my understanding of finance and economics goes back to my college days in Minnesota. I have taught the subject since 1968. My sense of what has happened leads me to the above conclusions. The game of Keynesianism is now over and this model will implode by the end of 2020.
All the meetings of our elites will not change the core issues of economics. Our money system is broken. Our debt system is unsustainable. Our deficits can not be corrected with policies based upon Keynesian thinking. The Keynesian model of economics has run its course and we now need a New Model for our planet. It's time to start thinking about a New Model as the current Keynesian model implodes and crashes.
We now need to ask new questions which get to the core of our problems. Following are a few of the questions which we need to ask and think about:
1. Can virtual money work for a world system of commerce?
2. What would give nations confidence as a new model is developed?
3. Is a return to some type of gold standard reasonable?
4. Is a world digital currency viable for international trade and commerce?
5. What would happen if we eliminated all money (and currencies) from commerce?
7. What role could our robots, artificial intelligence, and automated production play in a new economy?
The above questions are just a start which could lead us to a new model down the road. Now is the time to start this discussion as events demand some new plan and goal. Our children and grand-children will inherit our system as the current system implodes over time. You can witness the implosion here as this site is updated daily: http://www.usdebtclock.org.
Kingdom Economics has an alternative model to offer. I am sure there are many others. My model would bring us real freedom, independence, decentralization, and full employment for all. We have the tools to implement a new model which allows everyone to participate in the outcome. Think on this issue as you watch the current model implode over time. Have a great day! I am: https://kingdomecon.wordpress.com.
STAY INFORMED! Receive our Weekly Recap of thought provoking articles, podcasts, and radio delivered to your inbox for FREE! Sign up here for the HoweStreet.com Weekly Recap.