March 30, 2020 | Virus Porn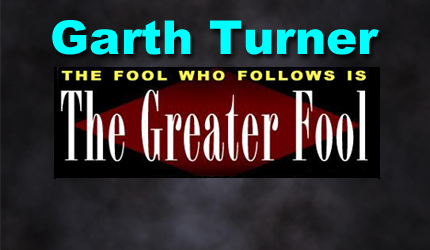 A best-selling Canadian author of 14 books on economic trends, real estate, the financial crisis, personal finance strategies, taxation and politics. Nationally-known speaker and lecturer on macroeconomics, the housing market and investment techniques. He is a licensed Investment Advisor with a fee-based, no-commission Toronto-based practice serving clients across Canada.
Ya think? Just read the comment section of this pathetic blog. Apparently we're all days away from a wheezy death. Politicians get a pass on gutting the economy and blowing a hole in finances that will take a generation to mend. Because we're terrified.
This is not a virus blog. Let's make that clear yet again. We have no idea where this little bugger is headed. How many of us will sicken, succumb, or the impact on our health care system – all unknown. But we can see 100% are being damaged in an engineered shutdown of epic proportions.
"To allay our fears it is so important to note that up to 1,500 Canadians die each year from seasonal flu (including kids)," Matt continues. "Covid is well and safely within that range."
But few believe it. (Actually 12,200 Canadians were hospitalized with the flu last year while 3,500 died of it. Thus far we have had 67 Covid fatalities.)
Darker days could lie ahead. We have no idea. So let's deal in some facts.
First, people are not prepared for this shock. Or any shock. The number applying for EI has shattered all records by a huge factor. Up to 800,000 tenants are believed unable (or unwilling) to pay their rent on Wednesday.
A survey released Monday shows 49% of us are a few hundred bucks from bankruptcy and the number worried about debt (46%) is inflating fast. A quarter couldn't pay their monthly bills even before the lights went out two weeks ago. About 35% figured they'd soon be jobless. This is a snapshot of a nation in personal financial crisis. No savings. No reserves. No plan.
Second, if you really want something to worry about, here it is: oil.
Crude prices have slumped to twenty bucks, a 17-year low and we're running out of places to put the stuff. This is Canada's biggest export. It costs more to move our crude than the oil is worth. Global demand has fallen by a quarter in recent weeks thanks to Covid, and that's a first. Despite that, Russia and the OPECers have been fighting and increasing supply. Canada, with its pipeline problems and expensive oilpatch operations, has seen its price collapse. Alberta may go with it.
Third, real estate accounts for more of the Canadian economy than all manufacturing. And guess what Virus Porn has done there? Yup, killed it dead.
For example, the following words form part of a release Royal LePage is requiring sellers to sign before an agent will show their home. Yikes.
I am requiring that my Listing REALTOR® market, provide access and show my property to third parties and potential buyers and I do so voluntarily and of my own free will without any coercion by any person or company and being fully aware that we are in the midst of a COVID?19 virus pandemic and the virus appears to be highly contagious;

I fully understand that by allowing access to third parties and buyers entering into or onto my premises that I may be exposing myself to the potential transmission of the COVID?19 virus to myself, my family or my friends and I knowingly, freely and voluntarily accept the inherent risks of this activity, including possible contamination, illness and death;

I will maintain at least a 6 foot (or 2 metre) social distance from all persons that my Listing REALTOR® or any Co?operating REALTOR® brings onto my premises during showings of my property or visits by my REALTOR® or other third parties for marketing preparation purposes;

I have been advised by my REALTOR® that upon completion of any showings of my property to any third parties that I air out the premises and disinfect and clean all surfaces in the Premises including but not limited to door handles, switches, windows, counter tops or any other surfaces. I further understand and agree that these efforts may be limited in their effectiveness of preventing viruses or diseases of any kind;

I have been fully advised by my Listing REALTOR® of the risks involved in marketing, selling and providing access to my home during the COVID?19 virus pandemic and I take full responsibility for any negative consequences resulting from continuing these efforts at this time;
No showings, no sales. No sales, no market.
Fourth, political spending is off the charts. The federal deficit was supposed to an awful $24 billion next year. It will be north of $130 billion. The legacy of tax could be breathtaking in an already high-tax nation. People are being given $2,000 a month. Businesses will be subsidized to maintain payrolls. You can be sure this is a big step towards a universal income – because people have no savings. No reserves. No plans. However, 70% own houses. Go figure.
By the way, Robert sent me this note Monday afternoon: "Just had a call from a friend whose mother in her 90s in a retirement home with supplemental private health and whose life is supported by rental income was told by her tenants, residential and commercial, that they are not paying rent April 1st. Commercial is definitely able to pay. Balanced portfolio sure would be good now."
So, feel free to worry. But not about getting sick. We can fix that.
STAY INFORMED! Receive our Weekly Recap of thought provoking articles, podcasts, and radio delivered to your inbox for FREE! Sign up here for the HoweStreet.com Weekly Recap.