March 21, 2020 | Trading Desk Notes March 20, 2020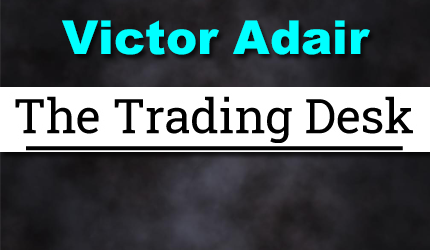 Victor Adair, author of The Trading Desk Notes, began trading penny mining shares while attending the University of Victoria in 1970. He worked in the mining business in Canada and the Western United States for the next several years and also founded a precious metals trading company in 1974. He became a commodity broker in 1977 and a stock broker in 1978. Between 1977 and his retirement from the brokerage business in 2020 Victor held a number of trading, analytical and senior management roles in Canada and the USA. Victor started writing market analysis in the late 1970's and became a widely followed currency analyst in 1983. He started doing frequent media interviews in the early 1980's and started speaking at financial conferences in the 1990's. He actively trades his own accounts from The Trading Desk on Vancouver Island. His personal website is www.VictorAdair.ca.
Leverage is being punished these days…as recently as last month it was being celebrated. During a decade of low interest rates and easy money folks levered up and reached for yield. That worked out great so they did more…but apparently they overdid it…so now the "liquidation" phase has kicked in and the talk is of counterparty risk, margin calls and the "doom loop"…a cascade of falling dominos. Central Banks and Governments have stepped up and if global economies keep contracting they will surely step up Big Time. As my friend Kevin Muir at www.themacrotourist.com says, "We are all MMT'ers now!"
There have been some truly amazing moves across markets lately and I suspect there will be many more to come…I'll comment and show charts on specific markets below but first I want to explain why I trade "price action" and not (my understanding) of the "news." I believe that there are people trading the markets I trade (or related markets that impact the markets I trade) that I can't possibly know or understand…I don't know what they know, what motivates them, what their size or urgency is, or what their time horizon is…but I do believe that they leave their fingerprints on the price action. So I'll pay attention to "the news" in so far as I want to see how markets reacts to "the news"…but I'll trade off the price action.
Knowing that I "don't have all the facts" about who is doing what and why also allows me to accept that price action doesn't have to "make sense" to me. It just is what it is. If the market is going against me I get out…I don't argue…it was only a trade.
The main thing I'm watching these days is volatility...thinking that Vol has to roll over before any of the recent extreme market moves can reverse…but just because Vol stops rising doesn't mean markets will reverse.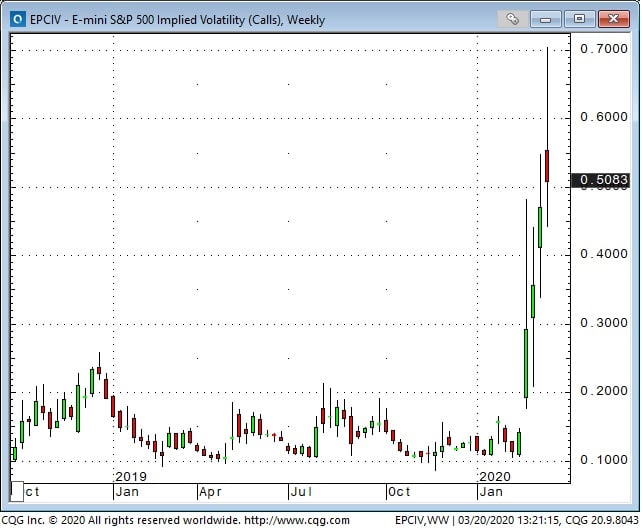 I'm also thinking that markets will reverse before the "worst" levels of the virus "news" hits and well before "main street" shows signs of bouncing back. Vol hit record highs across a number of markets this week…but backed off a bit at the end of the week.
In my Feb 15/20 notes (just a couple of days before the American stock indices hit All Time Highs) I asked, "Are markets anticipating a global economic slowdown exacerbated by the virus…or are they looking past that and anticipating massive fiscal and monetary stimulus?" If anything the global economic slowdown is looking to be WAY worse that anybody imagined back then…and the fiscal and monetary stimulus is looking to be WAY bigger than anybody imagined. So…if/when we get past "peak fear" will the massive stimulus fuel a huge increase in interest rates, stocks and commodities?
At this week's lows the S+P was down >32% from last month's ATH and took out the lows made in December 2018. Friday selling was exacerbated by Quad witching.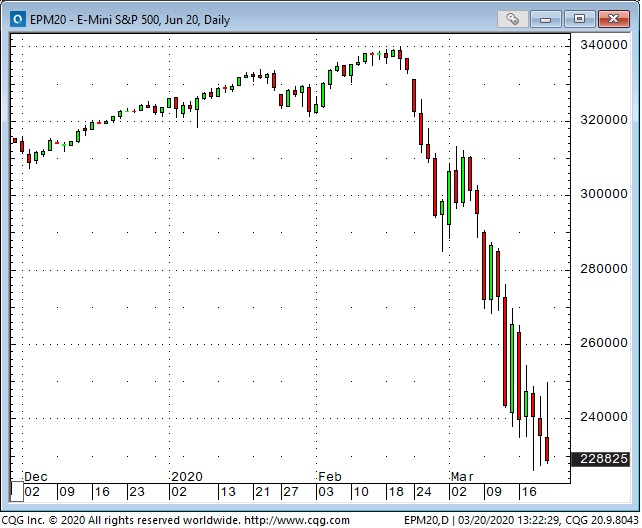 US Treasury bonds hit an All Time Low yield in early March (with the 10 year ~0.3%) but yields have been rising since…perhaps the market is expecting a tsunami of government paper.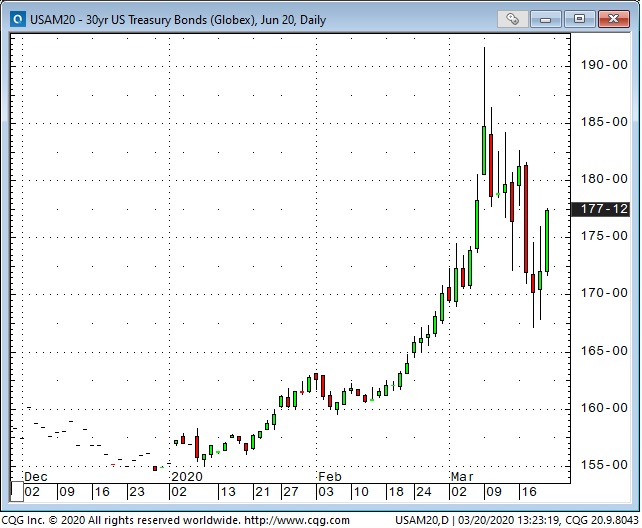 While Treasury prices have fallen a bit corporate bonds have been hammered.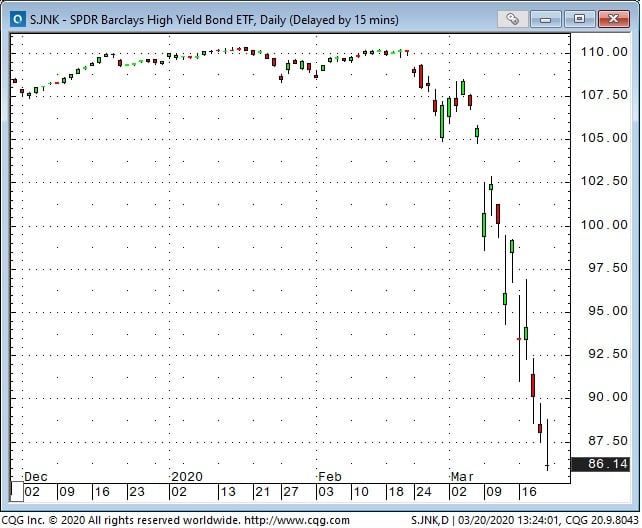 The US Dollar has soared (USDX near 17 year highs) against all currencies with commodity and EM currencies really getting hit. I've been using the expression "Capital comes to America for safety and opportunity" since the US Dollar bull market of the late 1990's when capital came to the USA mostly for opportunity during the dot.com boom. These days capital is coming to America for safety.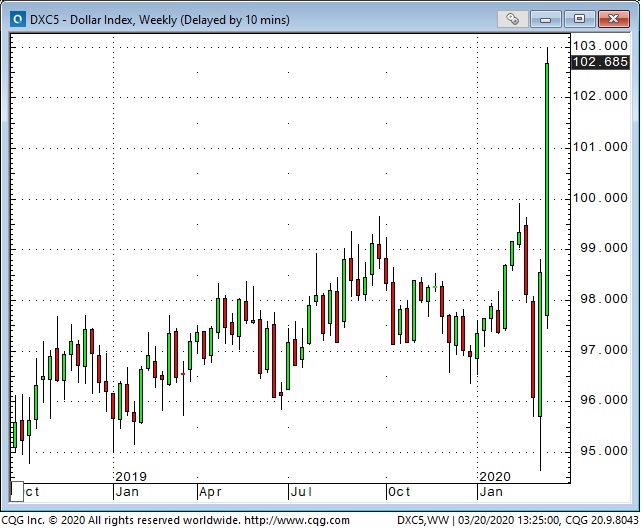 AUD hit an 18 year low this week, down as much as 21% from YTD highs. Russia was down as much as 24% from YTD highs, Brazil 24%, South Africa 18%, Mexico 24%, and CAD 11%. The British Pound hit a 35 year low Vs the USD.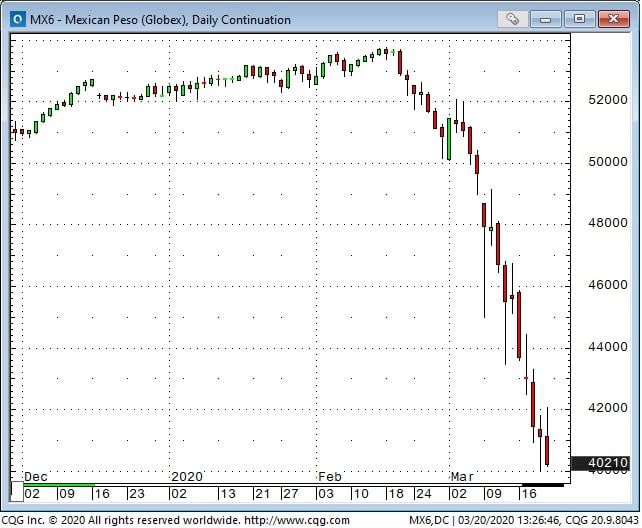 The Canadian Dollar has been hit with a triple wammy: 1) the economic knock on effects from the virus, 2) the tumbling oil price (Western Canada Select traded a low of $8 this week) and, 3) the ultra-strong USD. CAD was at a 15 month high at the end of 2019 but fell to a 4 year low mid-week.
WTI hit an 18 year low this week with front month April trading below $20 BBL. While the Commodity Research Bureau Index fell to a 48 year low…down 75% from the high it hit in 2008 when WTI touched $147 BBL.
My short term trading: The bearish S+P put spread I've held since February expired Friday. My account got a nice credit from that. I still hold my bearish gold put spread. I wrote OTM CAD puts this week at an extremely high Vol level. I've been long USDCAD in my savings account for years so this is a partial hedge against that position as well as being an outright "try to make money" trade.
I bought MEX a couple of times this week as a play on panic subsiding but both times I was stopped out with tiny losses. My thinking is that Mexican short term deposit rates are ~7%. The Peso is off ~25% in just over a month…discounting a LOT of bad news. So…IF panic subsides I can see a lot of people in the Southern USA moving some money to Mexico. I know all the "Latin American" currencies have been clobbered. I know Mexico is in recession…I just think I can make money buying MEX…if I get my timing right…so I watch the charts for s/t signals and don't stick around if I'm wrong…the daily and weekly charts look like a falling piano!
This week was a good week to remember that capital preservation is my main mantra. Watch the show and live to trade another day.
My son Drew Zimmerman and I use the futures market to trade currencies, metals, interest rates, stock indices, energy and other commodities. Please give us a call or send us an email if you'd like to know more about trading futures.
Victor Adair
SVP and Derivatives Portfolio Manager
PI Financial Corp
Canada
PI Financial Corp. is a Member of the Canadian Investor Protection Fund. The risk of loss in trading commodity interests can be substantial. You should therefore carefully consider whether such trading is suitable for you in light of your financial condition. In considering whether to trade or the authorize someone else to trade for you, you should be aware of the following. If you purchase a commodity option you may sustain a total loss of the premium and of all transaction costs. If you purchase or sell a commodity futures contract or sell a commodity option or engage in off-exchange foreign currency trading you may sustain a total loss of the initial margin funds or security deposit and any additional fund that you deposit with your broker to establish or maintain your position. You may be called upon by your broker to deposit a substantial amount of additional margin funds, on short notice, in order to maintain your position. If you do not provide the requested funds within the prescribe time, your position may be liquidated at a loss, and you will be liable for any resulting deficit in your account. Under certain market conditions, you may find it difficult to impossible to liquidate a position. This is intended for distribution in those jurisdictions where PI Financial Corp. is registered as an advisor or a dealer in securities and/or futures and options. Any distribution or dissemination of this in any other jurisdiction is strictly prohibited. Past performance is not necessarily indicative of future results
STAY INFORMED! Receive our Weekly Recap of thought provoking articles, podcasts, and radio delivered to your inbox for FREE! Sign up here for the HoweStreet.com Weekly Recap.