March 29, 2020 | Three Strong Investments for a 'Flubber' Market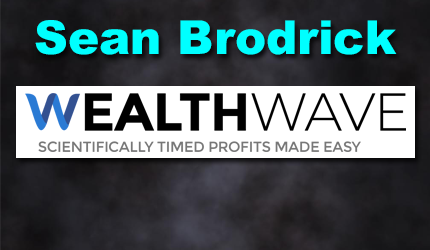 Sean is the natural resource analyst for Weiss Ratings. You can read his thoughts on gold, oil, cannabis, uranium and other natural resources at Wealth-Wave.com
I have three investable ideas for you. But before I tell you about them, I want to give you a little context first.
This past week, Congress and the White House passed a $2 trillion "rescue" bill for Wall Street and the broader economy — $6 trillion if you include all the new lending the Fed is now empowered to do. That was good for big rallies on Tuesday and Wednesday.
Then, on Thursday, unemployment claims landed like a dead fish on America's doorstep — 3.28 million new unemployed.
That's not just unemployment, that's economic devastation. This was worse than even the worst estimates. And it may get even worse. So many people applied for unemployment in states like New York and New Jersey that their online systems even broke down!
You know what Wall Street did? It clapped its hands in glee and said: "Well, now Congress must give us more goodies!"
And so, stocks soared again on Thursday.
That cynical view is probably right. Leaders in the Senate, the House and White House all say we need to do more.
Most stocks are going higher, floating on that wave of free money — or rather, in anticipation of a bigger wave of free money.
I'm not standing in the way of that. Instead, I want us to move like we have Flubber on our feet.
Do you remember that movie? Not the 1997 movie starring Robin Williams, which was okay. I mean the original "Absent-Minded Professor," starring Fred MacMurray. That was awesome. Fred's character invents a new substance that gains energy when it strikes a hard surface. He calls it "Flubber," short for "flying rubber."
The market is like Flubber right now. It fell, hit a surface hard and bounced. The Fed, the Treasury, Congress and the White House all combined to pour more energy into it. And now it is flying higher.
The S&P 500 just logged its biggest three-day gain since 1933.
I hate to be the bug in the punchbowl, but anyone with a sense of history knows that big rally in 1933 came during the Great Depression.
That rally happened because Franklin Roosevelt was sworn in as president and promised a then-massive New Deal to rescue the economy.
I'm not saying he was wrong to do so. However, I am saying that so far, the historical pattern is similar.
The market was already well off its bottom when that rally came in 1933. But after that rally petered out, the market continued to grind sideways-to-down into 1934.
In fact, the top four U.S. stock market gains in history all came during the Dow plunge of 1929-1932, which carried us into the Depression. The next two biggest came during the 2008 meltdown.
So, rallies based on promises of big government spending can take your breath away. But, unless that spending triggers real economic activity, those rallies might not last.
One more point: The number of S&P companies trading above their 200-day moving average has plunged to levels not seen since the last recession in 2008.
That's probably a sign that the market still has issues to work out.
Boy, I am a party pooper, aren't I?
But I'd rather know my history than ignore it. After all, this knowledge will help us to use this rally wisely, not get swept away by it.
Now, my outlook could change. This could be the bottom. If so, then we'll see the rally broaden. We'll see follow-through buying and plenty of other signs. I reserve the right to change my mind on anything.
Friday saw the market paint the tape red, probably due to the fact that the number of COVID-19 cases in the U.S. have surpassed those in China. It may also be that the market is crumbling because it's looking for its next free-money junkie fix.
I think the White House and Congress will provide that fix. So, in the short term, we need Flubber on our feet for the next bounce. We need to be positioned in good stocks that will bounce hard.
Here are three things that are bouncing hard.
Idea No. 1: Gold Miners
I've recommended new gold miner positions in Wealth Megatrends, Gold & Silver Trader and Supercycle Investor. The miners aren't disappointing. This was gold's biggest weekly rise in more than 11 years.
It's not just because of an increased demand for the metal; it's a decrease of supply. A bunch of mines had to shut, either because of COVID-19 outbreaks or because the pandemic has impacted supply chains for fuel and other necessities. Also, gold that usually flies from refineries in Switzerland and Asia to London is currently grounded due to lack of flights.
With that said, it's important to buy miners with MULTIPLE MINES. That way if one or two mines shut temporarily, they have others to carry them through.
Idea No. 2: U.S. Cannabis Stocks
Canadian cannabis stocks are soaring, but most are doing so without a leg to stand on. Select U.S. cannabis stocks stand to do very well because their dispensaries are deemed "essential" in many states. This is because they distribute medical marijuana. And with everyone stuck at home, sales are soaring.
My Marijuana Millionaire Portfolio subscribers know the score. I made new recommendations on Friday.
Idea No. 3: Pandemic Picks
In my Coronavirus Financial Survival Guide, I listed a whole bunch of stocks that can do very well as this pandemic continues to spread. You can get that premium report FREE, today. Just click here.
The market may be very uncertain, but those are three solid ideas. Own some Flubber stocks for the next rally. But don't get too attached, in case the bears come back.
All the best,
Sean
STAY INFORMED! Receive our Weekly Recap of thought provoking articles, podcasts, and radio delivered to your inbox for FREE! Sign up here for the HoweStreet.com Weekly Recap.