March 26, 2020 | The Emergency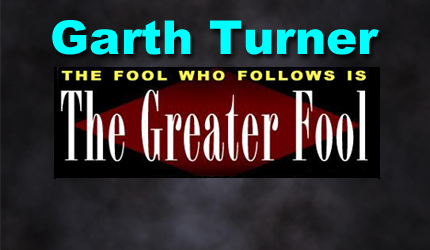 A best-selling Canadian author of 14 books on economic trends, real estate, the financial crisis, personal finance strategies, taxation and politics. Nationally-known speaker and lecturer on macroeconomics, the housing market and investment techniques. He is a licensed Investment Advisor with a fee-based, no-commission Toronto-based practice serving clients across Canada.
You may not like this post. You might think it comes from a privileged white guy with chiseled abs, nice hair and an epic dog (well, okay, that part is true.) You may view it as elitist. Or Boomerspeak. Too much rational, too little emotional. All true, too.
But, tough. Gotta be said.
This week came the stunning, unprecedented, knock-the-socks-off news that 3.48 million Americans just applied for jobless benefits. Washington's overwhelmed. And us?  A million Canadians asked for EI benefits in the same period. There are ten times more of them, so do the math. When it comes to financial poochedness, we rule.
The virus is a tragedy. Many will sicken. Too many will die. Health care is under attack. Life is upended. Nothing's normal. This cannot end soon enough.
When it does, there are lessons we must learn, behaviours to change and priorities to alter. The crisis we're living through exposes a deep vein of personal failure running through society, making things worse. While tens of thousands may suffer sickness, millions are being slapped with the consequences of their dodgy financial decisions.
Look at the news.
The Keep Your Rent movement is spreading fast as untold numbers of tenants decide they cannot, or will not, make their monthly payment on Tuesday. In the space of two weeks money has evaporated along with paycheques. No savings. No cash reserves. No plan. Now that most provinces have outlawed evictions, landlords – big property owners or small-time investors – all face their own cash flow crisis. The paycheque-to-paycheque society is folding.
As for homeowners with mortgages, the situation appears just as bleak. Since announcing they would allow six months of payment deferrals, the banks have been bombed. Almost a quarter million responses. Call centres are melting down. Four and five hours on hold. The response has been immense and historic. Who knew so many people would be unable to survive a single month in their homes without cash flow?
And now we have the CERB – Canada Emergency Response Benefit – the most dramatic, far-reaching government program, ever. Over four million people, or almost a quarter of the entire workforce, are expected to apply once the process starts a week from Monday. It will pay $2,000 a month until the autumn to anyone over the age of 15 who earned as little as $5,000 in the past twelve months and has suffered 14 or more days off because of the virus.  It'll cost $25 billion over just 16 weeks.
Said the prime minister: "This is an unprecedented situation with an overwhelming demand by Canadians to get money as quickly as possible. We need to make sure we're getting that money out quickly but also reliably to Canadians and that means doing things that government hasn't done before and scaling up our processes extremely quickly."
And, as mentioned, about a million people applied for EI this week. That's atop the 500,000 who asked last week. Just a fraction of those claims have been settled, since the government is besieged. Meanwhile provinces are throwing in more. BC is giving renters $500 each. Ontario is sending $200 to parents for each child, among many other actions. The feds today told banks to slash credit card rates.
Now, let's be clear. Governments have no choice. They've shut down society. Jobs, employers and companies are being destroyed. Economic demand is being erased. The right to make money and support your family has been stripped away in the name of public health. This is not the fault of any tenant, landlord, homeowner, small business guy or employee. It just happened. It's unfair and life-altering.
If leaders do not support people, the economy will crater for years. It will take a generation to rebuild. This will be a revisit of the 1930s. It cannot happen. Nor will it.
But let's call this for what it is – a nation that's ventured down a dangerous path. For years we were warned about an economic shock and our runaway debt. Our lack of savings. Our house lust. Our bad habits. Our wants. Here it is. Witness the results.
As the jobs tide goes out, millions are exposed swimming naked. Seventy per cent of us have real estate, but no money. Just as a majority are without pensions, or savings. Did we never expect a reversal? An emergency? Now that public debt will balloon wildly to save our collective asses, we're creating a future of diminished promise and greater tax for every child alive.
Will we learn, and change? Or will we blame landlords, the wealthy, China?
I told Dorothy I'd be writing about responsibility and consequences today. "They'll hate you," she said.
Probably, I answered, recalling what a lousy politician I was.
STAY INFORMED! Receive our Weekly Recap of thought provoking articles, podcasts, and radio delivered to your inbox for FREE! Sign up here for the HoweStreet.com Weekly Recap.