March 2, 2020 | The Big Swing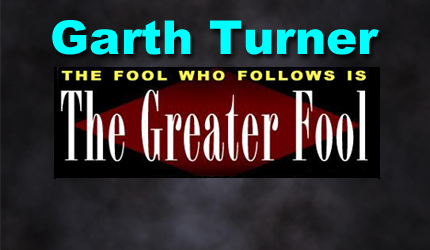 A best-selling Canadian author of 14 books on economic trends, real estate, the financial crisis, personal finance strategies, taxation and politics. Nationally-known speaker and lecturer on macroeconomics, the housing market and investment techniques. He is a licensed Investment Advisor with a fee-based, no-commission Toronto-based practice serving clients across Canada.
Well, here we go.
On the weekend we told you CBs would not sit back and leave the world wheezing, coughing, fretting and snorting. Already the Bank of Japan has ponied up a pile of cash. The Chinese bank is doing the same. The US Fed will be cutting this month and the Bank of Canada's expected to go on Wednesday.
It's been wild. Wall Street futures opened down 800 points Sunday night, climbed into +200-point territory by dawn, then sank again. Then revived. Then soared. Mr. Market is trying hard to determine the correct level of risk in a fluid situation, and there's no clarity yet. So big swings. Volatility will continue to spike, and central banks will move in to try and adult.
By the way, here's this blog's latest thinking (feel free to take notes): humanity is not pooched. Millions will not die. Covid-19 will get a vaccine (probably) and become the fifth widely-circulated and seasonal virus in the world that everyone just accepts as normal. Yeah, like the flu (which killed 56,000 Americans last year and 3,500 Canadians). Once the toilet-paper panic and mass work-from-home quarantines end, we'll recover our perspective. Just don't eat the wild life.
By the way, this prediction just crossed my path from a usually-credible source (Pennock Idea Hub):
We believe the global economy is undergoing a period of stress that will take some time to resolve. Asset prices are likely to be highly volatile for the next few months until the full extent of the uncertainty is resolved. In the short run, the stock market is extremely oversold and washed out. A relief rally and climactic price reversal can happen at any time. However, we expect any rally would be followed by re-tests of the old lows, which may not necessarily be successful.
So here's the latest. Odds are running 70% or higher the Bank of Canada will cut its rate this week. Investors have fully priced in another chop in April. And there will be (the thinking goes) yet another after that. The central bank rate of 1.75% will become just 1%. And, by the way, the bond market has already arrived there – look at the yield on Government of Canada debt Monday morning. It actually dipped below 1% for a while:
Down she goes: Canada bond scraps 1% mark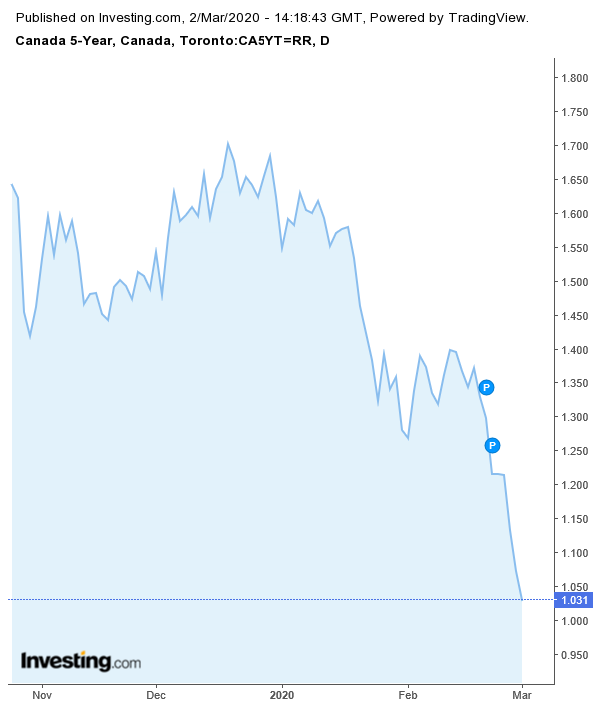 So the prime will be going down, along with loan, mortgage, GIC and savings rates. With $45 oil, heavy losses on Bay Street, God-knows-what's going on with FNs, and now the virus, BoC gov Poloz has no choice. This is 2015 all over again, when crashing crude sent him into emergency mode. Down came rates and 18 months later we had a real estate bubble so big – 30% yearly gains – that governments move in to beat it back.
So will the virus cuts do the same in the Spring of '20? Will people be buying houses in a panic because they're seized with FOMO and hopped up on 1.99% five-year mortgage money?
Well, loan rates are going down. Sure thing. By how much remains unknown since cheapo rates hurt the banks, and the virus is doing them no favours as business activity slows and Canada's resource sector groans.
Here are the GF reasons why cheap rates will make houses more affordable, but we're unlikely to see The Bubble come back with the same gaseous impact as four years ago:
Falling financial markets spook people, even if they're not investors. It prompts talk of a recession (a good likelihood in Canada, given the oil situation), which means job insecurity. That inhibits big-ticket purchases like a house.
The luxury end of the housing market is most susceptible to damage. Wealthy people buying $2 million or $3 million digs typically have a lot of financial market exposure. So current events have rattled them. Not good for sales. Trickle-down anxiety.
Chinese buyers? Fuggedaboutit. While the impact of foreign dudes with piles of money has always been exaggerated, they have nonetheless been one factor feeding prices. But the Chinese economy is a smoky hole right now and will take a long while to recover.
As for multiple bids resulting from packed open houses, that may not be happening in Toronto or Vancouver next month or into May. When people are lining up for hours to buy 3,000 rolls of toilet paper you know something's squirrely.
So if (when) the virus spreads some owners will not want people trooping through their houses, throwing germs, cooties and micro-droplets all over the place. The flood of juicy new listings realtors were expecting this season may fizzle.
American realtors are yammering about an overall 10% price drop for houses in the next few months, despite an anticipated decline in US mortgage rates (where people can lock in a cheap price for 30 years).
As stated here on the weekend, nobody knows what comes next. Stocks markets have oversold. Volatility will reign. People are acting stupid. Rates are dropping. And it's March. Make yourself feel better. Go get a puppy. Or a new car. It's all good.
STAY INFORMED! Receive our Weekly Recap of thought provoking articles, podcasts, and radio delivered to your inbox for FREE! Sign up here for the HoweStreet.com Weekly Recap.