March 24, 2020 | Social Distance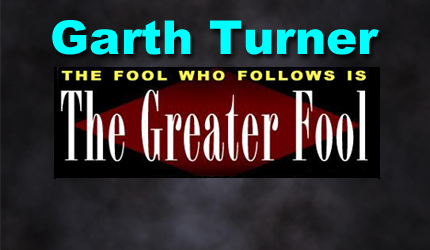 A best-selling Canadian author of 14 books on economic trends, real estate, the financial crisis, personal finance strategies, taxation and politics. Nationally-known speaker and lecturer on macroeconomics, the housing market and investment techniques. He is a licensed Investment Advisor with a fee-based, no-commission Toronto-based practice serving clients across Canada.
Almost a year and a half ago the guy running our central bank said this: "The buildup of household debt and imbalances in the housing market has made our financial system more vulnerable to economic shocks."
Few cared. Or listened. Or changed anything.
Until the shock came.
On Tuesday a big survey emerged showing what the first two solid weeks of Mr.Virus have done to Canadians…
Respondents feeling stressed by the crisis: 74%
People worried how to pay for food and rent: 40%
Those so stressed they're losing sleep: 30%
People expecting to need more debt: 19%
Number reporting 'extremely negative' virus impact on finances: 29%
People with no plan to deal with this: 32%
Number feeling financially secure: 6%
Now that those house-horny little chickens are coming home to roost, the miserable state of public finances is laid bare. No savings. No reserve funds. Big debts. Huge monthlies. Living paycheque-to-paycheque. Even when 40% pay no net income tax and government support payments have never been higher. Financial failure abounds. And so millions are looking to politicians to rescue their sorry butts.
But not all.
Here in the proud, sovereign Nation of GreaterFool, where testosterone flows like the mighty St. Lawrence and confidence spikes like the peerless Rockies, panic and victimhood are disallowed. If yesterday's poll is to be believed, thousands of readers not only have cash reserves, they're planning on unleashing them in the next few months, swooping in to buy distressed assets from distressed people. The crisis may be far from over, but it appears many of you think the outcome's a no-brainer.
Readers were asked about investing intentions, the pace of recovery and the odds of a financial calamity. Capped at 5,000 responses, it was oversubscribed in just a few hours. Highlights: 73% plan to invest in the next 90 days; most (61%) will use cash; a majority think it'll take at least a year for everything to settle; while 43% see no depression, a quarter are unsure and a third are preparing for the worst.
Here's the breakdown.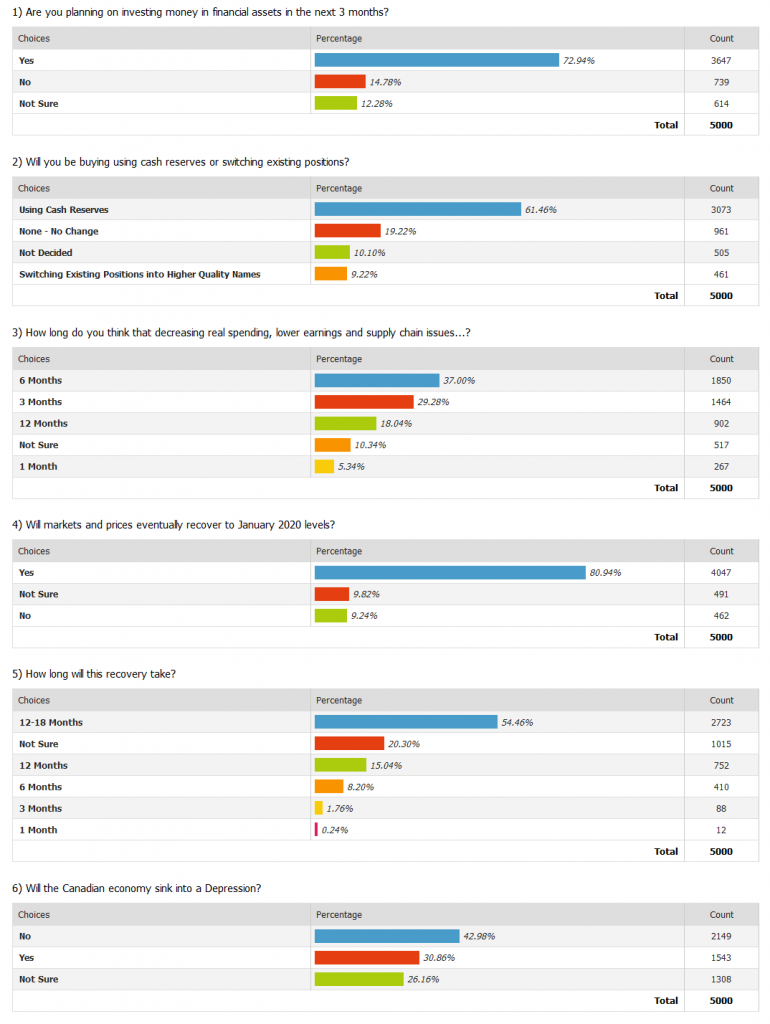 Click to enlarge.
NOTE: It should not be necessary on a blog that deals mostly in canines and finances to remind you that, ah, this is about dogs and dough. Not public health. Infectious medicine. Ventilators. Or viral mortality rates. None of that can we change. Don't come here for empathy. You'll also have to sign up and pass a stress test to get a hug.
Just remember that Stephen Poloz told us there'd be a shock. More will follow. And life will go on.
Source: BMO Financial Group
STAY INFORMED! Receive our Weekly Recap of thought provoking articles, podcasts, and radio delivered to your inbox for FREE! Sign up here for the HoweStreet.com Weekly Recap.