March 6, 2020 | So Now Wall Street Is Crazy About…Biden??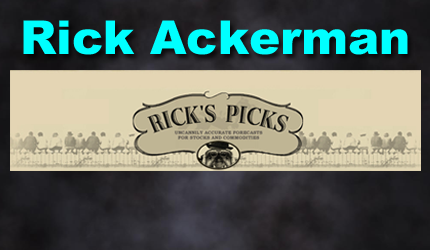 Rick Ackerman is the editor of Rick's Picks, an online service geared to traders of stocks, options, index futures and commodities. His detailed trading strategies have appeared since the early 1990s in Black Box Forecasts, a newsletter he founded that originally was geared to professional option traders. Barron's once labeled him an "intrepid trader" in a headline that alluded to his key role in solving a notorious pill-tampering case. He received a $200,000 reward when a conviction resulted, and the story was retold on TV's FBI: The Untold Story. His professional background includes 12 years as a market maker in the pits of the Pacific Coast Exchange, three as an investigator with renowned San Francisco private eye Hal Lipset, seven as a reporter and newspaper editor, three as a columnist for the Sunday San Francisco Examiner, and two decades as a contributor to publications ranging from Barron's to The Antiquarian Bookman to Fleet Street Letter and Utne Reader.
Who could have guessed Wall Street would go crazy over Joe Biden? Stocks staged an epic rally on Wednesday after the 77-year-old comeback kid resurrected his campaign in Super Tuesday balloting. Biden's success did what the Fed's 50-basis-point rate cut earlier in the day had failed to do — i.e., rally the stock market. Now, presumably, all Biden has to do to leave Trump choking on dust in the polls is say he's always been a strong advocate of easy credit. Perhaps the guy can cure coronavirus, too? We await word on this from Biden himself, since he has never been shy about taking credit for…everything.
In truth, it was not bumbling, quid-pro-quo Joe's victory the markets were celebrating, but rather the drubbing that Bernie suffered. Although the Marxist lunatic is still very much in the race, Tuesday's results quelled fears that he will run away with the nomination. Biden now has more than a fighting chance, and his candidacy could pick up steam if he floats Hillary as a possible VP choice. That could make lemonade from the lemon-like fear that he could sink into full-blown dementia before 2024. The good news for the Republicans is that a Biden/Clinton ticket would put two world-class liars at the top of the ballot in November. Both of them are certified, graft-grubbing weasels who made every dime of their wealth by selling access. Under the circumstances, perhaps the press might have to go a little easier on Trump and the source of his money. Yeah, sure.
Positioning Biden's Marbles
Fox News has been pushing the notion that Biden has lost his marbles and that voters have picked up on this. Democrats needn't worry, since we can expect Joe's fawning supporters in the press either not to notice, or to profess to be charmed by his tendency to forget where he is, who is interviewing him, and even his wife's name.
Biden's strong showing was deemed a shocker by the news media, but when was the last time these morons got anything right?  None of them, least of all the experts who clutter the op-ed pages with pseudo-scientific election-map bilge, had expected it to become a two-man race so soon.  In retrospect, who actually could have believed that a commie, a fake Cherokee or a Jewish New York billionaire would take any votes away from Biden in the Deep South, where he laid claim on Tuesday to an impressive swath of the map? Now the press will go all-out pretending sleepy Joe's revival is the Second Coming. Bernie will get kicked around worse than Richard Nixon, and Trump will get seriously funny whenever Biden is the subject. Oh, and other than on Fox, we will not be hearing much about, ahem, Ukraine. _______ UPDATE (Mar 5, 2:50 p.m. EST):  In the category 'stupidest headline of 2020', this Wall Street Journal topper takes the prize:  Stocks Extend Drop as Anxiety About Virus Returns. When will they figure out that the stock market's ups and downs drive the news rather than the other way around. If the Dow hadn't gotten shellacked on Thursday and instead had risen, we'd be reading the same, upbeat coronavirus headlines that blanketed the news on Wednesday, when, supposedly, contagion and the death toll were receding in China and elsewhere. Do the halfwits who concoct these stories actually believe that a single case of coronavirus that turned up on a Princess cruise ship has caused our supposed 'fears' to careen back to end-of-the-world dread? So it would seem.
STAY INFORMED! Receive our Weekly Recap of thought provoking articles, podcasts, and radio delivered to your inbox for FREE! Sign up here for the HoweStreet.com Weekly Recap.