March 18, 2020 | Shock & Awe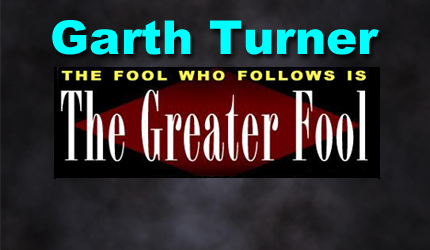 A best-selling Canadian author of 14 books on economic trends, real estate, the financial crisis, personal finance strategies, taxation and politics. Nationally-known speaker and lecturer on macroeconomics, the housing market and investment techniques. He is a licensed Investment Advisor with a fee-based, no-commission Toronto-based practice serving clients across Canada.
The US border closes. Oil is $24 a barrel. The dollar at 68 cents. An airline grounds. Stocks have lay another egg. Recession's coming. Shock.
But banks announced a six-month mortgage break. The stress test fell. Variable rates dropped. The prime sunk to 2.95%. HELOCs and lines of credits got cheaper. Another interest cut is close. Tax season is delayed. And governments throw money from 'copters. Awe.
But fixed-rate mortgages are going up. Risk is, too. US Covid cases are about to explode. Wildly. Society is shutting down. The mindless hoarding continues.
There. The news segment is over. You can come out from under the table now.
If you have financial investments, it's too late to sell and too early to buy. The pace of the decline has been unprecedented since 1928. Not over yet. And while the snap-back will be epic once (a) US cases start to peak or (b) a therapy emerges, this is painful. Bear it. Don't obsess about your portfolio. And don't bail. By missing the recovery days (they're coming, without doubt) you'll lock in losses. Check your emotions and look at this as a unique, once-in-a-century experience. Thank Dog we have Netflix, storm chips and that booze outlets are still open.
Now, a few words about real estate.
Yeah, mortgages are cheap, listings scant and the predictions were for the birth of a vibrating new gasbag this spring. But, ain't gonna happen. As this pathetic, yet miraculously germ-free blog told you a couple of weeks ago, housing would be a Covid casualty. And lo, it's happened.
For example, the traditional open house is kaput. Even Re/Max agrees, and this week told all its rabid agents to back off from opening sellers' doors to the unclean public. Others who continue to conduct showings are insisting/suggesting this:
Hand sanitizers for prospects to use upon entering.
Recommended wearing of nitrite gloves and N95 masks
No wrinklies present during the showing
Soap and disposable toweling available in washrooms
Plastic-covered, single-use, individual pens for docs signing
Feature sheets emailed so no paper is passed by hand
Virtual tours instead of real ones
Cleaning and sterilizing of homes after each showing, with special attention paid to disinfecting doorknobs, faucets and Uncle Pete if you forgot and left him upstairs.
Or, just don't sell.
Sales that were cooking in February will be frozen in March. And April. And May. For example, the BC Real Estate Association today called it "an unprecedented paralysis of economic and social activity" that will keep buyers at home and keep sellers safely behind doors. Besides, interest rates are going up – even as the central bank slashes the cost of money.
Look at RBC. Besides closing a bunch of branches (announced yesterday) it just goosed mortgage costs by almost half a point, with the fiver traveling from 2.95% to 3.34%. Bond yields have actually exploded higher in recent days. The return on a 5-year Canada bond was just 0.299% ten days ago, now racing back to 1%. Incredible. This is why the Bank of Canada is busy buying up mortgage bonds to try and even out the market's gyrations. If the financial system goes into a risk-off spasm, we've got 2008 all over again – with a virus and an oil crisis. Yikes.
But that's unlikely. More probable is a recession with significant job loss, even as financial markets start to recover. It will take a long time for the oilpatch, airlines or the entire hospitality sector to get back on its feet. Some damage will be structural. A few big players and a myriad of smaller enterprises will be gone. This is why the feds are sending people money for rent and groceries, why taxes don't have to be paid until August and why mortgage payments will be deferred for six months (but the principals will rise).
So here we are. That 'economic shock' the Bank of Canada spent the last five years warning about came in the matter of a few weeks. This is why a country where half the people are two hundred bucks a month from insolvency, where the savings rate is less than 1% and the debt-to-income ratio among urban homebuyers is 450%, is a dangerous place. We were told, and told again. And most listened not.
On CBC I heard a guy moan that he's lost his job and has no money. "The government better send me some," he said. "That's what they're there for."
Oh boy. Shelter in place.
STAY INFORMED! Receive our Weekly Recap of thought provoking articles, podcasts, and radio delivered to your inbox for FREE! Sign up here for the HoweStreet.com Weekly Recap.