March 15, 2020 | Schachter's Eye on Energy: Oil Could Fall to US$20-24/b if Price War is For Real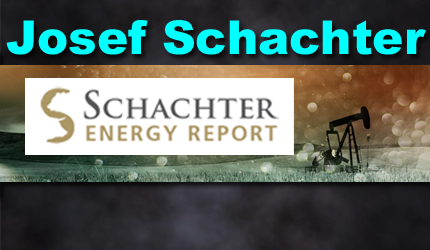 As a 40 year veteran of the Canadian Investment Management Industry, Josef Schachter has experienced several exceptional and turbulent global economic and stock market cycles. With his primary focus on the Energy Sector, Josef is able to weave global political, economic and monetary issues with current energy data into a compelling story of what's going on in the sector, what is to come, and why.
Coronavirus-19 Update:   The virus case count is rising sharply as more people are tested. As of today the case count is over 120,000 worldwide and the fatality rate is now over 4,200 people. The recent rapid rise in cases in Italy to over 10,000 cases has pushed the country to lockdown and full quarantine. It is expected that the counts in other places in Europe will escalate over the next few weeks at a pace like that of the Italian experience. In the US, test kits are coming out at a faster pace but not as fast as is needed to test everyone potentially infected. Pods of outbreaks in Washington State and in one city in New York – New Rochelle, are particularly worrisome. New Rochelle is under lock-down with the National Guard controlling the area and bringing in supplies. Countries are looking at using various monetary and fiscal policy tools to stabilize their economies but only a successful control of the virus will really have an impact. Delaying tax deadlines as President Trump is proposing is nice but not related to the health issues. The UK lowered interest rates on Wednesday but again a non-starter to the problem. The big concern in the next two weeks is if there is sufficient space in hospitals for all those infected. Many hospitals do not have sufficient equipment in them (ventilators  etc.) to stabilize and improve the health of those infected. This pandemic is not over and politicizing it is a very unnecessary distraction. We are all taking more care with our personal hygiene and this is the first line of defence.
OPEC Report:  The March OPEC report was released on Wednesday March 11th and highlighted that OPEC member production had fallen by 546Kb/d to 27.77Mb/d in February. The biggest decline was from Libya which fell 547Kb/d to 146Kb/d as the civil war in the country blocked most exports. Saudi production fell by 56Kb/d to 9.68Mb/d. With the world-wide impact of the virus, OPEC now forecasts demand for all of 2020 at 99.7Mb/d, down from 100.8Mb/d in Q4/19. They projected demand in Q1/20 at 97.6Mb/d and 98.2Mb/d in Q2/20. This results in a call on OPEC of 26.3Mb/d in Q1/20 and of 26.9Mb/d in Q2/20 compared to production of 27.8Mb/d in February. Thus the reason for the Saudi call for an additional cut of 1.5Mb/d to balance supply and demand. With Russia rejecting the ultimatum of the Saudi Crown Prince, the beginning of a Russian roulette has started between the two protagonists. Russia plans on raising production from the current 11.4Mb/d to 11.7-11.8Mb/d and grab more market share while the Saudi's are planning to lift production from February's 9.68Mb/d to 12.3Mb/d, and has already booked ships to take more crude to customers in April. The battle is now on and the question is what is the pain threshold of each. They both have low production costs, have strong monetary reserves and have lots of borrowing power so the question is does one of them blink and a deal is done to balance supply and demand in the near term (which means cuts of 1.5-2.0Mb/d to get price back up over US$50/b) or does a price war over 6-9 months knock out a lot of high cost production around the world. We are already seeing companies cutting back capex and targeting to gut costs, lower drilling substantially and very likely cut staff as drilling new wells is deferred and companies accept declining production as they focus on surviving the price war.
EIA Weekly Data: The EIA report released on Wednesday March 11th was mostly bearish. Commercial stocks rose by 7.7Mb versus the expectation of a build of only 2.3Mb. The key was that US exports fell 744Kb/d or 5.2Mb on the week as net imports rose 818Kb/d or 6.4Mb on the week. On the positive side US production fell by 100Kb/d to 13.0Mb/d and total demand for products remained strong in the US at 21.86Mb/d up 588Kb/d on the week. Offsetting this positive weekly number was that year-to-date demand level is down 1.5% from a year ago to 20.475Mb/d versus 20.793Mb/d in the same time period in 2019.
Conclusion: WTI today (Wednesday March 11) is down by US$1.10 to US$33.26/b (days low so far US$32.88/b). If the Saudi's and the Russian's go to the mat and want a prolonged price war to knock out high cost production in the US shales, the North Sea, Offshore Brazil and Western Offshore Africa then the price of crude may breach US$30/b and decline below Monday March 9th low of US$27.39/b for WTI. If so, a rapid spike decline to US$20-24/b for WTI is possible. We have seen such spikes down in the past. Their impact while painful in the short term do get resolved as production in high cost areas decline.  With not enough demand for the excess production, once all the available shipping is being used as storage then crude prices can recover. The tantrum by the Saudi Prince will make diplomatic relations difficult for the country. Other OPEC countries will be getting hurt by this and will not want to play ball with the Saudi glut move for very long. It is likely that pressure from OECD countries, OPEC members and the Saudi citizenry that will be impacted by this price war will at some point bring rational behavior back. Remember the ARAMCO deal was mostly bought by Saudi citizens (mostly by a gun to their heads and generous financing) and the deal is now under water.
Turning to our domestic market the S&P/TSX Energy Index has plunged in under three weeks from the 135 level to 69 or down over 48%. Companies are starting to announce cutbacks in capex and drilling and accepting declining production profiles and those that have had large dividends have cut them entirely or severely. Many dividend model companies that have not announced dividend cuts are being beaten down as investors fear that the dividends will be somewhat or fully gutted in the coming days. The debt burdened companies are getting shafted the most. Many of the debt levered entities are down 75% or more. The Dow Jones Industrials (now at 23,800) could fall to below 20,000 if more fear develops and we see a climactic bottom. The measure of fear, the VIX index, is now at 52 and should rise over 60. It is possible in the short term for the index to rise even higher as it did during the worst of the financial crisis in 2008-2009 when it rose to the all time high of 89.53. At that peak the market bottomed! This would indicate the climactic end to this savage bear market.
We are near a cathartic moment that will be one for the financial history books. This rout is almost over and when the VIX explodes to the upside then the bottom in this crash may be seen. We cannot believe the bargains that are developing across all industries but especially in the energy sector (including the E&P companies, the service companies and the infrastructure stocks). We are waiting for the confluence of market indicators to reach extreme levels and we will send out an Action Alert BUY signal to subscribers and also include new BUY recommendations. We are getting close and the more fear develops and the markets decline the quicker the end of this painful crash. To receive our research and our Action Alert when issued one needs to become a subscriber. Go to http://bit.ly/2OvRCbP.
We will be holding our Q1/20 webinar for subscribers on Thursday March 19th at 7PM MT and this 90 minute webinar will go over the recent market malaise, and our view of the good, the bad and the ugly energy and energy service investment choices. Our favourite ideas will be profiled during the event. If one wants to join live they will need to become a subscriber before the event. It will go into the archives for subscribers who cannot join the event live.
STAY INFORMED! Receive our Weekly Recap of thought provoking articles, podcasts, and radio delivered to your inbox for FREE! Sign up here for the HoweStreet.com Weekly Recap.