March 20, 2020 | Resource Sector Finds Ways to Carry on Despite COVID-19 Crisis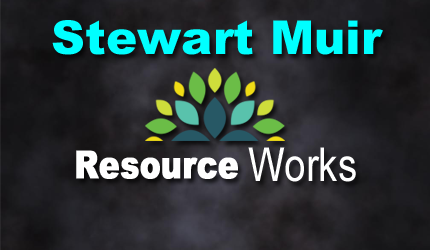 Stewart Muir is founder and executive director of the Resource Works Society, a Vancouver-based group open to participation by British Columbians from all walks of life who are concerned about their future economic opportunities. He is an author, journalist and historian with experience on three continents including a financial editor of The Vancouver Sun responsible for mining and markets coverage. Since Resource Works was established in 2014, the group has gained international recognition for its practical approach to the public challenges of responsible natural resource development and use.
But government support needed to weather the storm. Don Hauka filed this report assessing the status of natural resource projects including CGL and Site C.
"Now that the federal government has laid out some of its measures it's time to look at what can be done provincially to ensure that job creators can withstand economic shock," said Michael Goehring, President and CEO of the Mining Association of B.C.
"Natural resource development is the backbone of the provincial economy and we need that to continue."
Like all B.C. resource industries, mining is being hit by the double-whammy of falling commodity prices coupled with the crippling impact of the COVID-19 pandemic. Goehring is among those calling for the B.C. government to support resource industries with measures like a break on electricity and gas rates, Provincial Sales Tax relief and re-examining the mining tax and fee regime.
Most importantly, B.C. mining operations need anything that will give them "more liquidity and more cash in hand to weather the storm," Goehring said.
"There a number of tools at hand and it's really about determining what would be most helpful," Goehring said.
Goehring's request for assistance is in line with the call from the B.C. Chamber of Commerce and other organizations who are asking the province to provide flexibility for tax remittance, removing the PST for six months and other steps to shore up businesses.
There are signs the government is not only listening but working actively with the business community to put such a package together. A COVID-19 Cabinet has been created to work with government to share information and advocate on behalf of the BC business community and workers.
The cabinet includes a broad range of business associations from every sector of the economy, including the BC LNG Alliance, the Association for Mineral Exploration BC, the Independent Contractors and Businesses Association of BC, the Council of Forest Industries and the Canadian Association of Petroleum Producers. The group will share information on the impacts of COVID-19 and provide a point of contact for government as it creates policies, programs and measures to support business and workers to address the impact of COVID-19.
Despite the COVID-19 crisis, resource communities are hoping work in sectors like oil and gas, as well as major projects like Site C, can find ways to continue while still keeping workers safe.
Rob Fraser, mayor of the Northeast B.C. community of Taylor, says work on both Site C and oil and gas are continuing to keep residents of his town employed for now.
"I think the industry has good practices, as do all our resource industries. They have all the health protocols down and are following the rules" said Fraser.
"This might slow them down some, but at the moment, there's no reason to stop these sorts of activities short of a major outbreak all over the country."
What is slowing the gas industry down is the drop in oil prices, which means less and less money for exploration, Fraser said.
"As the price of oil goes down, there's less and less investment money and if anything is going to further slow the energy industry down, it's going to be the price of oil as opposed to COVID-19 situation," he said.
But some like B.C. Building Trades Council executive director Andrew Mercier are calling for a dramatic scaling down of some megaprojects like Site C and LNG Canada's project in Kitimat, citing worker safety. Mercier is concerned about the health and safety of the 35,000 unionized construction workers it represents at both projects.
"We are calling for remote-camp megaprojects in B.C. to be tooled down to all but essential or critical-path work," said Mercier.
"We need to flatten the curve and alleviate pressure on the rural health care systems."
Mercier joined the B.C. Federation of Labour and Building Trades unions across Canada in calling for "financial assistance and relief for working people in this difficult time."
Here's a rundown of how COVID-19 is affecting B.C.'s major megaprojects and some resource industries.
LNG Canada/Coastal GasLink
Work on the $40 billion natural gas project is continuing on schedule. But the workforce at the Kitimat LNG export terminal site is being reduced by half "out of an abundance of caution." Most of the reduction will come by reducing the number of workers flying into Kitimat. Further reductions could see the number of employees drop to those required to maintain site security and environmental controls, if needed.
LNG Canada adopted travel rules early on to stop the virus from spreading via employees or from freighters delivering equipment and building materials. Staff and contractors were restricted from travelling between countries like China, South Korea and Italy and the project site in Kitimat. Freighter crews remain onboard while in Kitimat's port and crew changes are prohibited save for medical or humanitarian emergencies.
In addition, LNG Canada and its subcontractors have implemented a mandatory work from home policy for non-business critical positions at the Kitimat site. Essential work will continue, including seasonal activities that need to be done within regulatory windows. That work will be "conducted with additional safety, health and hygiene precautions that follow recommended social distancing protocols and all other current recommendations for best practices," according to LNG Canada.
Much of that work will be on the associated Coastal GasLink project, being built in largely remote sections of the province. Crew levels had been reduced due to spring break up and contractor JGC Fluor has stated that precautions against COVID-19 in work camps are in place. These include information about effective hand washing practices, cough etiquette, frequent cleaning of common touch points such as doorknobs, handles, tabletops and other surfaces. The strategy has been to "seal off" the 1,200 workers building the 670 km-long line far fr5om urban areas.
FortisBC
The gas utility has taken steps to stop the virus spread, including closing its offices to the public, having as many employees as possible work from home, reorganizing office space to increase social distancing and canceling in-person meetings with vendors. Employee travel has also been cut and staff travelling for personal or work reasons are being asked to self-isolate for two weeks upon their return.
Preventing COVID-19's spread presents a larger challenge to FortisBC's field operations. Pandemic or no pandemic, regularly scheduled work to ensure the safe delivery of energy has to continue. The utility is reviewing field staff levels across the province and has plans in place to maintain service levels and respond to outages or emergencies across different scenarios.
Site C
After initially hoping to continue at full steam, BC Hydro has decided to throttle back and reduce the number of employees building the massive energy project in Northeast B.C. Currently over 4,000 workers are employed on the Site C dam project. The Crown corporation hasn't released the size or duration of the workforce reduction yet but has stated essential work will continue.
Priority is being given to meeting the target of river diversion in fall 2020. Work will also continue in areas off-site, including the realignment of Highway 29, the transmission line and reservoir clearing, since the majority of workers involved don't stay in the project's huge work camp near Fort St. John, which houses over 1,300 people.
BC Hydro says it has been monitoring COVID-19 closely since January and implemented a number of measures early on to protect its employees, contractors and facilities. Working with the Northern Health Authority, its developed protocols at the worker accommodation lodge and ensured the on-site health clinic is fully stocked with the supplies needed to protect workers in the event of an outbreak.
Additional measures taken include more frequent cleaning and disinfecting, restricting non-essential travel, postponing all on-site tours and meetings, eliminating self-service stations in the dining room and restricting access to common areas.
Mining Sector
Already facing plunging commodity prices, B.C.'s mining sector also faces the challenge of trying to keep operations going while complying with the rules issued by the provincial health officer to slow the spread of the COVID-19 virus. Those rules were underlined this week by Herman Henning, the chief inspector of mines, who instructed all of B.C.'s major mines, sand and gravel and placer operations to rigidly follow health guidelines.
The order specifically states mines must follow the public health order prohibiting gatherings in excess of 50 people. It recommends reducing the number of on-site personnel by encouraging work from home. Town hall meetings used to address the whole site fall under the 50 people limit. Communications now must confined to smaller groups or using other media.
The health rules also impact "toolbox meetings," the daily pre-shift safety meetings held at mining and other sites. Henning is also recommending that mine managers limit the number of people in bunkhouses and cafeterias to fewer than 50 at any given time and establish multiple sittings in cafeterias to minimize interactions.
STAY INFORMED! Receive our Weekly Recap of thought provoking articles, podcasts, and radio delivered to your inbox for FREE! Sign up here for the HoweStreet.com Weekly Recap.