March 1, 2020 | Facing it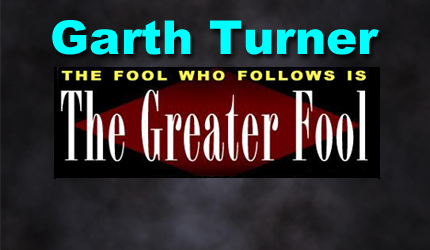 A best-selling Canadian author of 14 books on economic trends, real estate, the financial crisis, personal finance strategies, taxation and politics. Nationally-known speaker and lecturer on macroeconomics, the housing market and investment techniques. He is a licensed Investment Advisor with a fee-based, no-commission Toronto-based practice serving clients across Canada.
Ten years ago today, my time as a financial advisor dude began. That was after writing 17 books on money and real estate, spending eight years touring the country giving financial lectures, being a network TV business talking head and losing my mind twice, entering Parliament, where I even ran the federal tax system for a bit. (And was spanked by Stephen Harper.) Along the way I also owned stores, a publishing company, a few restaurants and inns and personally scooped thousands of ice cream cones.
Anyway, it's been ten years doing this. I started helping people as the GFC was winding down and stock markets had lost 55% of their value. Next came the US debt ceiling crisis in 2011 and another market plunge. Oil prices collapsed in 2015 and the Bank of Canada went into emergency mode. Trump injected huge volatility the next year. Interest rates went to zero, trade wars erupted, Brexit happened, Hong Kong exploded, populism swept Europe, then we got the virus. Meanwhile there was mass migration out of Syria's war, blizzards of locusts in Africa, climate change events, blood and chaos in Venezuela and the threat of trading nukes with Korea. And Iran.
During this time I did not stray in looking after folks. No individual stocks. No stupid-fee mutual funds. No trying to be the smartest guy in the room. Portfolios that were balanced (safe stuff and growth stuff), diversified (various asset classes, global exposure) and liquid (nothing locked up). The families I help all seem to have the same two goals: preserve my capital over time yet give me a decent rate of return. So be it.
In this decade a lot's happened in my shop. Now there are four fancy-pants, suspender-snapping, financial hotshots looking after portfolios with about a century of mileage between them. (Doug and Ryan are the big cheeses.) Also two certified financial planners, two full-time traders, half a dozen admin people, plus me and Bandit. We told folks we'd try to get them 6% or 7% a year on average, and so far that's exactly the case. Plus chop their tax. Set long-term plans. And, naturally, hand out excellent marital, relationship and child-rearing advice.
Turner Investments is now in the top 3% of financial advisory shops in North America. But what makes me happy, most, is that 98% of people I ever helped are still in the family.
Now I mention this meaningless little anniversary not as a commercial for my day job. That's not what this blog is about. Instead, to remind that the world is endlessly volatile and people are always freaking out about something. The virus is today's catalyst. It's different, of course. Unpredictable. Scary. The public health response has been an economy-suppressor, first in China, now in Italy and the same may occur anywhere, including the US. The threat to most of us is not sickness and death – that's statistically inconsequential – but this thing can erase profits, jobs and GDP.
Neither you nor I know what happens next. But we didn't in 2008, either. Or 2011. Or 2016. Or with Y2K or Nine Eleven. Lots of days in the past have looked grim.
The odds are a vaccine will be found, the virus relegated to the status of measles (Mr. Market doesn't worry about that) and pent-up demand will be unleashed, restoring asset values. That could take months. A year, maybe? No idea. But in the meantime all of the lessons this blog has been imparting recently are worth remembering. Never sell into a storm. Do not crystallize losses. Ignore the doomers, preppers, ammo pumpers and media wusses. Don't look at your RRSP or TFSA every four hours. Have confidence things will eventually normalize, and faith in humanity. And get ready for a lot of things to happen…
This week the Bank of Canada will chop its key interest rate. It will happen again next month. In fact, it's even possible the slice on Wednesday could be a half-point (that's a big deal). The prime rate, mortgages, HELOC rates, savings account returns plus GICs will likewise head south. With oil in the dumps, the damage FN protestors have done and now the virus, our guys have no choice. Down she goes.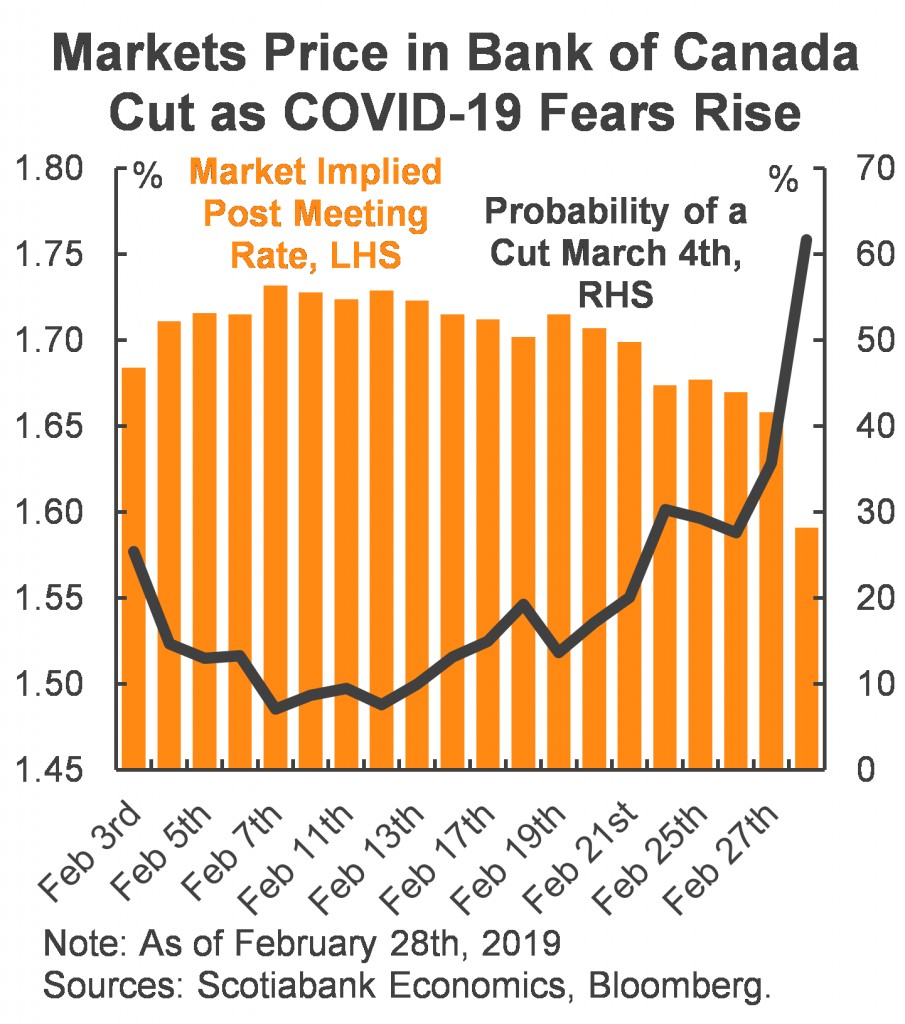 US rates are also poised for a drop. Look at the Fed's statement on Friday. The bank's next rate review meeting isn't until the third week of March, but it won't wait. Expect news of a rare unscheduled slash in the next day or two. This won't solve the virus problem, but it will signal central banks are taking this seriously and do their damnedest to inject stimulus into the economy.
And Trump? He's morphing fast. A week ago he muttered the virus was a plot against him. This week he's announced more travel bans, and may reduce tariffs on Chinese goods while launching a tax cut process. With Joe Biden's reincarnation this weekend, the president will be pulling out all stops to ensure markets restore by November.
US stocks have given up 13% in the last seven sessions. As mentioned here last week, there's more to come. As stock prices fall, corporate valuations become more reasonable and in line with historic norms. Investors are rapidly pricing in a Chinese wasteland economy in the first few months of the year, a likely recession lasting a few months and zero corporate profits in 2020.
Massive quarantines, scared people, closed schools, travel collapse, stockpiling – all this will push huge amounts of demand into the future. Said one respected analyst in the weekend: "My belief is that this is a correction and not the end of the bull market. We are likely to have an economic shock here in the U.S., but I don't believe we will get two consecutive quarters of negative GDP growth. Because we won't get a recession due to the coronavirus, the bull market will continue."
But, hey, like I said, nobody knows. It's for this reason that today I'm doing what I did a decade ago. Calmly. Deliberately. Decisively. Stopping as required for tummy rubs and liver treats.
STAY INFORMED! Receive our Weekly Recap of thought provoking articles, podcasts, and radio delivered to your inbox for FREE! Sign up here for the HoweStreet.com Weekly Recap.