March 6, 2020 | Evidence Clear – Global Recession On Horizon Soon!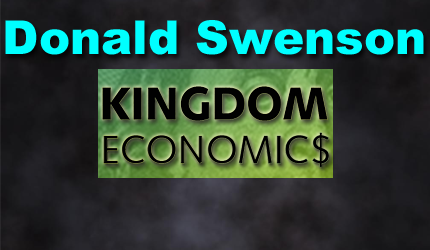 Donald B. Swenson: Born January 24, 1943, Roseau, Minnesota. Graduated H.S. 1961, Moorhead High, Minnesota. Graduated College 1968, Moorhead State University, Minnesota. Designated member of Appraisal Institute (MAI), 1974. Employed with Western Life Insurance Company, 1968 – 71; Iowa Securities Company, 1971 – 73; American Appraisal Company, 1974 – 81. Part-time teacher/valuation consultant/bartender, 1979 – 2008 (taught workshops at Waukesha County Technical Institute, Wi. and Madison Area Technical College, Wi.). Retired 2008 (part time teacher/blogger), AZ. Self educated economist/philosopher/theologian: http://kingdomecon.wordpress.com.
The signs seem clear that a serious global recession is around the corner. I can document the signs as they have multiplied in the last few days. Let's enumerate a few:
1. The 10 year treasury bond has crashed to 0.748 (as I write). Why? Slowing economy!
2. Europe planning more QE and additional negative interest rates. Why? Slowing economy!
3. China's car industry slowing dramatically, also steel exports, and manufacturing exports. Why? Slowing economy!
4. OPEC moves to cut crude output! Why? Slowing economy!
5. Tourism globally drops off sharply! Why? The Coronavirus scare!
6. Shoppers are stocking up on basics! Why? Coronavirus situation and slowing economy!
7. Costco sales surge! Consumers stock up on peanut butter, toilet paper, water, and stables. Why? Fear!
8. Covid-19 situation continues to expand globally with cruise lines, airlines, and vacations being cancelled.
9. Stock markets create further investor fears as markets get manipulated UP and then DOWN! Why? Our central planners can not find a solution to our growing fears, uncertainty, and slowing economy!
10. Mortgage rates drop to lowest ever, small business confidence waning, jobless claims climb. Housing is in trouble and our central planners seek answers!
Do the above suggest that the BULL cycle is ending with a bang? I think so! Our business cycle is changing rapidly (after nearly 11 years of mostly UP markets). The message seems clear to me, we are entering a BEAR market and this means a RECESSION is likely soon (probably within weeks). Italy is already reported to be in recession. Venezuela is in a depression. Iran, Syria, Libya, Afghanistan, and most of the Middle East is in chaos.
Australia's economy is facing some of its biggest threats in a generation. They could be in recession later this month as their growth rate is near zero. The central bank of Europe will meet next week to assess their situation. We could see Christine Lagarde announce new negative rates and more QE for the Eurozone. The ECB already owns 30% of Germany's bunds and buying more seems likely. Many now think our Fed will lower their Fed Funds Rate further on March 18 (the next meeting). Personally, I also expect a new QE (counterfeiting) operation to start soon.
The handwriting is on the wall. Our economy is heading for recession and then the greatest depression in all of prior history. Our problem is our money system, our centralized system of policymaking, the desire of our elites to create a New World Order (under their control), human nature (the desire to rule/control/manipulate), and the general end-times events which have been prophesied to happen. All is coming to a head in the next few years and the SIGNS are clear.
It's time to recognize the realities which have been evolving for years. Our SYSTEM is the problem and this will not go away with more of the same. Critical thinking is lacking among the public and also among our leaders. We need NEW leaders who can discern the times and our problems. New thinking is required. Out-of-box thinking is needed. The old mentality will not work going forward. Our SYSTEM is collapsing and the administration is corrupt.
Much GOOD can emerge from new thinking on our issues. Reality must prevail within economics, science, religion, and education. To date, we live mostly with illusions, deceptions, and hyped expectations. What we need IMO is a 'problem solving' mentality. Problems need to be viewed as positive and fundamental to all critical thinking. Our problems must come first and then a solution can emerge. Forcing a solution upon intractable issues (like our debt situation) can not lead to progress. Kicking the can down the road is not a viable mentality for real progress and stability.
New leadership is needed and it looks like this will not happen in 2020. We are now looking at two politicians (Biden and Trump) who seem to desire more of the same (more spending, more debt, more bureaucracy, more centralization, and more control over our markets). None of this will lead to progress. New leadership with a critical thinking mentality is needed. Maybe after the next global crash this can emerge. I don't envision it happening in 2020. Have a great day and watch events as they evolve downward. My job is to report reality as best I can. I am: https://kingdomecon.wordpress.com.
STAY INFORMED! Receive our Weekly Recap of thought provoking articles, podcasts, and radio delivered to your inbox for FREE! Sign up here for the HoweStreet.com Weekly Recap.