March 17, 2020 | Environment Ideal For Global Digital Currency!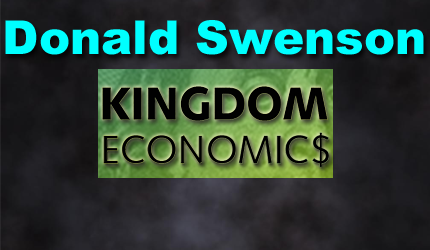 Donald B. Swenson: Born January 24, 1943, Roseau, Minnesota. Graduated H.S. 1961, Moorhead High, Minnesota. Graduated College 1968, Moorhead State University, Minnesota. Designated member of Appraisal Institute (MAI), 1974. Employed with Western Life Insurance Company, 1968 – 71; Iowa Securities Company, 1971 – 73; American Appraisal Company, 1974 – 81. Part-time teacher/valuation consultant/bartender, 1979 – 2008 (taught workshops at Waukesha County Technical Institute, Wi. and Madison Area Technical College, Wi.). Retired 2008 (part time teacher/blogger), AZ. Self educated economist/philosopher/theologian: http://kingdomecon.wordpress.com.
The financial environment is now ideal for our central planners to construct a global Reset of our monetary system. I have been expecting this event for years. I now think that sometime this year (2020) would be logical for our central planners to initiate this global event called the Mark of the Beast. It will not start until more evidence arrives to spur our elites into action. But the 'environment' is becoming ideal for this event to happen.
The Mark of the Beast could start with a Reset of our currencies so that a Global Digital Currency becomes the standard. Will it be the SDR currency of the International Monetary Fund (IMF) or will our elites create a New Digital Currency for the planet. If prophecy is valid, then this event must happen sometime in the near future. My sense is that it could happen later this year or early 2021. The 'environment' is now ideal IMO.
It is obvious that our elites will not pursue a new gold standard as they desire to control all monetary events with their policies. Virtual and/or digital currencies have been accepted by the public and this means that a Reset so that a Global Digital Currency is likely for all our markets. Our central planners will likely talk about this event prior to its installment. So let's watch and listen to those who control all financial outcomes.
Who are these elites who will initiate this virtual currency for the planet? Let's think about the key policymakers on this planet who control our current financial situation. The American Fed is one institution that controls America's financial system. The International Monetary Fund (IMF) is a player in all this change. The Bank for International Settlements in Basel, Switzerland is a key player. The Bank of England will also be a key player. Others could be the Bank of Japan, the Peoples Bank of China, the Bank of Switzerland, the European Central Bank, and possibly the Riksbank in Sweden.
A coming meeting of our central planners at the BIS in Basel could be the key to the eventual creation of our Reset. A Reset is coming (for sure). That is a prophecy which I view as totally valid. Our Creator God rules this planet and his agenda will arrive eventually. Prophecy proclaims that a Mark of the Beast financial system will arrive for our entire planet. Everyone will get a 'number' or some 'identity' code so they can buy and sell. Those without the code will not be allowed to buy/sell or survive.
The current environment (this coronavirus environment) is ideal for setting the ground work for this Mark of the Beast financial system. As events play out our elites will talk, plan, and create new policies so they can maintain CONTROL over all our markets. This is common sense IMO. Control by our central planners must continue so they RULE over us. We are all enslaved to money and to those who control our SYSTEM. Power, money, and control flows from the TOP.
Watch as events become more dire financially. This will provide our central planners (the Deep State for the planet) the opportunity to initiate a global digital currency so as to control commerce for the planet. Prophecy proclaims that this will happen. And God ultimately rules over planet earth. His agenda will evolve and this Mark of the Beast financial system is part of God's agenda for these LAST DAYS. Think for yourself and WATCH events and the institutions which control the SYSTEM. Follow the money and these institutions:
1. America's Federal Reserve: https://www.federalreserve.gov/
2. The International Monetary Fund: http://www.imf.org
3. The Bank for International Settlements: http://www.bis.org
4. The European Central Bank: https://www.ecb.europa.eu/home/html/index.en.html
5. The Bank of England: https://www.bankofengland.co.uk/
7. The Riksbank of Sweden: https://www.riksbank.se/en-gb/
8. The Peoples Bank of China: https://www.boc.cn/en/investor/
9. The New York Fed: https://www.newyorkfed.org/
10. The Bank of Japan: https://www.boj.or.jp/en/index.htm/
The above institutions rule over our financial system and our entire planet. They (those who administer) will create this coming Mark of the Beast financial system for our planet. All these elites are unelected and act as a type of DEEP STATE for our planet. Real power may come from elites who are outside the inner workings of these financial institutions. At some point we should be able to discern WHO pulls the strings. Satan's puppets will eventually reveal their images for all of us to identify. Money, power, control is the agenda of our rulers. It's all part of Prophecy and ultimately our Creator God will determine who does what to whom. That is my perspective. Think for yourself.
STAY INFORMED! Receive our Weekly Recap of thought provoking articles, podcasts, and radio delivered to your inbox for FREE! Sign up here for the HoweStreet.com Weekly Recap.