March 23, 2020 | Are We Toast?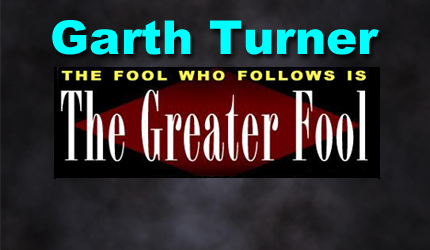 A best-selling Canadian author of 14 books on economic trends, real estate, the financial crisis, personal finance strategies, taxation and politics. Nationally-known speaker and lecturer on macroeconomics, the housing market and investment techniques. He is a licensed Investment Advisor with a fee-based, no-commission Toronto-based practice serving clients across Canada.
The Catch-22 is simple. To stop the virus, stay home. To kill the economy, bankrupt employers, lose your job, run out of money and go nuts with stress, stay home.
'Enough is enough', T2 said Monday. The next step is a form of martial law. Got that on Sunday in NS when the province hardened its border (anyone crossing has to quarantine for two weeks), shut all parks, trails, neighbourhood playgrounds and said it would send tow trucks to haul off the cars of people recreating. "It will be a long walk home," the premier said. Ontario and Quebec join tomorrow night.
Virus, 1. Freedom, 0.
Most people support the measures, polls and social media show. And while the bulk of us won't get the bug, and almost all of the afflicted will recover, the economic damage piles up by the hour.
First, the bad news.
The Chateau Laurier, Ottawa's hotel castle, is closing. Air Transat is on life support. Derek, who's worked for Air Canada for 32 years, got his layoff notice as we talked on the phone this morning. Five hundred thousand people applied for EI last week. That was a record. In the States on Thursday it's expected between two and five million jobless claims will be reported. The all-time weekly record previously (in 1982) was in 695,000.
Canadian confidence, says pollster Nik Nanos, just took the biggest drop on record. Over 55% of people think things will be worse in six months than now. The oilpatch is a disaster with crude trying to stay above $20. Bay Street has shed 36%. Showings in Toronto plunged as never before last week. The number of Canadians who believe housing prices will increase has crumbled along with them. Two major banks just forecast a contraction of between 10% and 24% in the second quarter. Way more than in 2008. A US Fed governor foresees the jobless rate at 30%, or ten times what it was weeks ago. The Dow is down 35%. It was off 56% in 2008. The last four weeks has seen the steepest decline since, gulp, 1931.
Well, there ya go. Let's not sugar-coat anything. And you can stop holding your breath (or whatever else you may be grasping at the moment).
There is good news.
But before we go there, let's be clear about something. This is not an empathy blog. It's not an N95 analysis site. No medical expertise. No vaxxing comments. We don't know squat about Covid-19. People get sick. They die. All the time. Especially old snorts like me (strangely enough). The only virus comment is this: there are now 360,669 cases globally, of which 244,500 are active. Of those 95% are mild and 5% serious. The mortality rate globally is 4.29%. So to a financial guy that looks like 96% of people survive an illness which causes mild symptoms in 95% of victims. Yet 100% of the economy is being decimated. And now we can't walk in the damn park.
Okay, right, the good news. Almost forgot.
First, governments and bankers are going nuts trying to mitigate this. They have only started. There is absolutely no fiscal or monetary discipline at play here. Society will be awash in liquidity, complete with unprecedented corporate bailouts and social support payments. Remember that the US president is up for election and our guy leads a minority government. Expect no brakes.
Second, pent-up demand will be stunning. That house, haircut, new car, spring outfit, Harley, garden tractor, puppy, kitchen reno or vacation that you've lusted for will soon be available. The spending will be epic, despite job losses.
Third, pandemics pass. So do oil wars. You know this. We all know it.
Finally, we are nearing capitulation. Just read the comments on this blog over the last few days. The number of people forecasting millions of bodies and years of 1930s-style depression is stunning. The bottom comes when most folks shed hope. It seems we're not far off.
But, what do you think? Will this pass, or are we toast?
Take the survey. Be brave. Or not.
Results tomorrow.
STAY INFORMED! Receive our Weekly Recap of thought provoking articles, podcasts, and radio delivered to your inbox for FREE! Sign up here for the HoweStreet.com Weekly Recap.