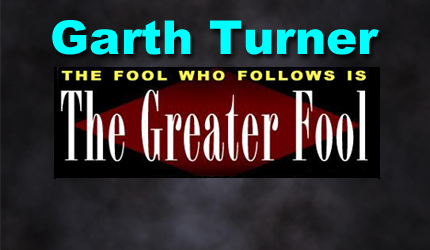 A best-selling Canadian author of 14 books on economic trends, real estate, the financial crisis, personal finance strategies, taxation and politics. Nationally-known speaker and lecturer on macroeconomics, the housing market and investment techniques. He is a licensed Investment Advisor with a fee-based, no-commission Toronto-based practice serving clients across Canada.
Well, things changed in a week. The little grocery store now has yellow caution tape creating an entry tunnel. There's a sign saying capacity is 25 souls. The pavement is taped and marked 'social distancing.' Inside sits a security guard. "Travelled?" he asks. "Are you sick? Is anyone at home sick?" He holds a clipboard. Presumably the Names of the Doomed are etched thereupon.
There are no masks here. All faces are bare. A few people keep their gloves on. The cashiers now work behind a plexiglass barrier with a money hole punched in it. Shoppers are polite, but furtive. The shelves of cold remedies and cleaning wipes are bare. Miles of toilet paper, though. People repel from each other like reversing magnets, and you can tell that behind the fear they deeply regret it.
New water heater arrived this morning. Contractor buddy, plumber, apprentice and electrician shooting the breeze in the unpoliced sanctuary of my basement furnace room. Work is disintegrating. Jobs cancelled. Real estate going stone cold and renos with it. Cash flow's a bitch. All have laid people off. Some young employees walked, too afraid to leave home. The old, experienced guys scoff. Life will come back, they agree. But it will be damaged.
Nothing is normal. Anywhere.
The last 24 hours brought overwhelming evidence of that. The federal government will be picking up 75% of the wages of small business employees who aren't working, plus floating no-cost loans, partially forgivable. Before that announcement the Parliamentary Budget Officer said the deficit next year would be $112 billion (the highest before that was Harper's $56 billion in the GFC). With the subsidy it should be $139 billion. And the feds have yet to bail out the oilpatch.
World crude prices, smashed by the virus and a war between producers, has gas down to 65 cents a litre. Canadian oil prices are apparently on their way to zero. At current levels ($5-6 a barrel US) every producer is losing. Storage tanks are brimming. Alberta is in full-on crisis mode. Oil is the nation's biggest export, and it's never been so worthless.
It's crude as much as virus that led the Bank of Canada into the fray again Friday. Another emergency rate cut. Another half point. That brings us within a quarter point of zero. Cheap money won't help consumer spending, since the stores are closed. It won't do much for housing, as that market's shut down, too. But it does make corporate debt cheaper, and the oil guys owe more money than God. The central bank also – for the first time – started buying up bonds, government securities and corporate debt. Five billion a week, every week, until the recovery comes.
So there's the news. Mr. Virus runs amok in the US. National finances disappear into a black hole to support an ill-prepared people. And a collapse in energy values is 2020's version of the Dirty Thirties dust bowl. Crisis upon crisis. No wonder people are avoiding eye contact, just in case that, too, makes you sick. This is all too much for folks to process.
I found this interesting tidbit on the mortgage site RateSpy. These are the biggest increases in Google home loan-related searches: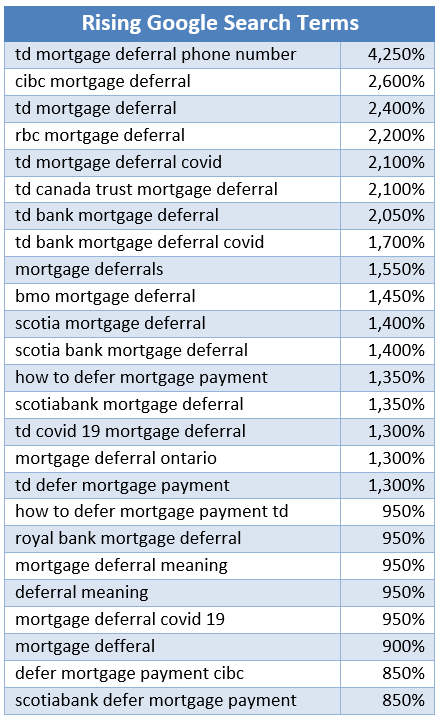 Meanwhile, after rocketing ahead 20% in a few sessions – the best performance in 90 years – stock markets ended the week in a funk. The ultimate outcome of these times is certain, as the wizened tradespeople in my basement know. Recovery will come. Markets get that. But there's a lot of blood and guts to wade through in the meantime. As detailed here yesterday, the bulk of society was never ready for a rainy day, let alone a tsunami of Biblical proportions. It's sad but inevitable the wealth gap will be far wider when this sucker has passed.
Now, a note to Bill Morneau, the finance minister, who follows this pathetic blog (according to his staff): time for Canada to follow the US lead and let people access RRSP funds. Washington is passing a bill allowing folks to take up to $100,000 from their retirement plans, paying no tax as long as it's repaid in three years. Anyone with the virus is eligible, along with those who have lost a job or need the money to look after kids or ill relatives.
Simple. Self-financing. Doesn't add to the public debt. Immediate. Do it, Bill.
Finally, a note to the 3,360 federal civil servants with job security and defined benefit pension plans who staff the 317 Service Canada centres across the nation where folks go to apply for benefits in times of crisis: you deeply disappoint us. This week the government locked the doors of every single centre, employees on the inside, citizens on the outside after the workers refused to work.
The government caved. Worried families now have to spend hours on hold or navigate an overloaded, generic website. More stress.
If nurses, hospital cleaners, paramedics, doctors, cops, firefighters and others on the front line can step up to risk when needed and toil in the teeth of a pandemic, you can at least sit in an office chair and help your neighbours.
Some things we will not forget, when the sun returns.
STAY INFORMED! Receive our Weekly Recap of thought provoking articles, podcasts, and radio delivered to your inbox for FREE! Sign up here for the HoweStreet.com Weekly Recap.