February 29, 2020 | Trading Desk Notes February 29, 2020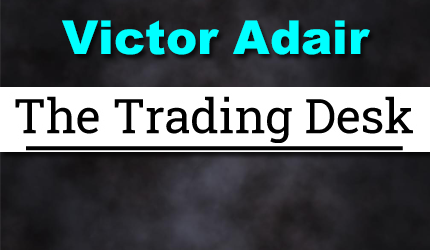 Victor Adair, author of The Trading Desk Notes, began trading penny mining shares while attending the University of Victoria in 1970. He worked in the mining business in Canada and the Western United States for the next several years and also founded a precious metals trading company in 1974. He became a commodity broker in 1977 and a stock broker in 1978. Between 1977 and his retirement from the brokerage business in 2020 Victor held a number of trading, analytical and senior management roles in Canada and the USA. Victor started writing market analysis in the late 1970's and became a widely followed currency analyst in 1983. He started doing frequent media interviews in the early 1980's and started speaking at financial conferences in the 1990's. He actively trades his own accounts from The Trading Desk on Vancouver Island. His personal website is www.VictorAdair.ca.
The stock market surged to All Time Highs the first 2 weeks of February...ignoring red flags from the bond market, the US Dollar and gold…but the day of reckoning finally arrived and the market crashed with astonishing speed and determination. Waves of selling triggered more selling and prices tumbled like dominos.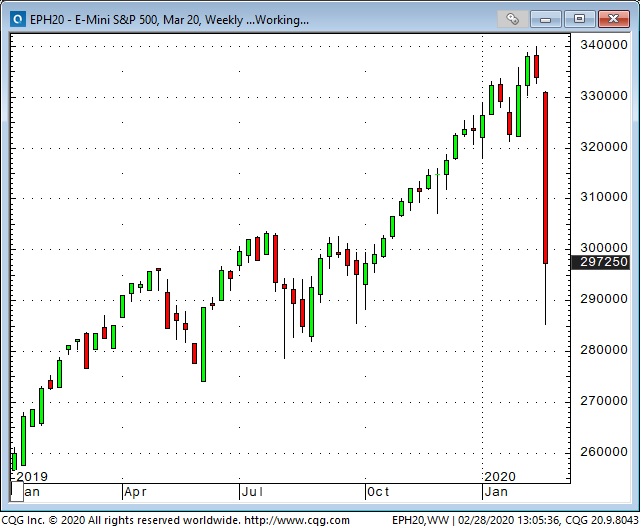 Volatility ripped higher…a testament to the speed of the crash more than the amount of the decline.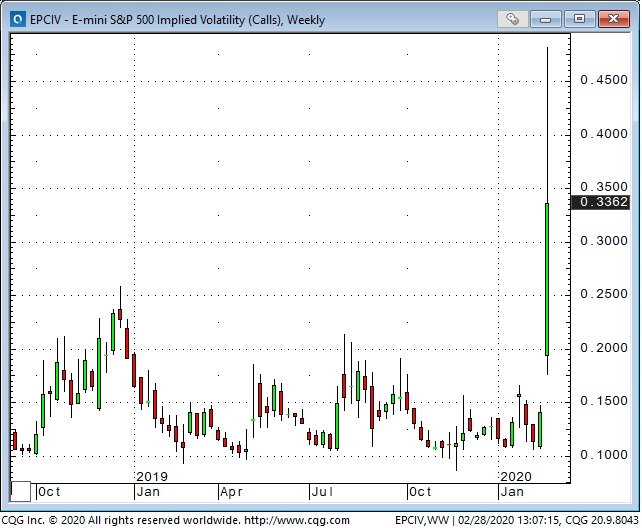 The bond market soared. The entire curve rallied as the market cried out for the Fed to cut rates…pricing in at least 3 cuts this year and hoping for more. Quickly.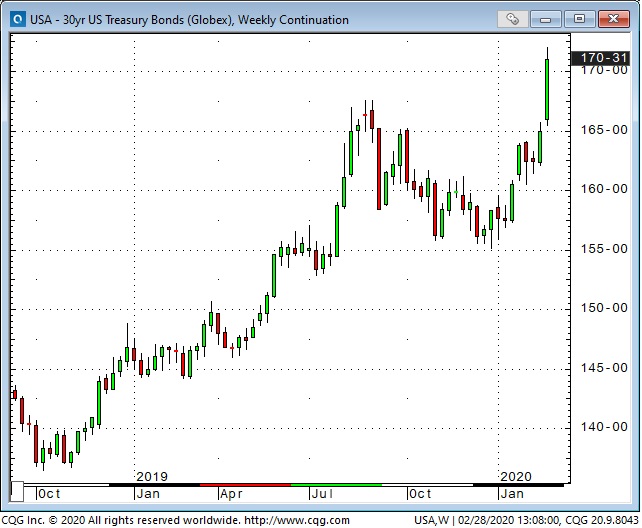 And then there's Bernie. I've written that the November election is Trump's to lose. The market has assumed he will win…but if the economy is in the tank come election day Bernie could be the next President…and if traders see that coming they'll be selling. So you have to wonder…given that Trump seems to have tied his wagon to the stock market…what he will do now?
The US Dollar has surged higher against nearly all other currencies since the beginning of the year...as capital flowed to the USA for safety (virus) and opportunity…as US stocks continued to outperform (most of) the Rest Of The World. Emerging market (EM) and commodity currencies were especially weak against the USD…but then…the US Dollar Index (which is mostly the Euro and Yen) and the S+P 500 Index both peaked out on February 20th and began to fall. As I wrote last week:
Could there have been a European institutional account positioned in US stocks which suddenly decided, like the Jeremy Irons character in the Margin Call movie, that they didn't "hear the music" anymore and decide to sell? If they had owned US stocks without hedging their FX risk the temptation to hit the SELL button given the recent huge rallies in both US stocks and the US Dollar would have been huge!
While the Euro area currencies rallied against the Dollar as the stock market fell the EM and commodity currencies picked up speed to the downside. The Australian dollar fell to 11 year lows.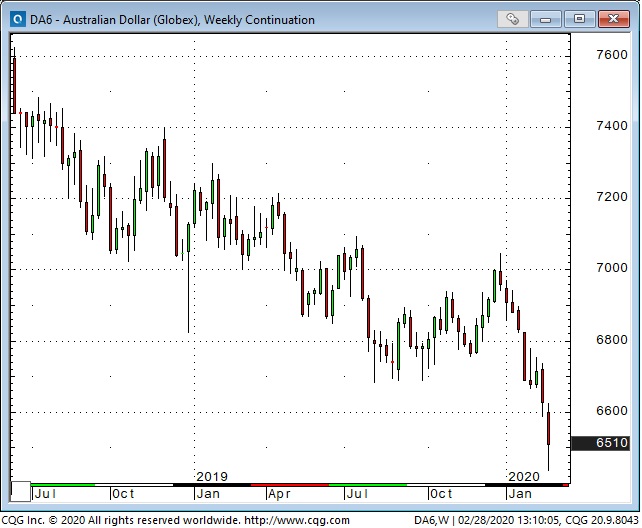 Gold surged to new 7 year highs Monday as stocks began to fall but couldn't sustain those gains even as interest rates and the US Dollar fell. By Friday gold had fallen as much as  ~$125 from Monday's highs. Perhaps this was a case of "sell what you can" to meet margin calls. Silver was hit even harder…dropping > $2.50 from Monday highs to Friday lows.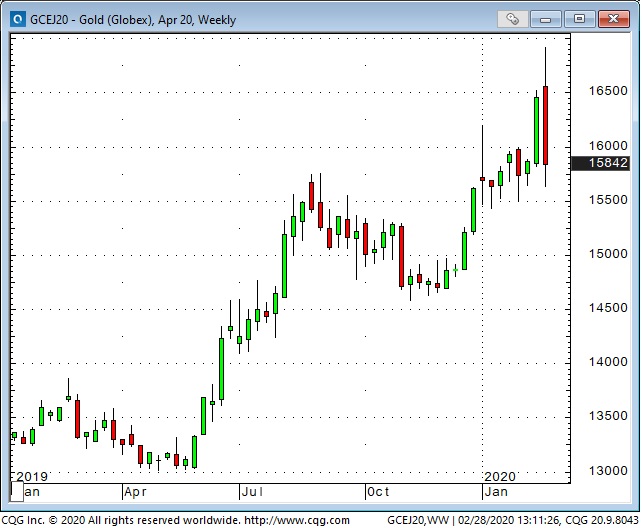 WTI tumbled this week as stocks fell and at Friday's $44 low crude was down >32% from the January highs.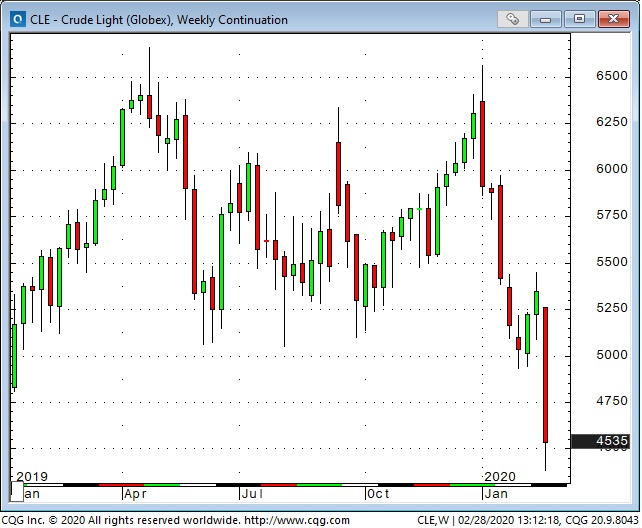 My short term trading: I made good profits this week from bearish bets on stocks and gold and bullish bets on the Euro. I left money on the table on every one of those trades because I took steps to reduce risk. This week was a great reminder that trading is not a game of perfect. You get what you get by managing risk not from making great predictions. At the end of the week I hold bearish puts spreads on both the S+P and gold and I'm short Yen.
I think the virus was a catalyst. Positioning and leverage were at extreme levels and then the catalyst triggered the initial selling. That selling triggered more selling. We may get another "catalyst" (The Fed?) that reverses the flow or the selling may exhaust itself. Or next week may see more selling. I don't know. I'll pay attention to "the news" but I'll trade the price action.   
My son Drew Zimmerman and I use the futures market to trade currencies, metals, interest rates, stock indices, energy and other commodities. Please give us a call or send us an email if you'd like to know more about trading futures.
Victor Adair
SVP and Derivatives Portfolio Manager
PI Financial Corp
Canada
PI Financial Corp. is a Member of the Canadian Investor Protection Fund. The risk of loss in trading commodity interests can be substantial. You should therefore carefully consider whether such trading is suitable for you in light of your financial condition. In considering whether to trade or the authorize someone else to trade for you, you should be aware of the following. If you purchase a commodity option you may sustain a total loss of the premium and of all transaction costs. If you purchase or sell a commodity futures contract or sell a commodity option or engage in off-exchange foreign currency trading you may sustain a total loss of the initial margin funds or security deposit and any additional fund that you deposit with your broker to establish or maintain your position. You may be called upon by your broker to deposit a substantial amount of additional margin funds, on short notice, in order to maintain your position. If you do not provide the requested funds within the prescribe time, your position may be liquidated at a loss, and you will be liable for any resulting deficit in your account. Under certain market conditions, you may find it difficult to impossible to liquidate a position. This is intended for distribution in those jurisdictions where PI Financial Corp. is registered as an advisor or a dealer in securities and/or futures and options. Any distribution or dissemination of this in any other jurisdiction is strictly prohibited. Past performance is not necessarily indicative of future results.
STAY INFORMED! Receive our Weekly Recap of thought provoking articles, podcasts, and radio delivered to your inbox for FREE! Sign up here for the HoweStreet.com Weekly Recap.