February 22, 2020 | Trading Desk Notes February 22, 2020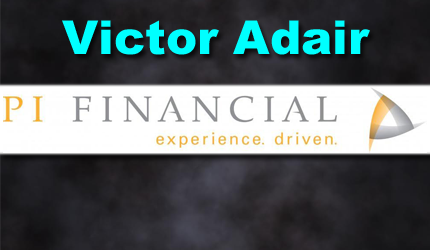 Senior Vice President and Derivatives Portfolio Manager. Victor began trading financial markets over 45 years ago and has held a number of senior executive positions during his career as a commodity and stockbroker. Over the years he has provided considerable market analysis via radio and television and at financial conferences. His primary brokerage business is providing corporate accounts with risk management services using exchange traded derivatives. He actively trades currencies, interest rates, precious metals, stock indices and commodities for his own accounts.
Starting January 24th the S+P futures closed red for 3 consecutive Fridays…fearing bad virus headlines over the weekend…but this past Valentines Friday (ahead of a 3 day weekend) the S+P futures closed green…not exactly an "all clear" signal but at least "an indication" that the market was pricing less fear. That sanguine S+P pricing revealed more than a trace of cognitive dissonance given the behavior of the USD, bonds and gold.
The S+P's resilience to virus concerns helped lift the index to marginal new ATHs Wednesday evening…despite the red flags from the USD, bonds and gold…setting up a wonderfully asymmetric risk/reward ratio to short the index. I made that trade.
Thursday morning the S+P tumbled ~50 points just ahead of the European close…and then Friday the EURUSD jumped sharply (after falling steadily YTD) and the spooz took another leg down. Could there have been a European institutional account positioned in US stocks which suddenly decided, like the Jeremy Irons character in the Margin Call movie, that they didn't "hear the music" anymore and decide to sell? If they had owned US stocks without hedging their FX risk the temptation to hit the SELL button given the recent huge rallies in both US stocks and the US Dollar would have been huge!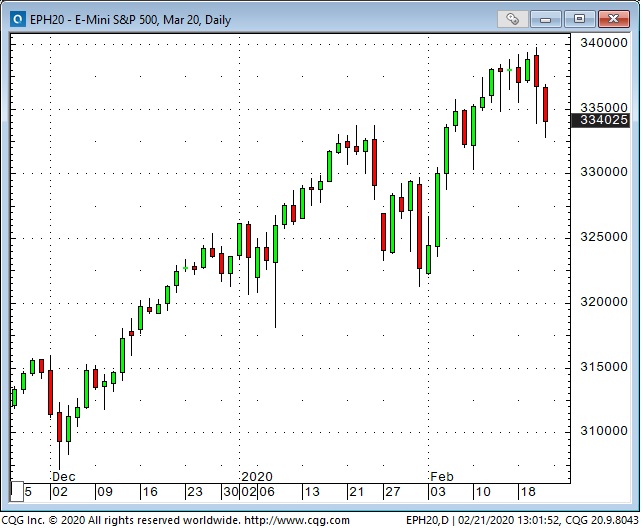 The US long Treasury bond yield fell to All Time Lows Friday as a tsunami of capital flowed into the bond market, the yield curve flattened (longer rates fell faster than shorter rates) and traders worried that the knock on effects from the virus would tip the global economy into recession. It was a good week to be long bonds!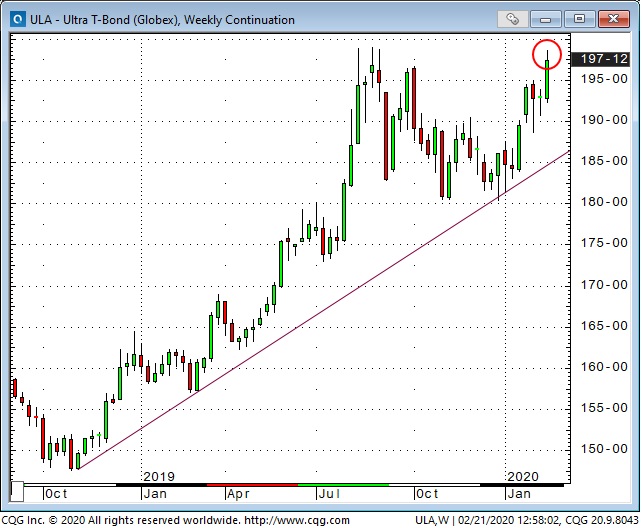 The US Dollar Index rallied 3.5% YTD to hit a 3 year high Thursday (Euro hit a 3 year low) but reversed sharply Friday. The Chinese RMB fell to a 2 ½ month low this week.
The Yen lost its "safe haven" status and tumbled to 15 month lows as virus concerns mounted in Japan and Korea and as the Japanese economy slipped into recession.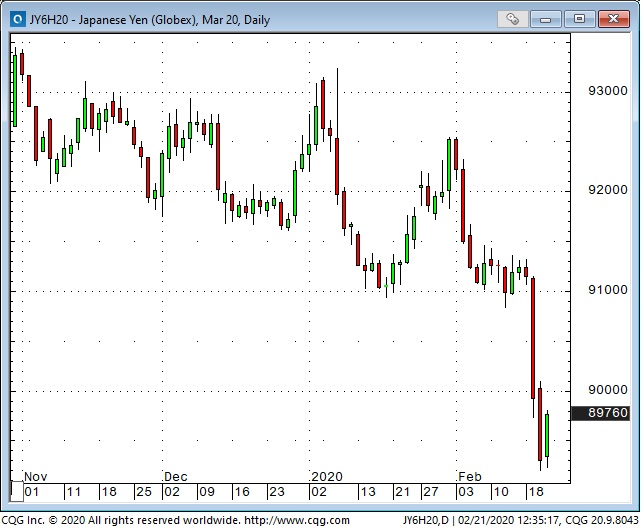 Gold soared this week…rallying above the January 8th pivot point (made on the Iranian missile attacks on US bases in Iraq) to hit a 7 year high. It's unusual to see gold and the USD rallying together…although when that happens it's usually a "flight to safety." For the past year and more I believe gold has really responded to low and negative interest rates. I`ve previously written about the January 8th pivot point…the high that gold made on the missile attacks became a resistance level once both sides decided to not escalate tensions. However, if gold rallied through that resistance level (a level made when a full-on war looked possible) then it could really fly!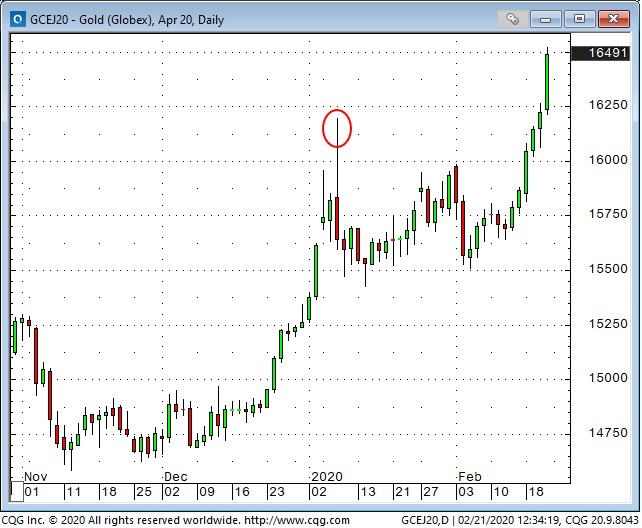 My short term trading this week had good results: I started the week long TNotes and long S+P puts. I added to the TNotes mid-week and took profits on the whole position Friday when the long bond hit All Time High prices. I also took profits Friday on my S+P puts. I think the S+P can continue lower so I took a bearish option spread position on the S+P…I own ATM puts and I'm short OTM puts. My maximum possible gain on the trade (if I don't lift a leg) is about 4X my maximum possible loss.
My son Drew Zimmerman and I use the futures market to trade currencies, metals, interest rates, stock indices, energy and other commodities. Please give us a call or send us an email if you'd like to know more about trading futures.
Victor Adair
SVP and Derivatives Portfolio Manager
PI Financial Corp
Canada
PI Financial Corp. is a Member of the Canadian Investor Protection Fund. The risk of loss in trading commodity interests can be substantial. You should therefore carefully consider whether such trading is suitable for you in light of your financial condition. In considering whether to trade or the authorize someone else to trade for you, you should be aware of the following. If you purchase a commodity option you may sustain a total loss of the premium and of all transaction costs. If you purchase or sell a commodity futures contract or sell a commodity option or engage in off-exchange foreign currency trading you may sustain a total loss of the initial margin funds or security deposit and any additional fund that you deposit with your broker to establish or maintain your position. You may be called upon by your broker to deposit a substantial amount of additional margin funds, on short notice, in order to maintain your position. If you do not provide the requested funds within the prescribe time, your position may be liquidated at a loss, and you will be liable for any resulting deficit in your account. Under certain market conditions, you may find it difficult to impossible to liquidate a position. This is intended for distribution in those jurisdictions where PI Financial Corp. is registered as an advisor or a dealer in securities and/or futures and options. Any distribution or dissemination of this in any other jurisdiction is strictly prohibited. Past performance is not necessarily indicative of future results.
STAY INFORMED! Receive our Weekly Recap of thought provoking articles, podcasts, and radio delivered to your inbox for FREE! Sign up here for the HoweStreet.com Weekly Recap.