February 15, 2020 | Trading Desk Notes February 15, 2020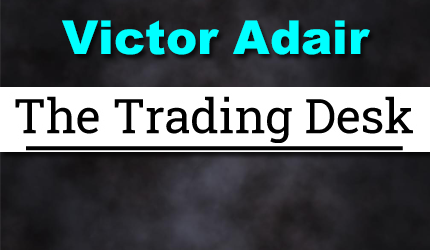 Victor Adair, author of The Trading Desk Notes, began trading penny mining shares while attending the University of Victoria in 1970. He worked in the mining business in Canada and the Western United States for the next several years and also founded a precious metals trading company in 1974. He became a commodity broker in 1977 and a stock broker in 1978. Between 1977 and his retirement from the brokerage business in 2020 Victor held a number of trading, analytical and senior management roles in Canada and the USA. Victor started writing market analysis in the late 1970's and became a widely followed currency analyst in 1983. He started doing frequent media interviews in the early 1980's and started speaking at financial conferences in the 1990's. He actively trades his own accounts from The Trading Desk on Vancouver Island. His personal website is www.VictorAdair.ca.
Commodities have been hammered since the virus became front page news...but bonds, gold, the US Dollar and stocks have all rallied…which begs the question, "Are markets anticipating a global economic slowdown exacerbated by the virus…or are they looking past that and anticipating massive fiscal and monetary stimulus?"
Fears of a dramatic fall in Chinese demand drove Comex copper down for a record 13 consecutive days...but prices have bounced off the $2.50 support level that has held for the last 3 years.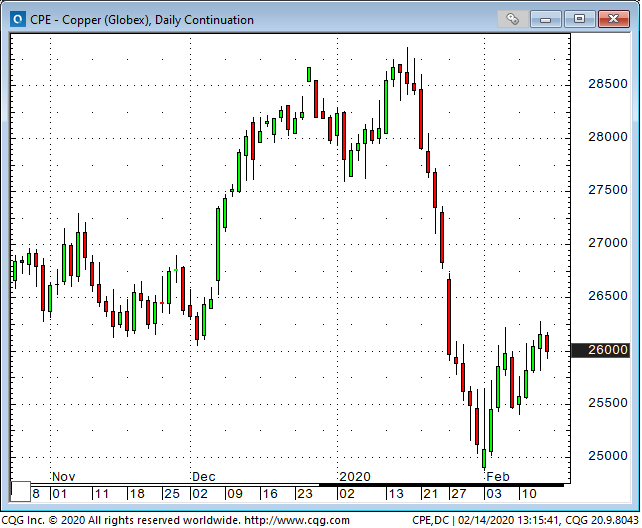 WTI crude oil spiked above $65 on USA/Iran tensions in early January but quickly fell back as tensions subsided…but then the virus headlines hit and WTI took a 2nd leg down with selling pressure intensified by speculators bailing out of near record sized long positions. WTI has steadied just above the $50 level that has been good support over the last year.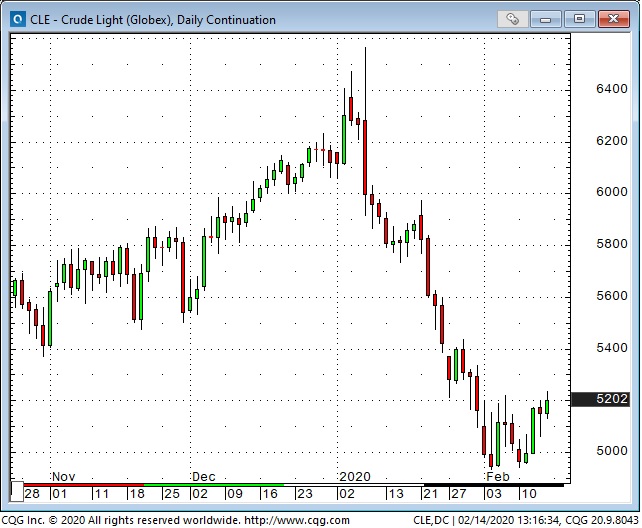 The yield on the long US Treasury bond hit an All Time low September 3, 2019, when the popular narrative was that the longest ever US economic expansion was finally coming to an end and that a recession was just around the corner. But the recession was "postponed" and bond yields rose (prices fell) into year-end as the "reflation" narrative took hold. January was a different story…bonds rallied throughout the month on weakening global economic data, huge capital flows into the bond market and a flight-to-safety bid on the virus headlines.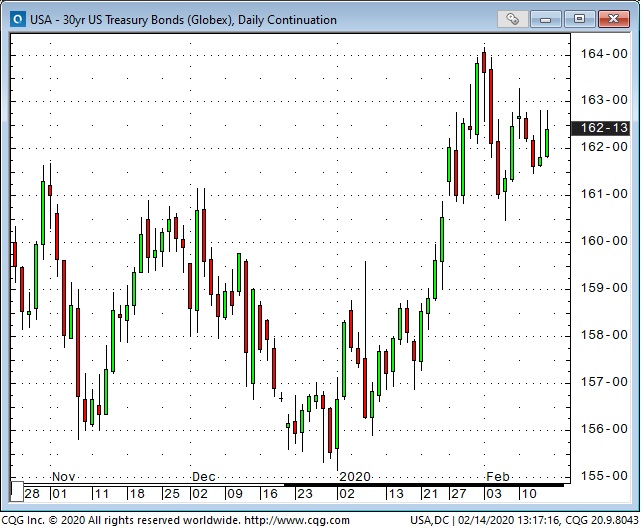 In June 2019 Gold rallied through a 6 year resistance level around $1350 and charged higher throughout the summer to hit $1560 on the September 3rd Key Turn Date. That rally was accompanied by surging open interest and a big jump in Comex net speculative long positions. Gold trended slightly lower into December 2019 as interest rates rose but open interest continued to rise and net long spec positions were maintained. Gold broke out of a 3 month downtrend in late December and surged higher as the US Dollar weakened. Prices spiked in early January to $1613 (basis Feb Comex) on the US/Iran tensions but quickly fell back as tensions de-escalated. I've written previously that the $1613 high was a Pivot Point and should act as a lid on prices…but if gold trades above that Pivot Point it will probably run higher.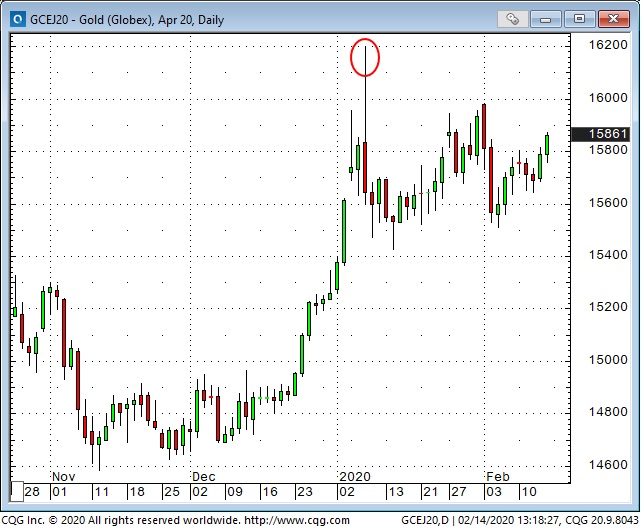 Historically gold has a high negative correlation to strength or weakness in the US Dollar…but for the past year or more gold has rallied along with the USD. I think low and falling interest rates (especially negative real rates) have been a major positive for gold.
The US Dollar Index (USDX) has been trending higher for 2 years (capital comes to America for safety and opportunity) but weakened a bit into 2019 yearend only to turn higher against nearly all currencies…especially EM FX…since the beginning of 2020. USDX benefited from a "safety" bid while the currencies of countries that exported to China tumbled.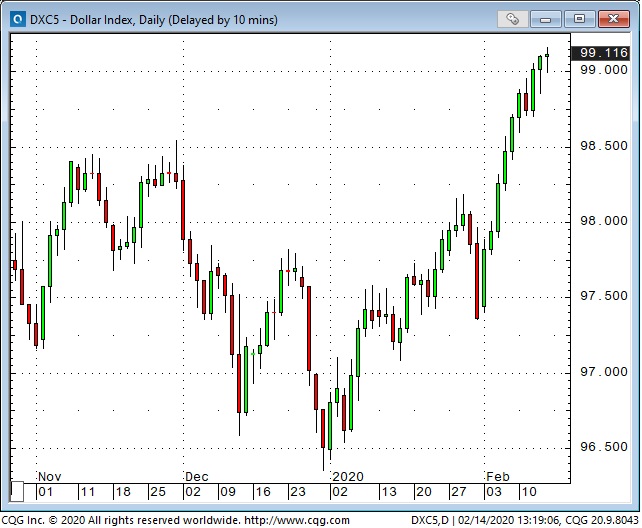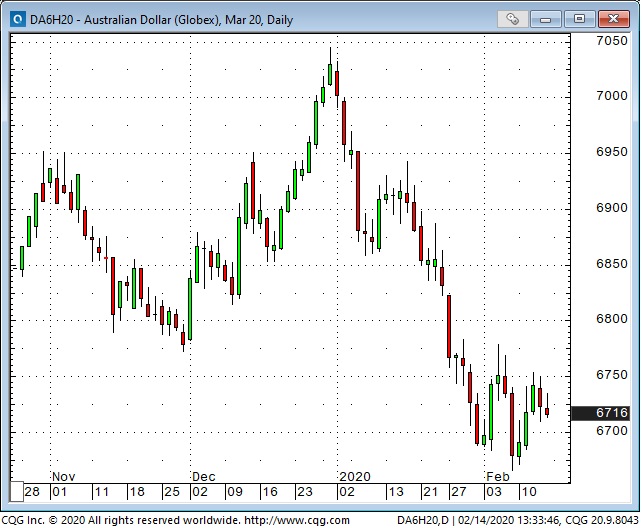 The major North American stock indices have rallied relentlessly from the December 2018 lows...and, aside from a couple of brief wobbly moments, have continued to surge higher despite any worries about the virus. This sanguine tone seems wrong to me…I can easily imagine the virus headlines getting worse and the stock market taking a swan dive…but prices continue higher and the lowest VOL levels since last November speak volumes to the complacency in the market.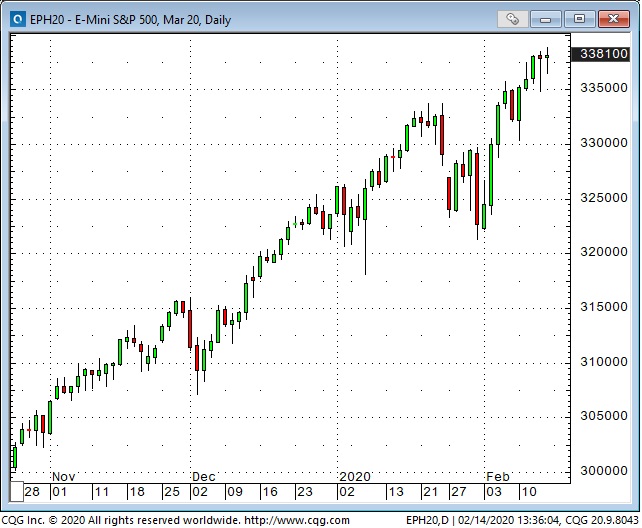 My short term trading: I'm long TNotes and OTM S+P puts. Both positions are a limited risk bet that virus headlines get worse and/or economic activity slows.
My son Drew Zimmerman and I use the futures market to trade currencies, metals, interest rates, stock indices, energy and other commodities. Please give us a call or send us an email if you'd like to know more about trading futures.
Victor Adair
SVP and Derivatives Portfolio Manager
PI Financial Corp
Canada
PI Financial Corp. is a Member of the Canadian Investor Protection Fund. The risk of loss in trading commodity interests can be substantial. You should therefore carefully consider whether such trading is suitable for you in light of your financial condition. In considering whether to trade or the authorize someone else to trade for you, you should be aware of the following. If you purchase a commodity option you may sustain a total loss of the premium and of all transaction costs. If you purchase or sell a commodity futures contract or sell a commodity option or engage in off-exchange foreign currency trading you may sustain a total loss of the initial margin funds or security deposit and any additional fund that you deposit with your broker to establish or maintain your position. You may be called upon by your broker to deposit a substantial amount of additional margin funds, on short notice, in order to maintain your position. If you do not provide the requested funds within the prescribe time, your position may be liquidated at a loss, and you will be liable for any resulting deficit in your account. Under certain market conditions, you may find it difficult to impossible to liquidate a position. This is intended for distribution in those jurisdictions where PI Financial Corp. is registered as an advisor or a dealer in securities and/or futures and options. Any distribution or dissemination of this in any other jurisdiction is strictly prohibited. Past performance is not necessarily indicative of future results.
STAY INFORMED! Receive our Weekly Recap of thought provoking articles, podcasts, and radio delivered to your inbox for FREE! Sign up here for the HoweStreet.com Weekly Recap.