February 5, 2020 | The Fixer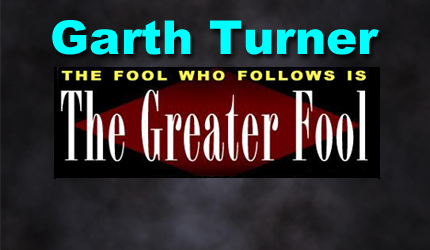 A best-selling Canadian author of 14 books on economic trends, real estate, the financial crisis, personal finance strategies, taxation and politics. Nationally-known speaker and lecturer on macroeconomics, the housing market and investment techniques. He is a licensed Investment Advisor with a fee-based, no-commission Toronto-based practice serving clients across Canada.
Days ago we flummoxed over the possibility Ottawa could sideswipe TFSAs. This came on the heels of a socialist economist suggesting tax-free savings accounts favour the wealthy. Contribution limits should be capped (at current levels) he argued. And there also needs to be a lifetime limit on what an account can hold in taxless assets.
In response, naturally, this blog slobbered and squirted in protest, pointing out TFSAs are (unlike RRSPs) democratic and universal. We all get the same chance to make some dough and pay no tax on it. So is it the fault of those who do, that most people don't?
To refresh your memory: the limit now is $69,500 per person, or almost $140,000 for a couple. If you invest that in a nice B&D portfolio, and keep making the annual contribution, this will become about $1.1 million in twenty years. That will produce at least $5,000 a month in cash flow, no tax. Add in a couple's CPP and OAS and, presto, a household retirement income of (at today's benefit level) of about $80,000. No income tax.
Obviously it's a money machine. This bothers the lefties who argue average people cannot find $6,000 a year to stuff into their TFSAs, so nobody should. On their planet everyone should have a universal basic income, which rolls into a livable public pension. Who funds it all? Other people, of course.
Now, what are most folks doing?
According to an Ipsos poll of the four-in-ten little beavers who have opened a TFSA, 42% have their money sitting in cash, most often a HISA. A chunk of others have GICs at 2% or 3%. And what do people use their accounts for? What life goals?
A quarter keep day-to-day savings in there – money used for nice shoes and Puerto Vallarta. One in ten are saving for a house. Another 35% keep it in cash as an emergency fund (have you ever had one?) About a third are holding TFSAs for retirement. And guess what? Wealthy people are not more into TFSAs than anyone else. Just 23% of 1%ers max their plans, about the same as lower-income folks.
Well, let's assume no changes are made to the TFSA for a while, despite the haters. Here are six strategies to consider:
If you make a modest amount, have no gold-plated defined benefit pension and your parents won't leave you their portfolio of Tesla stock plus a house in Kits, then stuff the TFSA for retirement. After all, you may have to rely on public pogey – CPP plus OAS and the GIS payment. None of those things will be taxed away if you take regular income from a fat TFSA.
Conversely, if you make a lot, save a lot, have an boodle invested and a rich pension there's a good chance your marginal tax rate will be as high, or higher, when you retire as it is while working. In that case, having a mess of RRSP money could mean paying more in tax when you take income than the break received for contributing. Sucks. So a TFSA is a better alternative than a registered retirement plan.
If you're young and clever build a sizzling TFSA now, then shift some of that money over into RRSP later on where your career flowers and income jumps.  Use TFSA tax-free growth to get a big tax refund when its slides into the RRSP. Smile.
Planning to die? Me neither, but it'll probably happen. So make sure your squeeze is named as 'successor holder' on your plan, and not as beneficiary. That way your entire TFSA becomes his/her property with no assets moved out.
People heading for retirement with low incomes and RRSPs might consider this: slowly cash out those retirement plans and move the money into TFSAs. The tax paid on collapsing the RRSPs will likely be less than the amount of government benefits  that are lost after you retire.
And for wealthier folks with RRSPs, when your estate is settled retirement plans are deemed to have been cashed out and the assets fully taxed. So move  money into TFSAs, which are taxless. Your spawn will be happy.
Most of all, use this vehicle fully. Now. Find a few hundred a month to keep it loaded. Invest in a sane mix of growth assets. Lend your spouse money to max his/her account. Ditto for your adult children. No gains will be attributed back to you. It matters not if you're a 1%er or a 99%, have a fat DB pension, or none. This is a flexible, modern tool that can substantially improve your financial future.
Unless the commies take it. Over my chiseled abs.
STAY INFORMED! Receive our Weekly Recap of thought provoking articles, podcasts, and radio delivered to your inbox for FREE! Sign up here for the HoweStreet.com Weekly Recap.