February 29, 2020 | Phase I (sell off) Is Over – Next Comes Phase II and then III!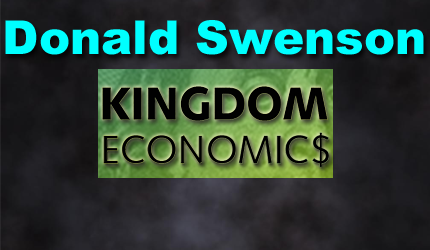 Donald B. Swenson: Born January 24, 1943, Roseau, Minnesota. Graduated H.S. 1961, Moorhead High, Minnesota. Graduated College 1968, Moorhead State University, Minnesota. Designated member of Appraisal Institute (MAI), 1974. Employed with Western Life Insurance Company, 1968 – 71; Iowa Securities Company, 1971 – 73; American Appraisal Company, 1974 – 81. Part-time teacher/valuation consultant/bartender, 1979 – 2008 (taught workshops at Waukesha County Technical Institute, Wi. and Madison Area Technical College, Wi.). Retired 2008 (part time teacher/blogger), AZ. Self educated economist/philosopher/theologian: http://kingdomecon.wordpress.com.
Trump calls the current sell-off a correction and says the Federal Reserve is CRAZY!
The correction to our bubble stock markets has started. Some 3,500 points ($3.5 trillion in value) vanished into thin-air this week. The big question now is that this is only the beginning of the sell-off. Phase II and then phase III will follow prior to the end of 2020. We could witness some up momentum next week as the central planners devise trades to pump-up the markets. But the general sentiment is now 'fear' and this means that phase II and III are coming.
We live with psychological markets. Our virtual currencies are subjective and volatile. Prices are distorted and manipulated by our central planners. Values are unstable as our currencies are 'tied' to nothing (mere thin-air). All this means that the correction is far from over. Watch as these markets enter phase II in a few days or weeks. The selling will magnify and the losses will vanish from reality.
Our financial system is pure fantasy and built upon shifting sand. This type of system can not grow in an environment of 'fear'. Fear creates a logic for safe havens. But what do we have today for 'safe havens'? Gold is manipulated and goes down with a market decline. Silver is manipulated and goes down with a market decline. All commodities can be manipulated by our central planners (say the Plunge Protection Team). It happened today and this has become ubiquitous.
With our currencies 'tied' to mere thin-air (subjective emotions) there can be no stability in these markets. The game is controlled by those with the trading digits and the coded algorithms. Algo's can trade these markets so that general trends go either UP or DOWN. The past 10 years we have witnessed a market of 'confidence' and this allowed these markets to reach the current bubble levels. All has changed this past week.
We now live with a lack of confidence and with this emotion called 'fear'. Fear will drive these markets MUCH LOWER over time. It can happen suddenly or it may hnappen after a brief pause as our central planners take temporary control. Lower interest rates are now built into the markets. We could witness negative interest rates by the end of 2020. One scenario which also could develop is this concept called a RESET.
A RESET of the system with some new reference point that fools the markets could develop. Our markets are mostly built upon deception and illusion. So some new deception/illusion could emerge from these elites who plan the policies. A coordinated policy plan (deception) could emerge to temporarily pump-up investor confidence. Watch this organization called the BIS (Bank for International Settlements). This body of planners could promote a new deception/illusion for our markets. We live with a PONZI system of deceptions and illusions.
Next week should be interesting. Some new trick is likely to emerge which will provide temporary confidence for investors. I do not think this will work longer-term, but it might work for a couple of weeks. Watch and learn. I will do likewise. The CORONAVIRUS sell-off is far from over! Have a great day and let's all learn from these experiences. More to come as we enter a new week. I am: https://kingdomecon.wordpress.com.
STAY INFORMED! Receive our Weekly Recap of thought provoking articles, podcasts, and radio delivered to your inbox for FREE! Sign up here for the HoweStreet.com Weekly Recap.