February 24, 2020 | Not So Bad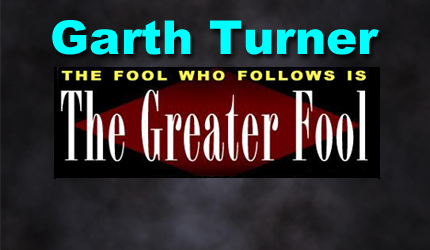 A best-selling Canadian author of 14 books on economic trends, real estate, the financial crisis, personal finance strategies, taxation and politics. Nationally-known speaker and lecturer on macroeconomics, the housing market and investment techniques. He is a licensed Investment Advisor with a fee-based, no-commission Toronto-based practice serving clients across Canada.
After roaring through 2019 and romping to new record highs in past weeks, stocks markets have gone into a funk. Yup, the Dow shed over a thousand points Monday. Guts everywhere. A global plop. Bonds soared. Gold advanced. Oil sunk. The US dollar jumped.
First, let's have context. The drop Monday didn't even make it into the Top 20 days for losses on the Dow. Not even close. The granddaddy was a 22.6% rout in 1987, and the worst day during the GFC was 7.8%. So the current drop of  3% was like shutting the car door on your foot. Painful but not fatal.
Having said that, there's no covering over the fact Mr. Market is upset. The virus is a tricky little bugger, and has now made unwelcome inroads into Europe and the Middle East after munching its way through Asia. It's not that Covid-19 will kill millions of people – thankfully the mortality rate is low – but it's kicking the hell out of local economies because of massive quarantine efforts.
More than a million companies in China might fail. Supply chains for behemoths like Apple are starting to break down. The cruise business is dead. Travel is massively disrupted. Q1 GDP in China will be a disaster. Global economic activity has started to decline. That's cratered oil and commodity prices as investors anticipate weak demand.
In response equity markets – at record levels – have shed froth. That money has coursed into the usual safe havens, especially government bonds. As demand boosted their prices, yields plunged. The return on a 10-year US Treasury is close to its all-time low. Government of Canada five-year bond yields crashed 7%, back down to just 1.2%. Unless things spike it pretty much guarantees lower mortgage rates are coming.
In fact, events of Monday increased the odds central banks will cut rates more than anticipated, and battle the virus with a big shot of chicken soup and liquidity. Look for major stimulus from the Chinese bank, the ECB in Europe and the American Fed. By the way, Canada seems okay in the context of this evolving mess. Despite the Teck decision and the goofball railway blockades, our CB has kept rates at tolerable levels, giving the Bank of Canada more room to soft-land things.
Well, the deplorables cry, how bad is this? Are we doomed the way all the web sites selling gold bullion and ammo claim?
Nah. It's noise.
The virus is real, spreading, unpredictable and will take months to overcome. But it's not the plague. A vaccine will emerge. The flu kills way, way, way more people every year, and markets totally ignore it. This has the hallmarks of a temporary crisis. Like Y2K.
So it's wise to focus on what drove markets higher before some moron somewhere ate a bat and puked on his neighbour. Markets have risen on a tide of robust corporate profits thanks to the power of the US economy, where unemployment is at a 50-year low, consumer confidence is on a roll and an 11-year-long expansion is firmly in place. Virtual full employment has fueled an economy which is 70% powered by consumer spending.
Says fancy portfolio manager (and second-rate blogger) Ryan: "No one should be surprised by this sell off. Since October markets are up huge leaving the equity markets extremely overbought and vulnerable to a pullback. This sell off should be expected and welcomed as it will work off the overbought technical condition and reset expectations. While the news updates on the Coronavirus are scary this should not derail the global economy and bull market."
Yeah, but what about Trump?
No doubt his corporate tax cut helped ignite the spending which created jobs, as did deregulation and protectionism. Under this president inflation has returned, government deficits have exploded and expansion has been startling. Markets love that. They want more. And Bernie's giving it to them.
The victory of Democratic presidential contender Bernie Sanders in Nevada on the weekend was all Trump could have hoped for. The 78-year-old socialist has a good shot of being the orange guy's rival in November, and radical enough to keep millions of Dems at home for the vote. Unless Super Tuesday changes everything – launching little Mike Bloomberg or resuscitating Joe Biden – then Bernie's the guy. And Trump wins again.
As you know, Trump takes the market and the economy as proxies for his presidency. He thinks the Fed should seriously chop rates again. He's busy doing trade deals around the world (India this week). He thinks climate change is an expensive hoax and the energy business should have free reign. Moreover it's hard to imagine he'd let the US transportation system be shut down for weeks because of a few FN radicals in a snowplow pickup truck.
So, the virus will likely get worse, then better. Central banks will intervene. Economies will spike back in the midst of pent-up demand. Markets will recover as the American election cycle draws to a conclusion. Corporate profits will continue. Interest rates will drop. People who ignore things will sail through. Those who panic and sell will regret it.
"If the US November Election follows the UK results where the Socialists get the worst defeat since 1935," says one Bay Street vet, "then markets will like that. Markets will probably like another 4 years of 45. The confusion and chaos are set against the background of solid economic growth. Not so bad."
STAY INFORMED! Receive our Weekly Recap of thought provoking articles, podcasts, and radio delivered to your inbox for FREE! Sign up here for the HoweStreet.com Weekly Recap.