February 20, 2020 | Is it Too Late for Me to Buy Gold? No!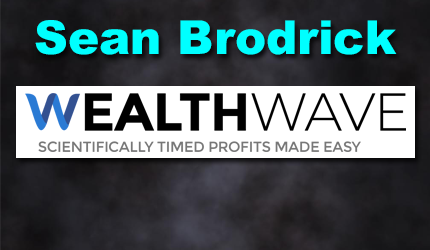 Sean is the natural resource analyst for Weiss Ratings. You can read his thoughts on gold, oil, cannabis, uranium and other natural resources at Wealth-Wave.com
I'm getting your questions and hearing your concerns loud and clear.
And the biggest question I'm getting is: "Is it too late for me to buy gold?"
And I understand why this is a concern. Gold has rallied more than 10% since late December. And it just hit a seven-year high! Surely, it's too expensive to get in on the gains now, right?
Wrong! And don't call me Shirley.
While it's very hard to predict short-term price movements in gold, I think this is a GREAT time to buy gold, and especially MINERS!
First, let's start with the fact that we just saw gold break its weeks-long consolidation.
You can see gold cracked overhead resistance like a spike splitting an oak tree. Boom! That breakout gives us a technical price target of $1,690. But I believe gold is on its way to $1,800.
And how about miners? I told you earlier this month that miners were set-up for a 51% rally when gold broke out. Now, it has — and they are!
As I said, short-term movements in gold are hard to predict. But there's one indicator on this chart that shows gold should have a very good rally in the next month to three months.
To see that, look at that line I've labeled on the chart, the 50-day moving average (MA).
Gold closed about 4.5% above its 50-day MA on Wednesday. A study by Bloomberg of data from the last 20 years showed that's the second-sweetest spot for a gold rally.
If history is a guide, the next three months should see gold rise a little more than 3% over the next three months.
But how could that small move in gold translate to such a big move in miners? Because miners are leveraged to the underlying metal.
It only takes a relatively small move in gold for some miners to go from losing money to making money. Just a little move up is enough for others to see their profit margins widen like the Grand Canyon.
That's one reason why it's not too late to buy gold. Now I'll give you another.
Institutional and retail investors are just STARTING to get interested in gold. We know this by the activity in the ETFs that hold physical gold.
The latest data shows that ETFS have raised their gold holdings for 20 days straight!
Why are investors suddenly pouring money into physical gold ETFs? They can see the things I've talked about before:
Negative interest rates …
Central banks buying gold by the fistful …
And governments around the world injecting huge amounts of liquidity into the markets.
Politicians are doing this because they fear the coronavirus, now known as "Covid-19", will wreak havoc.
Add to all that rumors that China may be planning on printing MORE easy money to keep its economy on track, trade wars, super-accommodative global monetary policies and the plain fact that many central banks see gold as an alternative to the U.S. dollar in their reserve assets.
It's no wonder holdings in physical gold ETFs just hit a new record. That record is going to be surpassed, too!
The plain fact is that gold is the world's best barometer of economic fears. And gold is telling us that fear is on the rise … all around the world.
Gold will continue to zig-zag its way higher. Miners, leveraged to the metal, will make bigger moves. We're playing this for all it's worth in Gold & Silver Trader.
If you're not onboard the gold train yet, it's not too late. If you're doing this on your own, look for pullbacks to get in. There is plenty more upside to come.
All the best,
Sean
STAY INFORMED! Receive our Weekly Recap of thought provoking articles, podcasts, and radio delivered to your inbox for FREE! Sign up here for the HoweStreet.com Weekly Recap.