February 21, 2020 | Is Covid-19 the Black Swan of 2020? Let's Explore!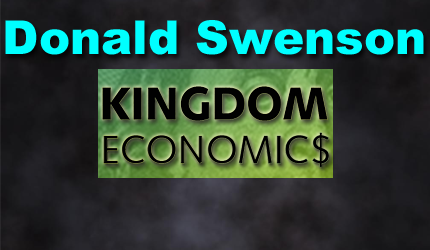 Donald B. Swenson: Born January 24, 1943, Roseau, Minnesota. Graduated H.S. 1961, Moorhead High, Minnesota. Graduated College 1968, Moorhead State University, Minnesota. Designated member of Appraisal Institute (MAI), 1974. Employed with Western Life Insurance Company, 1968 – 71; Iowa Securities Company, 1971 – 73; American Appraisal Company, 1974 – 81. Part-time teacher/valuation consultant/bartender, 1979 – 2008 (taught workshops at Waukesha County Technical Institute, Wi. and Madison Area Technical College, Wi.). Retired 2008 (part time teacher/blogger), AZ. Self educated economist/philosopher/theologian: http://kingdomecon.wordpress.com.
China now has some 750 million under surveillance and the Capital, Beijing is under lock-down. This is all due to this virus called coronavirus (covid-19). This video provides a general overview of the situation. Beijing (a population of 21.54 million) is now a ghost town and prices are skyrocketing. See the video here:
The situation is starting to improve but the virus is spreading to cities all over Asia. This could lead to a pandemic situation if no cure can be found. It appears that a vaccine is months away. Fecal matter is now another issue which is allowing the virus to spread to public facilities.
China is an authoritarian nation of nearly 1.5 billion people. The central committee for health is creating serious stress on the people who have no alternative but to obey the authorities. This central administration could be detrimental to a solution to the problem as 'one size does not fit all'.
The economic consequences of this situation are now being felt in Asia. Russia has closed down their border with China and will not allow any Chinese to enter Russia (with a few exceptions). My sense is that the psychological damage from this virus is HUGE. We could witness a significant slowdown in all economic activity within a few weeks.
The current numbers on this virus are: 77,000 cases of infection and deaths are 2,236 (all as of February 20, 2020). Seoul, Korea has just closed down a church due to dozens being infected with the virus. The cruise ship industry is being devastated as the psychology of taking a cruise is affecting plans going forward. It looks like this virus could be the BLACK SWAN of 2020.
Will our stock markets crash due to this Black Swan? My sense is that the central banks will not allow this to happen for now. Today, central banks trade our electronic markets and they have unlimited trading digits (money) to use for pumping up any significant decline. So we could witness UP stock markets even as our general production economy slows and declines significantly. China is creating trillions of Yuan to pump-up their electronic markets.
All this reveals the nature of our markets today. Electronic stock markets can be manipulated UP even as the general economy heads down. It's all done with trading algorithms and money digits from our central banks. These entities can create these virtual digits from their 'thinking' (consciousness) and there is no limit to the math being used. Money is now a virtual digit (created by central banks via their computers).
Australian farm products are expected to be down over 50% due to weather conditions in that nation. Easter Africa is being hit with locusts (billions) that are eating farm crops and destroying vegetation. Is this eventually going to hit the WEST (America, Europe, and Scandinavia). I can not say as of today. But the general economy of America is dependent on imports from China and Europe and this means America is vulnerable to what happens in other areas of the globe.
The Big Picture is that we are now living in the END TIMES of man's rule over this planet and dire situations will develop in every country eventually. Our political leaders are sleeping on the Big Issues as none seems to sense the spiritual nature of all these problems. We will wake-up when the problems affect us directly (not until). Think on these issues if you desire to stay ahead of the sleeping crowd. Have a good day! I am: https://kingdomecon.wordpress.com.
STAY INFORMED! Receive our Weekly Recap of thought provoking articles, podcasts, and radio delivered to your inbox for FREE! Sign up here for the HoweStreet.com Weekly Recap.