February 4, 2020 | Get Your Piece of the Next Big Profit Cycle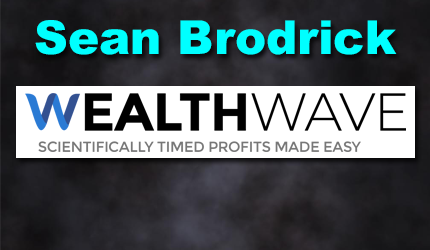 Sean is the natural resource analyst for Weiss Ratings. You can read his thoughts on gold, oil, cannabis, uranium and other natural resources at Wealth-Wave.com
I've mentioned the converging of war cycles a few times before. Forgive my repetition, but I want to make sure you guys know what's coming … and have time to prepare!
One way to ride the storm is by getting into gold. This historic safe-haven commodity is skyrocketing. Over a recent six-month period, gold outperformed stocks by over 20-to-1!
In fact, I'm hosting a free online event this coming Tuesday, Feb.11 at 2 p.m. Eastern where I'll pull back the curtain and show you, step-by-step, how to use my proven Gold X trading strategy to grab potentially massive gold gains.
Click here to reserve your seat.
While I'm definitely bullish for gold, there is another way to play this volatility.
Last week, I showed you that when war breaks out, too many investors do the exact opposite of what they should. They flee the stock market in droves right before staggering, life-changing gains could be made.
I showed why this was true during the Korean, Vietnam and Iraq wars … and even both World Wars.
It all has to do with a little-known truth from the Great Depression, one that most analysts never tell you about … capital flows.
You see, no matter what state the world is in, there are ALWAYS people and companies with huge amounts of capital to invest. And that capital will ALWAYS flow towards the safest, best returns possible … no matter where they are.
Just look at what happened during the Great Depression …
In early 1932, the stock market bottomed out. Western economies were on life support.
Savvy investors like J. Paul Getty knew what it meant: There would be a TON of capital — especially from Europe — looking for somewhere to go.
They knew it wouldn't go into U.S. bonds — although the U.S. government was solvent, all government bond markets were coming under suspicion.
They knew it couldn't all go into gold and commodities — then, as now, the commodities markets were simply too small to absorb that much capital.
So, the only place left was the U.S. stock market. And despite the fact that the economy was in the tank, there were still a lot of American companies in good shape.
Yet most analysts on Wall Street — and most investors — fixated on the deteriorating global economy. They wouldn't touch stocks with a 10-foot pole.
Yet, miraculously, stocks began moving up again. First the Dow hit 50. Then 60. Then 75.
Most investors and so-called experts said it couldn't possibly be a genuine market rally. After all, the economy was in a depression!
But the Dow Industrials soared like a rocket, gaining an eye-popping 382% by March 1937.
And all in the middle of the worst depression in our nation's history!
An equivalent move in the Dow today — counting the March 2009 low of 6,495 as the equivalent of the 1932 crash low in stocks — would put the Dow just north of 31,000. And I believe it could go much higher.
A 382% gain can make you rich — but only if you understand the forces I just described. And if you ignore the pundits who keep telling you stocks must fall because the world economy is slumping …
… or because of the civil war in Washington D. C. …
… or because of the cold and hot wars that are breaking almost daily around the world.
All these things are true. But they don't matter!
Whatever excuse so-called experts come up with merely reflects a fundamental ignorance of how capital flows impact the stock market — and the way capital flows shift with the geopolitical and military winds.
Getty and other savvy investors were able to position themselves for incredible profits.
Why? Because they understood the truth about capital flows.
If you understand this truth — and act on it — it'll make you rich.
So, what will happen when the next world war or economic collapse begins?
Yes, stocks will initially drop as uninformed investors panic. But smart investors will then stampede into stocks, causing the indexes to bounce off their lows like Super Balls!
Allow me to explain why I think even a Dow of 31,000 may be too low of an estimate … heck, we might even see 45,000!
First, unlike the 1932 to 1937 period, it isn't just Europe going broke. We also have the governments of Japan and the U.S. going bust. And all that money invested in Japanese and U.S. government bonds will seek safer havens.
Second, we have a "race to the bottom" in the currency markets. Japan, Europe and other countries are all trying to devalue their currencies … meaning asset prices will have to inflate all that much more to compensate.
And third, scores of cash-rich, low-debt companies will shift their massive wealth out of bonds and into — you guessed it — stocks.
Many of these companies have more cash than the annual production (GDP) of some important countries.
Warren Buffet's Berkshire Hathaway (NYSE: BRK-B) has a horde of over $128 billion. Apple (Nasdaq: AAPL) has $207 billion in cash, most of it invested in U.S. Treasuries. When Apple CFO Luca Maestri realizes that their treasuries are at risk of a massive decline in value, he'll have to make a move.
So, what should you do as the cycles of war converge upon us?
Well, I'm not about to recommend you go running off into the woods and arming yourself with ammo, food and survival strategies. That's fine for some people, but for others it's simply not practical.
Instead, making gobs of money is the best defense … and offense. It's protecting and growing wealth when other investors are losing their shirts.
All the best,
Sean
STAY INFORMED! Receive our Weekly Recap of thought provoking articles, podcasts, and radio delivered to your inbox for FREE! Sign up here for the HoweStreet.com Weekly Recap.