February 3, 2020 | Bear Panic Trumps Coronavirus Fears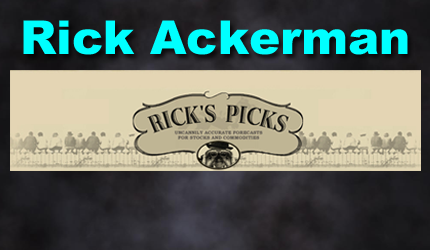 Rick Ackerman is the editor of Rick's Picks, an online service geared to traders of stocks, options, index futures and commodities. His detailed trading strategies have appeared since the early 1990s in Black Box Forecasts, a newsletter he founded that originally was geared to professional option traders. Barron's once labeled him an "intrepid trader" in a headline that alluded to his key role in solving a notorious pill-tampering case. He received a $200,000 reward when a conviction resulted, and the story was retold on TV's FBI: The Untold Story. His professional background includes 12 years as a market maker in the pits of the Pacific Coast Exchange, three as an investigator with renowned San Francisco private eye Hal Lipset, seven as a reporter and newspaper editor, three as a columnist for the Sunday San Francisco Examiner, and two decades as a contributor to publications ranging from Barron's to The Antiquarian Bookman to Fleet Street Letter and Utne Reader.
Bulls doubled down on their bet Monday that the U.S. will remain an economic island, unaffected by the spread of coronavirus. The Dow was up nearly 400 points in the early going, briefly recouping two-thirds of what it had lost on Friday. Have traders lost their minds? China, after all, was in a state of lock-down, with quarantines in many large cities affecting the mobility of scores of millions of people. The potential impact of this on the global economy was not lost on energy traders, who sent crude-oil quotes plummeting a further $1.50 a barrel on top of last week's nearly $3 loss.  This happened despite Saudi Arabia's threat to curtail supplies by whatever amount is necessary to prop up prices.
When the dust settled, the Dow Industrials had gained a respectable 144 points, pushed by… well, let's allow someone from Wall Street who is paid to be an incurable optimist explain.  According to Michael Mullaney, director of global markets research at Boston Partners, U.S. stock investors may have seen Friday's selloff as a buying opportunity. Mullaney, as reported Monday in The Wall Street Journal, noted that with past outbreaks, such as severe acute respiratory syndrome, or SARS, stocks have tended to drop initially, only to bounce back once the rate of new infections slows. "Once you see a slowdown in the uptick of new cases, historically the market has generally done quite well after that," he said.
Virus Deaths 'Slowing'
Buttressing Mullaney's congenital optimism was a note posted in the Rick's Picks Trading Room by one 'Signfisher': 'The coronavirus death to case rate has dropped dramatically from almost 10% now down to about 2% which is a good thing. After this coming weekend hopefully these numbers will hold and even drop.'  Hopefully indeed. However, it seems most unlikely that stocks would have zoomed higher Monday morning just because coronavirus  seemed to be killing fewer people. No, there was something else at work — something you are unlikely to read about in MSM stock-market wrap-ups: the short-squeeze factor.  Which is to say that every trader/observer/investor on earth, without exception, expected stocks to fall Sunday night. And that is why the Dow Average began the day socking them in the eye with a nearly 400-point gain.
Realize that panicky short-covering is far more powerful than merely bullish buying. You can spot it in any rally that seems too crazy to be real, especially when said rally seems to flout headlines, statistics and common sense.  So it was on Monday with Tesla shares, which in dollar terms are in the throes of the most consequential short-squeeze in all of history.  The stock was up as much as $136 on Monday, or 21%, to $782. Naturally, a few attention-hungry analysts were predicting TSLA is on its way to as high as $7,000 a share.  Only on Wall Street could a supposed 'expert' say something like that and instead of being ridiculed and censured, garner favorable press clips and lucrative speaking engagements.
STAY INFORMED! Receive our Weekly Recap of thought provoking articles, podcasts, and radio delivered to your inbox for FREE! Sign up here for the HoweStreet.com Weekly Recap.