February 6, 2020 | Audrey's World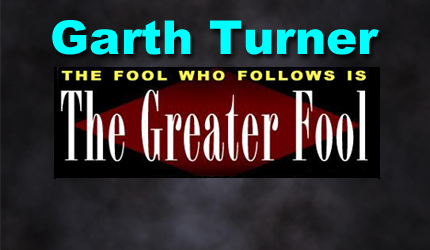 A best-selling Canadian author of 14 books on economic trends, real estate, the financial crisis, personal finance strategies, taxation and politics. Nationally-known speaker and lecturer on macroeconomics, the housing market and investment techniques. He is a licensed Investment Advisor with a fee-based, no-commission Toronto-based practice serving clients across Canada.
Meet Audrey. Cheeky Millennial. Ambitious. Upwardly mobile. House proud. Compared to most of her cohort, doing okay. Big spender, though. She's okay with that. But not with me.
This is her letter (lightly edited). Please join me for a trip into A's world…
Ok, Boomer. I am writing you to follow up on your current TFSA theme of the week. I wish money grew on trees right about now because TFSA contributions are a very distant dream for us…and a lot of my entourage.

Here's our scenario. I am 31 and my husband is 34 with a 4.5-year-old child. I've been with the same company for 8+ years and make $100,000 (with room to grow), hubby makes $50,000 (paid hourly) and supports my career/crazy overtime schedule (because it's 2020 as per T2).

Housing – bought a townhouse at the age of 23 (with a loan from the parent bank) outside of Hamilton. Sold it 4 years later and bought a blue print for a very narrow house in an "up and coming" neighborhood in Hamilton. We stayed for 2.5 years and flipped it when we got tired of the abandon shopping carts on the road and found our dream place. In 2019, we bought a house for $700,000 and we have a mortgage of $520,000. Monthly payment of $2,000. We bought on a whim and carried two mortgages for 3 months because apparently, you can't bridge your mortgage loan if your current house isn't even on the market. What a discovery. I also discovered it was a bad idea to ask for a $180,000 loan from your parents by text message. We paid them back in full with interests, of course.

Investments – $70,000 in pension fund from work and I've been contributing to hubby's RRSP for the past 2.5 years for a total of $36,000 because he's so supportive and I want the tax break. Hubby gets the tax break of $8,000 from the daycare cost of $12,000+ a year. He also wants to buy out the current owner of his security company in a few years (around $250,000), so we are planning to use his RRSPs to cover any shortfalls, as required. We have $7,000 in RESP for junior.

Debt – We have $45,000 in LOC debts because of our recent real estate flip with two mortgage payments, wedding in 2019 and mat leave, $35,000 car loan (single car household) and a $15,000 RRSP loan for hubby (I really wanted that tax break)..oh and the mortgage. It's all very manageable given we are paying it down.

I work long hours and outsource a lot because time is money and I prefer to pay a cleaner vs. fighting over chores.  As a true millennial, we pay $4,500/year for weekly cleaners and outsource our laundry (wash/fold) for $1,500/year (they even remove the food stains!). It's a small price to pay to climb the corporate ladder in a job you love and have a happy hubby take care of junior. Also, I haven't been to a grocery/clothing store in 4 years – but free shipping is a thing.

Now tell me, boomer – where am I supposed to find "a hundred bucks a week" for our TFSA with our debt? With his plan to buy out the company? With our RRSP/RESP contributions? Daycare costs? Overtime hours = outsourcing costs? Hubby finishing the basement?

Also, why would I spend my 30s cleaning and folding clothes when I'll have plenty of time when I'm retired at 65… I love your posts but I couldn't contain myself with all the TFSA emphasis this week. Now…time to get back to my work…
So, in summary. Household income, $150,000. Debt, $615,000. Equity, $180,000. Investments, $43,000. She, modest pension plan. He, none. Goal – find $250,000 to buy his job. Goal – she wants to be a CEO.
Audrey thinks they're doing okay and dudes like me should shove a pickle in it. When can people get a hundred bucks a week for a TFSA when there's dry cleaning to pay for? Seems like a fair question.
But, of course, you learn stuff as you age. Like risk. If either A or her squeeze lose their job, they're pooched. If another kid materializes and a mat leave punctuates her career path, there could be an income interruption. A mortgage renewal at a higher rate would hurt. And if he really wants to buy out his boss, that investment could wipe out all savings and add to the debt. Is a $50,000 job worth spending five times that amount, plus the obligations and hassles of a business?
It also sounds like eight years of real estate ownership/flipping – maybe the best ones ever for price appreciation in southern Ontario – haven't exactly lined their pockets. But, hey, they have some equity – more than most moisters can claim these days.
Actually I like this woman. She gets it. Spirited. Aspirational. Reads a pathetic financial blog. Splits income. Respects her partner. And her parents. Pays her debts. But, Audrey, reign in the spending! Would it kill your hubs to turn on the washing machine while he's looking after the squirt? Real men vacuum, too. And understand the house doesn't cost you $2,000 a month – add in property tax, insurance, utilities, renos and the cost of the downpayment. (Imagine if you rented – no debt and a hundred grand closer to hubby's target.)
Pensions, retirements and other adulting stuff may seem distant at the moment, but that'll change. As I've shown, TFSAs are money machines. Do what you must to fund yours. And never dis folding, princess.
STAY INFORMED! Receive our Weekly Recap of thought provoking articles, podcasts, and radio delivered to your inbox for FREE! Sign up here for the HoweStreet.com Weekly Recap.