February 8, 2020 | Another Surprising COT Report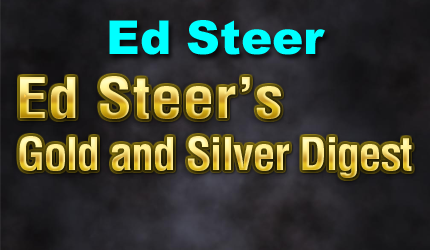 "Ed wrote the daily precious metal commentary for Casey Research starting in 2008. His stand-alone column became their most highly-rated blog [either free or paid] almost from the outset—and remained that way until he started his own subscription-based website in June of 2015."
YESTERDAY in GOLD, SILVER, PLATINUM and PALLADIUM
The gold price wandered around a few dollars either side of unchanged on Friday — and that lasted until the job numbers hit the tape at 8:30 a.m. in New York.  It rallied a bit from there, but obviously ran into 'something' a few minute after the 9:30 open of the equity markets.  Once the 10 a.m. EST afternoon gold fix was put to bed, the gold price was sold lower until around 11:30 a.m. — and from there it rallied quietly until it ran into another 'something' a minute or so after 2 p.m. in after-hours trading.  It crept quietly lower from there until trading ended at 5:00 p.m. in New York.
The low and high ticks certainly aren't worth looking up.
Gold was closed on Friday afternoon in New York at $1,570.00 spot, up $3.60 on the day.  Net volume was fairly decent at a tiny bit under 275,000 contracts — and there was about 12,500 contracts worth of roll-over/switch volume in this precious metal.
The silver price chopped and flopped around by a few pennies up until a few minutes after London opened — and it was then sold quietly lower until the jobs report at 8:30 a.m. in New York.  At that point it was down about 15 cents the ounce.  Its rally on that news met the same fate as the gold price around 9:30 a.m. EST — and it was sold down to its low tick of the day by shortly before 11:30 a.m.  From that point onwards, it followed the same price path as gold.
The high and lows in silver were recorded by the CME Group as $17.855 and $17.605 in the March contract.
Silver was closed in New York on Friday afternoon at $17.665 spot, down 12.5 cents from Thursday.  Net volume was pretty quiet at a bit under 50,000 contracts — and there was a hair under 22,000 contracts worth of roll-over/switch volume out of March and into future months.
Platinum was sold quietly and unevenly lower until around 3:30 p.m. China Standard Time on their Friday afternoon — and from that juncture it headed equally unevenly higher until around 8:45 a.m. in New York.  It was then sold lower until noon EST – and then ticked a few dollars higher during the remainder of the Friday session.  Platinum was closed at $966 spot, up 4 dollars from Thursday.
Palladium was also sold quietly and unevenly lower until the low tick was set just minutes before 3 p.m. CST on their Friday afternoon.  It rallied a bit until shortly before 9:30 a.m. in Zurich — and from that point it wandered sideways for the rest of the day.  Palladium was closed at $2,213 spot, down 15 bucks.
If there was any correlation between the dollar index and what was happening in the precious metals, it was most certainly accidental.
Here are two of the usual charts from Nick that show what's been happening for the week, month — and year-to-date. The first one shows the changes in gold, silver, platinum and palladium for the past trading week, in both percent and dollar and cents terms, as of their Friday closes in New York – along with the changes in the HUI and the Silver 7 Index.
Of course the precious metal equities could be caught in the same downdraft as the stocks of other commodities as well.  Collateral damage if you will.
As Ted has been pointing out for some time now, how silver and gold prices unfold from here depends on whether or not the Big 7/8 commercial traders that are holding huge but unrealized loses on the short side, are able to snooker the Managed Money traders out of their historic and unprecedented net long position.  They were semi-successful earlier this week, but they've lost ground since Tuesday.  And as I said in this space last week — and the week before…as for the negative start to the year for the precious metal equities, I've already discussed this at length just above.  But I suspect that 'da boyz' will have to let silver break above $18 spot by a decent amount — and gold above $1,600 spot before we see serious money return to this sphere.
---
So far this month there have been 6,133 gold contracts issued/reissued and stopped — and that number in silver is 219 contracts.
And of that amount in gold, JPMorgan has issued 1,465 contracts and stopped 2,551 contracts for it its own account — and it has also issued 467 contracts and stopped 1,597 contracts from its so-called 'client' account.  The other two big players in gold so far this month have been Australia's Macquarie Futures and HSBC USA.  The former has issued 1,469 contracts from its own account — and HSBC USA has issued 1,500 contracts from its own account as well.
---
Month-to-date the mint has sold 26,000 troy ounces of gold eagles — 10,500 one-ounce 24K gold buffaloes — and 1,548,000 silver eagles.
---
Here are the usual two charts that Nick passes around on Friday evening — and I thought I'd include them in my Saturday column, rather than wait until Tuesday's missive.
---
They arrived at that number by adding 1,142 long contracts, but they also increased their short position by 3,327 contracts — and it's the difference between those two numbers that represents their change for the reporting week.
But under the hood in the Disaggregated COT Report, there were some fairly large surprises.  The biggest one was that the Managed Money traders not only reduced their long position by 4,187 contracts, but they also reduced their short position by an eye-watering 11,438 contracts…for a net increase in their net long position of 11,438 minus 4,187 equals 7,251 contracts for the reporting week.  This was totally unexpected.  The traders in the 'Other Reportables' and 'Nonreportable'/small trader categories both reduced their net long positions during the reporting week.
The other surprise was that because of the huge short covering by the Managed Money traders during the reporting week, the traders in the Producer/Merchant category…read JPMorgan…did  virtually nothing during the reporting week…decreasing their net short position by a paltry 117 contracts.  Ted was expecting/hoping that they would be covering short positions rather aggressively during the reporting week, but that didn't happen for the above-mentioned reason.
The heavy lifting in the commercial category came on the backs of the traders in the Producer/Merchant category, as they increased their net short position by a further 2,302 contracts during the reporting week — and that number, minus the above-mentioned 117 contracts equals the 2,185 contract change in the Commercial net short position…which it must do.
The Commercial net short position in silver now sits at 91,356 COMEX contracts, or 456.8 million troy ounces.
With the new Bank Participation Report in hand, Ted was able to recalibrate JPMorgan's short position…which he now pegs somewhere around the 16-17,000 contract mark…up one or two thousand contracts from the 15,000 contracts they were short in last week's COT Report.  I will use the average of those two numbers…16,500 contracts…for recording-keeping purposes further down.
Ted wasn't sure what made seven of the Managed Money traders on the short side close out their short positions during the reporting week, but that's what they did.  It's not that the COT Report was good or bad in silver, it's what happened internally that was unexpected.
---
They arrived at that number by reducing their long position by 15,514 contracts, but they also reduced their short position by 44,641 contracts — and it's the difference between those two numbers that represents their change for the reporting week.
Under the hood in the Disaggregated COT Report, it was all Managed Money traders, plus more, as they decreased their long position by 30,497 contracts — and also increased their short position by 7,831 contracts, for a total weekly change of 38,328 contracts.
The first surprise in gold was how aggressively the 'Other Reportables' and 'Nonreportable'/small traders increased their net long positions…the former by 8,042 contracts — and the latter by 1,159 contracts.
As a result of that, the traders in the 'Producer/Merchant' category where JPMorgan hides out didn't do much of anything during the reporting week.  Ted was expecting JPM to aggressively cover short positions during the reporting week, but they didn't…just like they didn't in silver — and for the same reason…there was aggressive buying going on in other categories.
And also like in silver, all the heavy lifting came at the expense of the of the Swap/Dealers, as they decreased their net short position by 28,798 contracts — and almost all those contracts were covered at a big loss, as a large number of the Big 7 traders reside in this category.
The commercial net short position in gold is now down to 33.17 million troy ounces…still, like in silver, in nosebleed territory on an historical basis.
And with the latest Bank Participation Report in hand, Ted has adjusted JPMorgan's short position in gold up to 32,000 contracts…up 2,000 contracts from what he pegged them at a week ago.
It was a decent COT Report for gold, but once again the real surprises occurred under the hood and out of sight in the Disaggregated COT Report…with JPMorgan doing nothing — and the Big 7 booking some sizeable losses on their short-covering.
They still have a long way to go to get back to break-even, let alone make a profit.  Their efforts were partially successful up to an including Tuesday's cut-off, but since then they've lost ground, particularly in gold.
I look forward to what Ted has to say about all this in his weekly review later today.
---
---
In the COT Report above, the Commercial net short position in silver was reported by the CME Group as 457 million troy ounces.  As mentioned in the previous paragraph, the short position of the Big 8 traders is 546 million troy ounces.  So the short position of the Big 8 traders is larger than the total Commercial net short position by around 546-457=89 million troy ounces.
The reason for the difference in those numbers…as it always is…is that Ted's raptors, the 34-odd small commercial traders other than the Big 8, are net long that amount.
Another way of stating this [as I say every week in this spot] is that if you removed the Big 8 commercial traders from that category, the remaining traders in the commercial category are net long the COMEX silver market.  It's the Big 8 against everyone else…a situation that has existed for about three decades in both silver and gold — and now in platinum and palladium as well.
As I mentioned in my COT commentary in silver above, I estimated that JPMorgan is short around 16,500 contracts, up about 1,500 contracts from last week's COT Report.  That works out to around 82.5 million troy ounces of paper silver…which works out to around 35 days of world silver production that JPMorgan is short…up 3 days from last week's report.
Based on the numbers in the paragraph below, that puts JPMorgan in the #2 spot in the Big 4/8 trader category.  Citigroup is the largest, but not by a lot now, with HSBC USA and one other to round out the Big 4.
As per the first paragraph above, the Big 4 traders in silver are short around 155 days of world silver production in total. That's about 38.75 days of world silver production each, on average.  The four traders in the '5 through 8' category are short around 79 days of world silver production in total, which is around 19.75 days of world silver production each, on average…up one full day from last week.
And as Ted has been pointing out for years now, JPMorgan is, as always, in a position to double cross the other commercial traders at any time and walk away smelling like a rose — and that's because of the massive amounts of physical gold and silver they hold.  Up to this point they [obviously] haven't taken advantage of that situation.  But if they do, you'll see it in the price immediately.
---
[The February Bank Participation Report covers the time period from January 8 to February 4 inclusive.]
JPMorgan, Citigroup and HSBC USA would hold the lion's share of this short position.  But as to who other U.S. bank might be that is short in this BPR, I haven't a clue, but it's a given that their short position would not be material.
Ted mentioned on the phone yesterday that JPMorgan is short around 32,000 contracts of the total net short position held by the 4 U.S. banks as of Tuesday's COT Report.  That's around 30 percent of the total short interest held by these same banks.  I suspect that JPMorgan may not be the biggest short holder in COMEX gold futures.  That title most likely belongs to Citigroup now.
Also in gold, 34 non-U.S. banks are net short 105,325 COMEX gold contracts.  In January's BPR, 35 non-U.S. banks were net short 115,544 COMEX contracts…so the month-over-month change shows a decrease of 10,219 contracts.
At the low back in the August 2018 BPR…these same non-U.S. banks held a net short position in gold of only 1,960 contacts!
However, as I always say at this point, I suspect that there's at least two large non-U.S. bank in this group, one of which would include Scotiabank.  It's certainly possible that it could be the BIS in the No. 1 spot.  But regardless of who this second non-U.S. bank is, the short positions in gold held by the remaining 32 non-U.S. banks are immaterial.
As in gold, the three biggest short holders in silver of the four U.S. banks in total, would be JPMorgan, Citigroup and HSBC USA…with Citigroup in No. 1 spot…and JPM in No. 2 position.  Whoever the remaining U.S. bank may be, their short position, like the short position of the smallest U.S. bank in gold, would be immaterial in the grand scheme of things.
Also in platinum, 20 non-U.S. banks are net short 25,365 COMEX contracts in the February BPR, which is down a hair from the 26,150 COMEX contracts that 21 non-U.S. banks were net short in the January BPR.
[Note: Back at the July 2018 low, these same non-U.S. banks were net short only 1,192 COMEX contracts.]
The short position in platinum held by the U.S. banks is at another new record high, but only by a bit — and the short position in platinum held by the non-U.S. banks is only off its record high by a few hundred contracts.  One can only imagine what the price of platinum would be if the banks weren't in there as short sellers of both first and last resort.
Also in palladium, 12 or more non-U.S. banks are net short 941 COMEX contracts-which is down  big [54.4%] from the 1,845 COMEX contracts that 14 non-U.S. banks were short in the January BPR.
It's obviously this short covering by the banks is what drove palladium prices to the moon and stars during January.
I don't have all that many stories/articles for you today — and I'm including one that I've been saving for today's column for the usual length and/or content reasons.
CRITICAL READS
For once the ADP report was not massively off.
Looking back, the change in total non-farm payroll employment for November was revised up by 5,000 from +256,000 to +261,000, and the change for December was revised up by 2,000 from +145,000 to +147,000. With these revisions, employment gains in November and December combined were 7,000 higher than previously reported. After revisions, job gains have averaged 211,000 over the last 3 months.
One final point, and we'll have more to say about this in a subsequent post: annual revisions to historical data took some of the shine off one of President Trump's bragging points, cutting 2018's job gain to 2.31 million from 2.68 million. The increases in 2017 and 2019 were about 2.1 million, meaning that each year under Trump – while still strong – has been slightly slower than the 2.35 million increase in the final year of Barack Obama's presidency.
---
On both days this week that the New York Fed offered its $30 billion in 14-day repo loans to 24 trading houses on Wall Street, there was far more demand than the New York Fed had pre-announced it would provide. On Tuesday, the demand was for $59.05 billion while the New York Fed provided only $30 billion. On Thursday, the demand was for $57.25 billion while the New York Fed provided $30 billion. In short, there is a growing demand for long-term loans at affordable rates on Wall Street – meaning one or more trading houses has a borrowing problem.
The Fed's loans this week were made at a below-market interest rate of 1.60 percent.
The demand for the 14-day loans came on the same days that the New York Fed also funneled huge amounts of money in one-day loans to Wall Street's trading houses: $64.45 billion on Tuesday and $46.75 billion on Thursday. Cumulatively, since the Fed began making these unprecedented repo loans to Wall Street's trading houses on September 17 of last year, it has pumped over $6.6 trillion into Wall Street.
That money has found a home in the stock market, most likely via stock index futures which deliver a big bang for the buck through high leverage via margin loans. Some of these Wall Street trading houses that are borrowing from the Fed at 1.60 percent are likely loaning that money out to hedge funds (at a much higher interest rate) and the hedge funds are then plowing the money into stock index futures.
The stock market has set repeated new highs since the New York Fed turned on this multi-trillion-dollar money spigot that has been operating every business day since September 17.
---
Senate Democrats sent a letter Thursday to Federal Reserve Chairman Jerome Powell seeking answers about the central bank's ongoing interventions in the money markets to relieve a cash crunch that erupted in September.
Senate Banking Committee Democrats, including ranking member Sherrod Brown and presidential hopeful Elizabeth Warren, posed a series of questions about the mid-September episode, including whether it was being used as a pretext to relax regulations that were put in place after the 2008 financial crisis. Powell is scheduled to testify before the committee on Feb. 12.
In mid-September, over $100 billion in bank deposits at the Fed quickly disappeared as a large corporate tax payments collided with a settling Treasury auction, sending overnight interest rates on repurchase agreements — so-called repo loans — as high as 10%. It was the first major test of liquidity conditions since the Fed completed a partial unwind of its balance sheet, a process which shrank the amount of cash outstanding in the banking system by almost $900 billion between the end of 2017 and July 2019.
The September episode suggested Fed officials had underestimated the amount of remaining liquidity, and they've since pumped hundreds of billions of dollars back into the money markets via a combination of repo loans and outright purchases of Treasury bills. But banks have argued new regulations put in place since the financial crisis that discourage lending are also to blame, and Fed officials have said they are reviewing the rules.
Warren sent a letter quizzing Treasury Secretary Steven Mnuchin in October and she and her colleagues turned their attention to Powell on Thursday.
---
There was something strange in last month's consumer credit data from the Federal Reserve: at a time when Americans were getting ready to unleash a record holiday spending spree, revolving, i.e., credit card debt actually contract the most since March, which meant that either Americans were saving a whole lot more or their hourly incomes had soared higher. And since neither of these had happened, it wasn't clear just how U.S. consumers entered the last month of the year with the first November decline in revolving debt since 2013.
Well, we were right again: the answer was revealed on Friday afternoon when the Fed reported the consumer credit change for the last month of 2019, and of the decade… and it was a doozy.
With analysts expecting a $15BN increase in consumer credit, the actual print was a whopping $22.1 billion, bringing total consumer credit outstanding to a new monthly all time high of $4.2 trillion.
And so, for yet another month, Americans sank ever deeper in debt just so their obsession with purchasing things they don't need nor cad afford – obviously – can be satisfied. Although in a world in which central banks and politicians now openly encourage excessive spending and living beyond one's means, who can blame Americans for doing just as all monetary and fiscal officials demand of them.
---
Today we look at numbers. And oh… what you can do with numbers.
There are only 10 of them. But you can string them together in a sequence as long as you want.
Then, depending on where you put the single period, you can describe either the distance to Pluto… or the thickness of a molecule…
Numbers can be as true as a carpenter's level… or as twisted as the U.S. budget.
They may not lie. But they can hide the truth, disguise the truth, or pretend there is truth where there is none.
Put enough dodgy, dopey, and fakey numbers together, for example, and you have the U.S. GDP growth rate. The number is so full of fudge it will make your teeth rot.
---
China was in a particularly fragile state over the summer, with escalating financial stress in the face of deteriorating U.S./China trade negotiations. China's aggressive stimulus measures along with a "phase 1" trade deal reduced near-term crisis risk. Global yields then somewhat normalized. Ten-year Treasury yields ended the year at 1.92%, up almost 50 bps from early-September lows. Bund yields ended 2019 at negative 0.19%, up from negative 0.72% on August 28th. Swiss bond yields jumped 66 bps off lows to end the year at negative 0.54%.
Then arrived the coronavirus outbreak. Suddenly, Chinese economic prospects look highly uncertain at best. Even if the outbreak somehow comes under control in the coming weeks, the economy will take a significant hit. There's a scenario where the situation continues to deteriorate and takes on longer-term significance. Global markets rallied this week on the PBOC's aggressive liquidity injections, along with other stimulus measures. There's no doubting Beijing's commitment to aggressive fiscal and monetary stimulus. I just believe almost everyone is too optimistic – drowning in central bank liquidity complacency. China is confronting an unprecedented predicament, while concurrently facing acute financial and economic fragilities associated with a faltering Bubble.
Safe haven bonds and commodities have this right. Risk markets are simply playing a different game – an especially dangerous one at that. The Fed's dual 2019 "U-turns" have profoundly changed risk market perceptions and behavior. Rates were cut, and liquidity was injected despite loose financial conditions, speculative markets and record stock prices. Understandably, risk market participants have been emboldened to believe the Fed and global central bankers have minimal tolerance for market instability.
To argue that the Fed's $400 billion balance sheet expansion is neither QE nor culpable for surging stock prices completely misses the point. The Fed's operations solidified the view that securities prices are the priority – even more so than the real economy. This fundamentally altered perceptions of market risk and, accordingly, price dynamics throughout equities, corporate Credit and derivatives.
Markets have become precariously distorted and dysfunctional. Central bank monetary stimulus has succeeded in completely turning risk analysis on its head. In all the craziness, China fragilities are a positive. The coronavirus likely constructive to the U.S. economy. Even risky political and geopolitical dynamics are seen in positive light. They all ensure monetary stimulus as far as the eye can see.
---
Dr David Kear is a former Director General of New Zealand's Department of Scientific and Industrial Research (DSIR) – as such he would have been considered one of New Zealand's top scientists. He has been publishing on sea levels since the 1950s.
In 2013 Dr. Kear prepared a booklet in which he set out his views on the globalist climate project. In the booklet, Dr. Kear describes:
his experience with the U.N.'s International Panel on Climate Change
the corrupted science behind the Global Warming narrative
the corrupted science behind the claims of rising sea-levels
the demonisation by "Global Warmers" of the "essential and innocent gas, carbon dioxide".
how councils are making zoning & other decisions purely to satisfy a false narrative, with total disregard for the facts
Think globally, act locally (U.N. catch-cry)  Dr. Kear describes how local councils are ignoring scientific fact in order to satisfy an agenda imposed on them from above. No matter if scientists, engineers and local observers all indicate that the sea is not rising, even retreating – once a council has decided on a policy that assumes that the sea IS rising, the council is immovable, and makes decisions on zoning and building codes on that basis.
---
Stefan Ansermet was deep in Ecuador's tangled southeastern jungles, a hard two-day hike from the nearest village, when he stumbled into a clearing. The change in vegetation was so subtle that everyone else on his team tromped straight through, unaware, but Ansermet was intrigued.
Over the next four days in mid-November, Ansermet, a geologist and explorer, kept returning to the remote area, finding clues that confirmed his suspicions: The narrow clearing stretched a mile and a half and had been carved into the side of the mountain at points. There was a large, chiseled stone embedded in the trail.
But it's where this road in the middle of nowhere might lead that has Ansermet and his colleagues excited.
For more than two decades, Ansermet's boss, Keith Barron, has been searching for two Spanish conquest-era gold mines lost in Ecuador's forests.
The two mines, Logroño de los Caballeros and Sevilla de Oro, were established around 1562 and abandoned 40 years later after a smallpox epidemic killed the indigenous workforce and the Spaniards came under prolonged attack from local tribes. At one point the conquistadors who owned the mine appealed to the Spanish crown to send African slaves to keep the enterprises alive, but by that point the empire was bankrupt.
As the jungle reclaimed the area, the mines themselves were lost to history – last pinpointed on maps in about 1650.
Barron's obsession with the South American mines began almost by chance.
The PHOTOS and the FUNNIES
STAY INFORMED! Receive our Weekly Recap of thought provoking articles, podcasts, and radio delivered to your inbox for FREE! Sign up here for the HoweStreet.com Weekly Recap.