January 18, 2020 | Trading Desk Notes January 18, 2020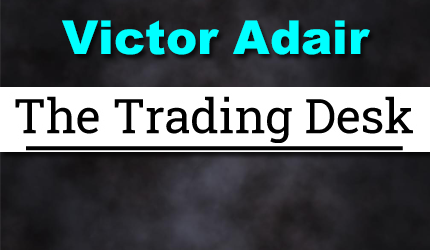 Victor Adair, author of The Trading Desk Notes, began trading penny mining shares while attending the University of Victoria in 1970. He worked in the mining business in Canada and the Western United States for the next several years and also founded a precious metals trading company in 1974. He became a commodity broker in 1977 and a stock broker in 1978. Between 1977 and his retirement from the brokerage business in 2020 Victor held a number of trading, analytical and senior management roles in Canada and the USA. Victor started writing market analysis in the late 1970's and became a widely followed currency analyst in 1983. He started doing frequent media interviews in the early 1980's and started speaking at financial conferences in the 1990's. He actively trades his own accounts from The Trading Desk on Vancouver Island. His personal website is www.VictorAdair.ca.
The major stock indices continued their relentless rally this week…and I got myself into a frustrating trader's dilemma. It's funny now…and I'm sure any traders reading this will be thinking, "Yep…been there…done that," but it sure wasn't funny while it was happening!
I've had a "bias" that stock indices were "stretched" and I've looked for opportunities to get short. There was a classic setup Tuesday of last week when the S+P made a lower high and then started to roll over. I bought puts…just hours ahead of the steep O/N selloff on the Iranian missile attack. I covered the puts that evening when the TV commentators were talking WW3 but the market was coming off its lows. It was a good trade. I had entered on a good setup and took advantage of an unexpected move in my favor.
I waited for another shorting opportunity. On Friday the spooz started rolling over after it had rallied >100 points off Tuesday's O/N lows. I bought puts. Maybe people were getting defensive ahead of the weekend…maybe all the talk about the "stretched" market was starting to have an effect…whatever…the spooz closed red on the day. The cash market actually had a daily Key Reversal Down…maybe this was the beginning of the much anticipated correction!
Sunday night the market started to rally and made new ATH's Monday. I should have been out but I didn't cover. First mistake. My "bias" was kicking in and I "justified" staying with the trade because "I knew" the market was goofy over-valued and would fall back. Second mistake. Besides, I was long OTM options in small size…if the options went to zero my max risk was less than 1%…I needed to give it some time. Third mistake.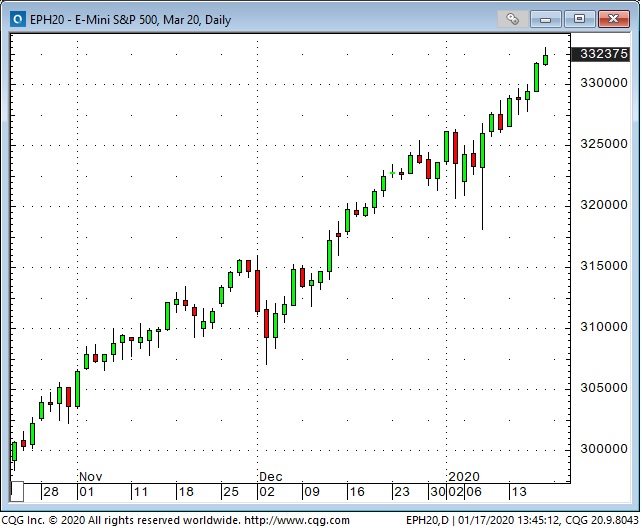 Needless to say the market continued higher...I dithered about covering or not…and eventually got out. The loss was only half of 1%…a normal sized loss for me…but I was amazed at how badly I had mishandled the trade. In hindsight I set myself up for trouble by believing that the market was goofy over-valued and due a correction…probably a big one. I therefore "needed" to be positioned in case the correction happened…so I took a trade that didn't have a good setup. Things went from bad to worse as the market moved against me and my decision was to "give it a little more time." In hindsight…now that I'm out of the trade…I can't believe I did that! I make fun of people who say, "Let's give it a little more time!"
It seems there has to be a little pain involved to learn…or relearn a lesson. I know trading is not a game of perfect…but that trade was just downright embarrassing!
I closed my gold puts for a small loss this week…the market had a great chance to sell off but didn't take it.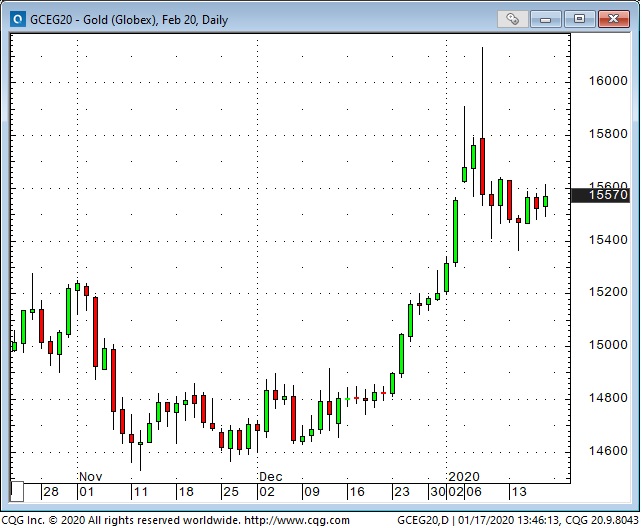 I've stayed with my short Canadian dollar position…the US Dollar had a good recovery this week and pressured CAD.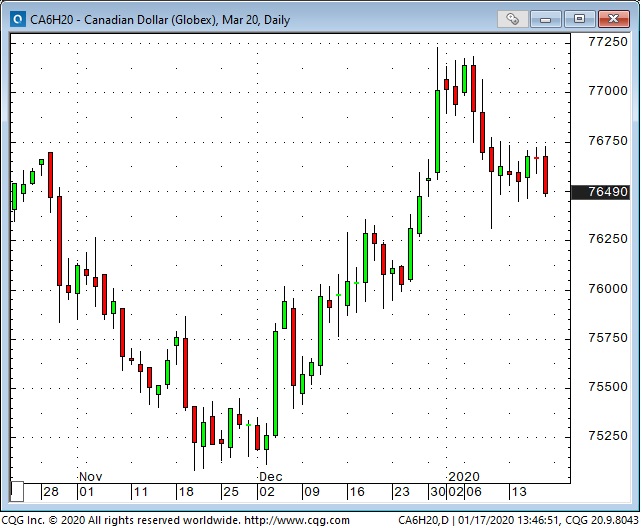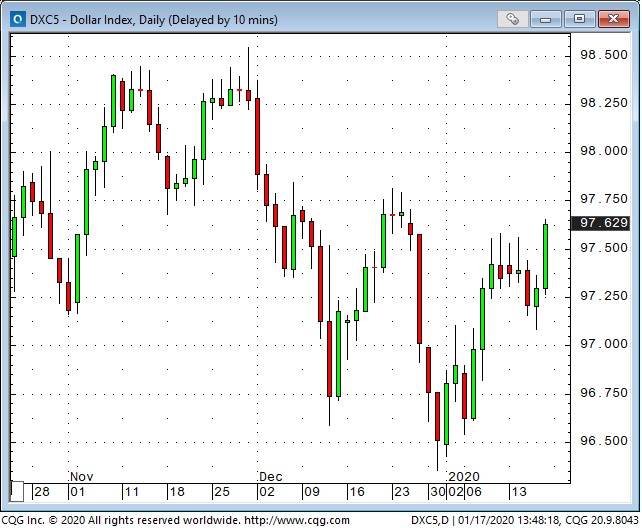 I got short TNotes this week. The market fell hard from the missile attack highs…rallied back for a few days and then rolled over this week.
My son Drew Zimmerman and I use the futures market to trade currencies, metals, interest rates, stock indices, energy and other commodities. Please give us a call or send us an email if you'd like to know more about trading futures.
Victor Adair
SVP and Derivatives Portfolio Manager
PI Financial Corp
Canada
PI Financial Corp. is a Member of the Canadian Investor Protection Fund. The risk of loss in trading commodity interests can be substantial. You should therefore carefully consider whether such trading is suitable for you in light of your financial condition. In considering whether to trade or the authorize someone else to trade for you, you should be aware of the following. If you purchase a commodity option you may sustain a total loss of the premium and of all transaction costs. If you purchase or sell a commodity futures contract or sell a commodity option or engage in off-exchange foreign currency trading you may sustain a total loss of the initial margin funds or security deposit and any additional fund that you deposit with your broker to establish or maintain your position. You may be called upon by your broker to deposit a substantial amount of additional margin funds, on short notice, in order to maintain your position. If you do not provide the requested funds within the prescribe time, your position may be liquidated at a loss, and you will be liable for any resulting deficit in your account. Under certain market conditions, you may find it difficult to impossible to liquidate a position. This is intended for distribution in those jurisdictions where PI Financial Corp. is registered as an advisor or a dealer in securities and/or futures and options. Any distribution or dissemination of this in any other jurisdiction is strictly prohibited. Past performance is not necessarily indicative of future results
STAY INFORMED! Receive our Weekly Recap of thought provoking articles, podcasts, and radio delivered to your inbox for FREE! Sign up here for the HoweStreet.com Weekly Recap.