January 11, 2020 | Trading Desk Notes January 11, 2020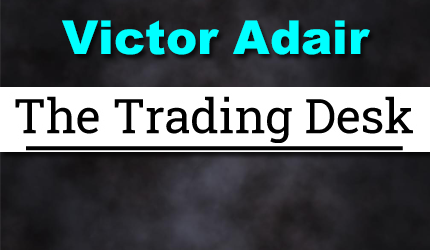 Victor Adair, author of The Trading Desk Notes, began trading penny mining shares while attending the University of Victoria in 1970. He worked in the mining business in Canada and the Western United States for the next several years and also founded a precious metals trading company in 1974. He became a commodity broker in 1977 and a stock broker in 1978. Between 1977 and his retirement from the brokerage business in 2020 Victor held a number of trading, analytical and senior management roles in Canada and the USA. Victor started writing market analysis in the late 1970's and became a widely followed currency analyst in 1983. He started doing frequent media interviews in the early 1980's and started speaking at financial conferences in the 1990's. He actively trades his own accounts from The Trading Desk on Vancouver Island. His personal website is www.VictorAdair.ca.
Dramatic market price action on Tuesday evening Jan 7/2020 created important Pivot points across a number of key markets…especially gold. Look at it this way…gold rallied ~$125 in 9 days leading up to and including Jan 7…it rallied ~$40 in the last 1 ½ hours to hit a 6 ½ year high at $1,613 (basis Feb Comex)…and then tumbled ~$70 in just over 24 hours. It looks like gold rushed to make an important high and then quickly "Pivoted" and fell back. That Pivot point at ~$1613 is now a serious resistance level that "should" keep a lid on prices…but if gold rallies through that resistance it could accelerate higher.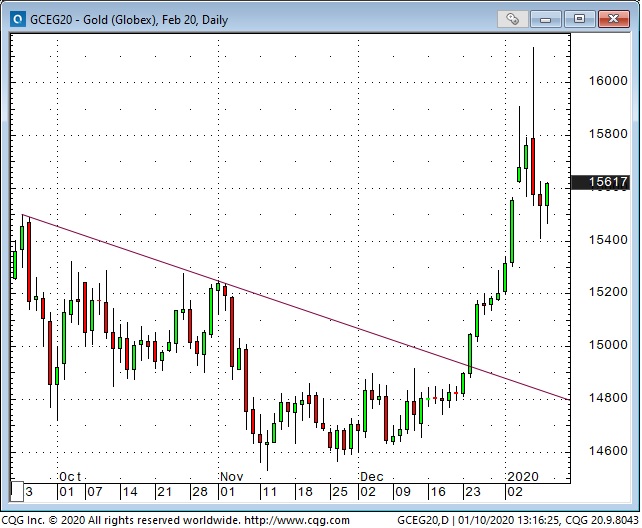 Price action in WTI crude oil also created an important Pivot point this week. Feb WTI  rallied from a low ~$51 in October to a high  ~$62 by the end of the year. Tuesday evening it hit a 9 month high ~$65.50 but then quickly "Pivoted" and tumbled ~$6.50 in just over 24 hours. That Pivot point (along with the high made last April) has created a serious resistance level around $65 that "should" keep a lid on prices. But just like gold if that resistance level is taken out WTI could accelerate higher.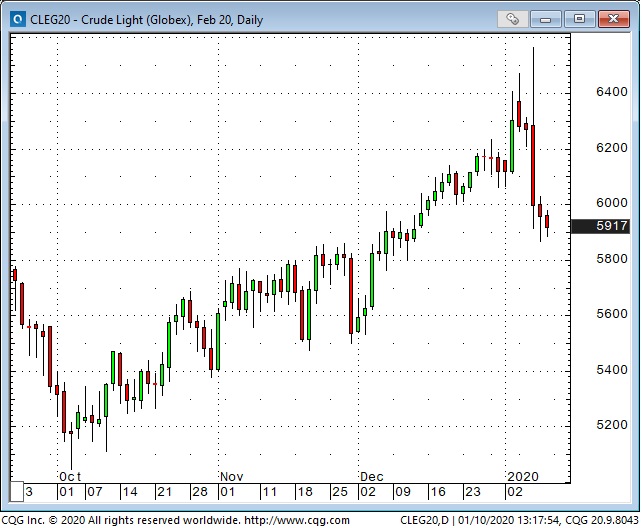 Bonds also had a Pivot day on Jan 7/2020. The March 10 Year Note had been trending lower from its Sept 3rd Key Turn Date (the day when the US Long bond hit an All Time Low yield) but had bounced ~1 ½ points off the 128 support level. The market rallied hard on news of Iran attacking American bases in Iraq but then "Pivoted" around the previous resistance level at ~130. As with gold and WTI the resistance around the Pivot point "should" keep a lid on prices…but if the market rallies through that level it could accelerate higher.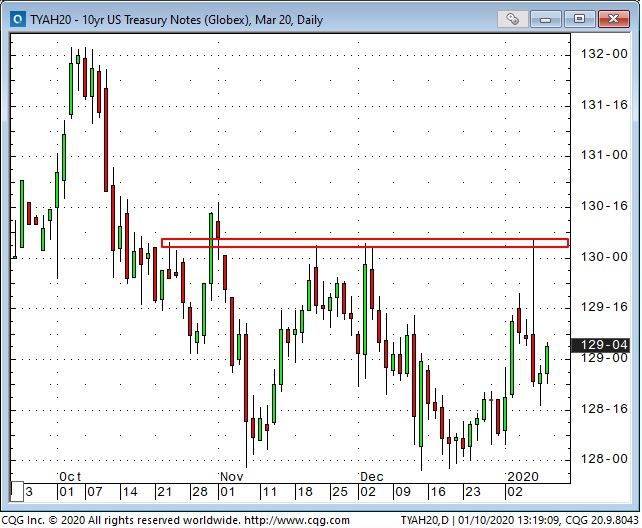 The S+P index also had a Pivot day on Jan 7/2020. The market had been in full rally mode for months with every setback seen as a BTD opportunity. Coming into the new year the CNN Fear/Greed index was registering in the mid-90's and the market printed new ATHs on Thursday Jan 2nd…the first trading day of 2020. The market sold off on the Soleimani news…tried to rally back Monday/Tuesday but failed to reach the previous week's ATH…and then tumbled sharply Tuesday evening on the news of the Iranian attacks. The tumble took out the previous week's lows and prices dropped to mid-December levels before "Pivoting" and rallying sharply on relief that the attacks might be a case of "one and done." The "relief" rally continued into the end of the week taking prices to new ATH.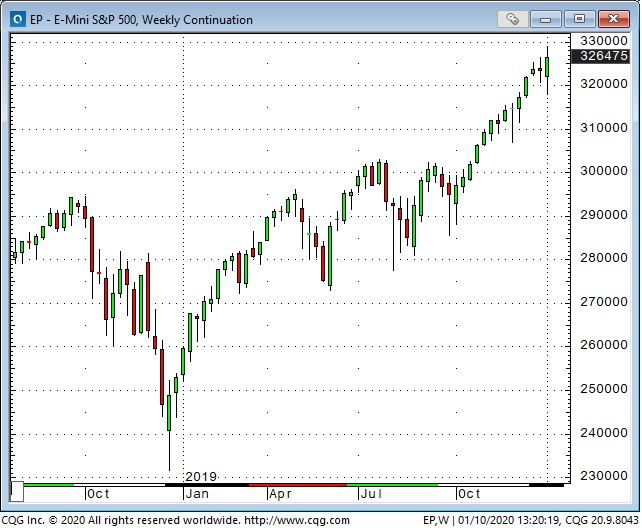 The S+P Tuesday overnight low of 3181 basis March is now a Pivot point that "should" act as a serious support level for the market. Look at it this way…if that's the worst hit the market could suffer when it looked like war was going to break out what would it take to drive the market below that level? Or…look at it this way…if that support level is broken then the S+P might be setting up for a much bigger tumble.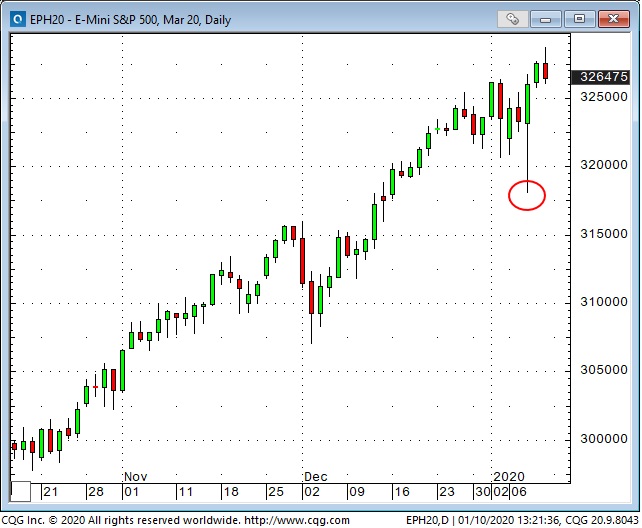 Trading notes: I had a busy week. Several small losses from taking a position in anticipation of something that didn't happen…and a couple of good wins that more than offset the losses. I really enjoyed listening to Bill Fleckenstein on RTV this week…he said something like, "Research is important but "tactics" around the research is what makes the money." I absolutely agree. What you do with a trade once you have it on is way more important that what got you into the trade in the first place.
I interviewed Kevin Muir last weekend on the Moneytalks radio show (see www.mikesmoneytalks.ca for the Jan 4 podcast.) When I asked Kev about the time frame of his trades he said he has different time frames for different trades. I absolutely agree. For instance, for years I've had a bearish view on CADUSD and I expressed that view in my long term savings account…not my short term trading accounts.
I often use an if/then trading approach. For instance, if a market breaks a certain level then I'll take a position. If a market moves against me to such-and-such a point then I'll get out and take a small loss. (I almost always have just-in-case stops in the machine…but if a market is moving against me I don't always wait for the stops to be hit.)  If a market moves in my direction then I may add to the position and will very likely adjust my initial stop.
Notice that I didn't say (for instance) if the employment number is blah-blah then I will buy/sell the market. I didn't say if I read a bullish story then I will buy the market. My "tactics" are driven by price action.
I like to look for markets that may be "mispriced" in a certain way such that if "something" happens then people will have to "re-position" themselves to adjust to the new reality. I want to front-run that re-positioning. For instance…from a really big picture perspective…can you imagine how much "re-positioning" would take place across markets if people started to believe that interest rates were rising…and might very well keep rising?
Current positioning:
I'm short the Canadian Dollar. It rallied through resistance around 7650 in very thin yearend trading as the USD weakened Vs. most currencies (see my Jan 4 Trading Desk notes – can we trust price action in low volume holiday markets?) I got short early in this week and added to the position Friday when CAD rallied a bit on the employment report.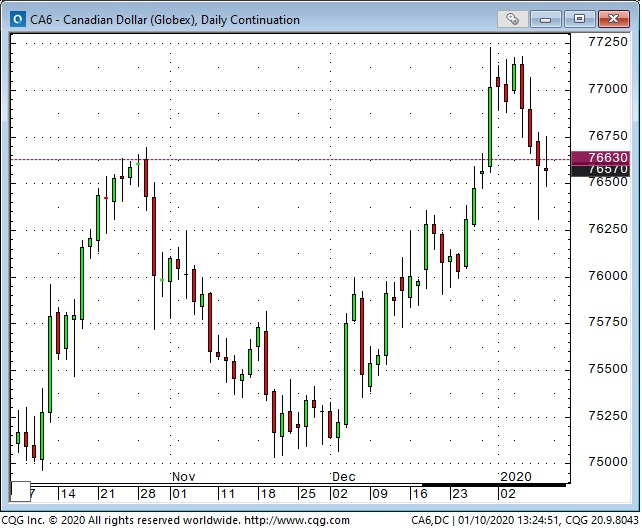 I got short the S+P (bot puts) Tuesday when the market failed to rally above last week's highs and started to roll over. I took good profits just a few hours later when the market stopped falling despite the folks on TV forecasting war with Iran. I re-shorted (bot puts) the market Friday after it made new ATH but fell back below Thursday's highs.  In terms of looking for a market that might be "mispriced" the US stock indices are top-of-the-list. If…and I appreciate it's a big if…stocks start to fall…especially if they drop through this week's lows there could be some very serious "re-positioning!"
I also bot gold puts Wednesday when the market tumbled hard after making what appeared to be a spike high. In terms of "mispricing" I see that speculators are hugely long gold and Open Interest is at historical highs. If gold starts to fall selling from speculators could accelerate the decline.
I've been trading futures markets since the mid-1970's and I'm more excited about the trading opportunities I see coming than at any other  time in my life. If we get some of the big swings I anticipate then the hardest thing to do may be to adjust to the volatility and to "stay" with the moves once they are under way.
My son Drew Zimmerman and I use the futures market to trade currencies, metals, interest rates, stock indices, energy and other commodities. Please give us a call or send us an email if you'd like to know more about trading futures.
Victor Adair
SVP and Derivatives Portfolio Manager
PI Financial Corp
Canada
 PI Financial Corp. is a Member of the Canadian Investor Protection Fund. The risk of loss in trading commodity interests can be substantial. You should therefore carefully consider whether such trading is suitable for you in light of your financial condition. In considering whether to trade or the authorize someone else to trade for you, you should be aware of the following. If you purchase a commodity option you may sustain a total loss of the premium and of all transaction costs. If you purchase or sell a commodity futures contract or sell a commodity option or engage in off-exchange foreign currency trading you may sustain a total loss of the initial margin funds or security deposit and any additional fund that you deposit with your broker to establish or maintain your position. You may be called upon by your broker to deposit a substantial amount of additional margin funds, on short notice, in order to maintain your position. If you do not provide the requested funds within the prescribe time, your position may be liquidated at a loss, and you will be liable for any resulting deficit in your account. Under certain market conditions, you may find it difficult to impossible to liquidate a position. This is intended for distribution in those jurisdictions where PI Financial Corp. is registered as an advisor or a dealer in securities and/or futures and options. Any distribution or dissemination of this in any other jurisdiction is strictly prohibited. Past performance is not necessarily indicative of future results.
STAY INFORMED! Receive our Weekly Recap of thought provoking articles, podcasts, and radio delivered to your inbox for FREE! Sign up here for the HoweStreet.com Weekly Recap.