January 6, 2020 | The General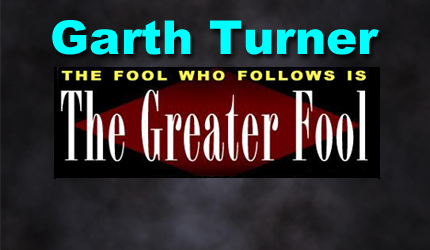 A best-selling Canadian author of 14 books on economic trends, real estate, the financial crisis, personal finance strategies, taxation and politics. Nationally-known speaker and lecturer on macroeconomics, the housing market and investment techniques. He is a licensed Investment Advisor with a fee-based, no-commission Toronto-based practice serving clients across Canada.
When the Iranian rockstar general was incinerated by a missile fired from the Reaper drone four days ago, a lot changed. Stocks fell, but hardly. Oil jumped. The traditional safe havens of gold and bonds saw an influx of worried money. All that was pretty predictable.
Less predictable was the reaction in Tehran, where the soldier was a symbol of national pride. So the assassination has galvanized the death-to-America sentiment. That was exacerbated when Trump upped the testosterone saying the US was targeting 52 sites in the country for obliteration, including cultural and historic monuments. That's what the Taliban did. It's a war crime. Now Iranians are even more galvanized.
Whether the US was justified in taking out a bad guy leader on foreign soil is beyond the ken of even this omniscient blog. So let's just deal with the fallout. What's it mean for your mortgage, TFSA, gas and the price of dog kibble?
Stocks
The year/year gain for the S&P 500 was a whopping 26% when markets opened Monday. Bay Street had added almost 18% and the Dow was up 21%. So what did the general's demise do to investors? To your RRSP? Nothing actually. But if you owned energy issues, or gold-related stuff, you made money. Apple set a new record high on Monday, and we got word the Chinese are going to the States on January 15th to sign off on that trade deal.
The bottom line: turn off CNN, CBC news and BNN. The talking heads are trying to scare you into trades. Mr. Market digested it all before breakfast. Nothingburger.
Oil and energy
On news of the attack Brent crude spiked to seventy bucks. West Texas Intermediate (WTI) – the benchmark – jumped to almost $65 a barrel, then retreated. It's below the level of last Spring, but still up about 30% over the past year. Cheap gas is apparently over. But you knew that.
Rates
When stuff happens and stocks are at record highs, a certain whack of money goes looking for safer places. Like bonds. The increased demand for debt pushes prices higher, meaning yields tank by a similar degree. (Bond prices and yields move in the opposite direction, like when I tell my Chow to come.) This is exactly what happened to Government of Canada 5-year paper, as you can see here:
Flight to safety: Bond prices up, yields down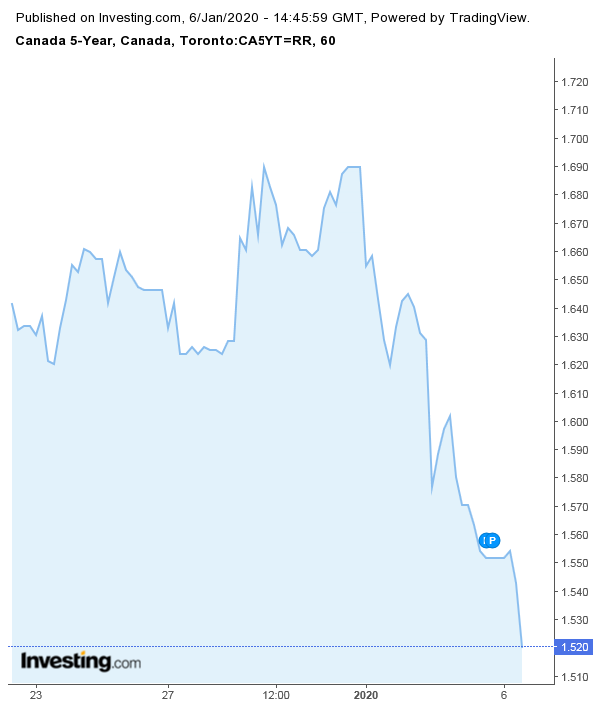 If bond yields stay down then long-term, fixed-rate mortgages will follow. But this is not at all certain, given that stock markets actually gained a little after the attack and are expected to once again achieve record highs. Money will flow back into equities. Bond prices will drop. If the bank gives you a good mortgage rate, you should still lock in.
Trump
So he's being a big bully, which distracts from the impeachment process, energizes his xenophobic and ravenous base and ensures more millions pour into his election war chest while the lefty Dems flop around. In short nothing changes. Unless the president starts blowing up priceless cultural sites, inflames anti-US passion to a boil and moves to a war footing. Is he that dumb?
Beats me. I just come here for the dog pix.
Of course if Trump does start a new war, it will be an inflation machine. Billions will be spent shipping back to the region all that military hardware that was just shipped home. Meanwhile oil prices would spike dramatically – think a hundred bucks – doubling the price of gasoline, likely prompting the Fed to hike rates so the economy doesn't run too hot. A Middle East crisis would draw in Iran, Iraq, Yemen, Syria, Turkey, Israel, Putin and end badly. The president who won in 2016 by promising an end to endless foreign wars would just have extended the ongoing one… endlessly with a new one.
Not only would we have $100 oil, two-buck-a-litre gas, higher mortgage rates and more stress, but the November presidential election outcome would cloud fast. These days Mr. Market thinks Trump is a shoo-in. If 52 sites in Iran are bombed capriciously, well, all bets are off. History will judge him a foreign policy moron.
But that won't happen, says Wall Street. Nothing to see here. Move along. Just Trump being Trump.
The needle barely moved for stocks on Monday. In a week traders will forget how to spell Qassem Soleimani. The focus will be on the China trade deal next Wednesday. Making dough. The street has momentum, enthusiasm, direction and speed, it seems. "As the markets have the attention span of a 10-year-old, any geopolitical risk premium is likely to fade if there is no immediate evidence of escalation," says one equity veteran.
Assassination from the sky, throngs in the street, nukes, rockets, gloats on Twittter and higher stocks. Nothing matters. What a world
STAY INFORMED! Receive our Weekly Recap of thought provoking articles, podcasts, and radio delivered to your inbox for FREE! Sign up here for the HoweStreet.com Weekly Recap.