January 29, 2020 | The Dodgy Idea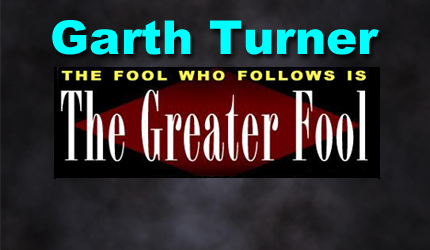 A best-selling Canadian author of 14 books on economic trends, real estate, the financial crisis, personal finance strategies, taxation and politics. Nationally-known speaker and lecturer on macroeconomics, the housing market and investment techniques. He is a licensed Investment Advisor with a fee-based, no-commission Toronto-based practice serving clients across Canada.
o remember that crazy idea outgoing central bank boss Poloz was selling in a recent interview? In order to make houses more affordable, he asked, why not let private investors easily buy a hunk of other people's equity? Families could live in homes they had less-than-100% ownership of (and lower costs) then hand over a share of the profit to an investor when they sold.
This echoes Ottawa's current mutual-equity mortgage, of course, in which CMHC shares a deed in return for footing part of the down payment (more on this turkey in a moment). The benefit is that people can move into houses they could not otherwise afford. The downside is this increases demand, further turning houses into investment assets, pushing prices.
Anyway, Poloz is apparently just aping an existing reality in the US.
Check out Unison.com, a San Francisco outfit which is doing exactly this – both for new homebuyers and existing owners. By the way, SF is like the GTA or the LM – home to some of the most expensive residential real estate on the planet, where Mills have been totally shut out as prices appreciated wildly. So, no coincidence this is Ground Zero for the shared-equity experiment.
Here's how it works: Unison will match a buyer's down payment up to 20% of the property's value, or a max of $500,000 (US). The buyer then gets a mortgage for up to 30 years from one of the partner lenders, paying an origination fee of 2.5% plus the usual closing costs. After three years the owner can request an appraisal and buy out Unison's share of the house. The option is to wait until it's sold, or 30 years – whichever comes first – before handing over the company's share of the appreciation. There are no payments to make on the loan. No interest, either. And because the down payment was twice the size the buyer could afford, the mortgage is smaller. If the house goes down in value, Unison takes the hit with you. If you pay them off earlier, the company collects what it originally invested.
There's more. The company will also take over 17.5% of an existing owner's equity, up to $500,000, in exchange for cash. It's like a reverse mortgage, but without interest piling up, making the debt ever-larger. Upon a sale, or after three decades, Unison gets its share. To play, you need a debt-to-income ratio of 50% or less, and at least 20% equity in the real estate.
The downside, of course, in making expensive houses easier to buy is that they will stay expensive. In fact, they'll probably get even more unaffordable. That's what happens when demand is facilitated. By opening residential real estate to its investors – mostly pension funds and university endowments – Unison helps commoditize residential real estate, turning it into a truly investible asset. Hard to see how this ends well.
Meanwhile whazzup with T2's vaunted shared-mortgage thingy?
You may remember it as a centerpiece of the Libs' housing policy in the last campaign – goosing the upper price limit to $800,000 in a program designed to provide moisters some free down payment money. The budget allocated was $1.25 billion. In return for giving over the deposit, CMHC would take equity and a share in the real estate gains.
Well, the kids ain't buying it. There were only 3,000 applications for the so-called incentive program last year, for $55 million in funding. Veteran mortgage broker and blogger Rob McLister tells us why this was a truly bad idea…
It helps almost no one buy a home (due to the overly strict qualification criteria)
was ill-conceived (with virtually no industry consultation)
was a government subsidy for already qualified homebuyers
was hard to understand for mortgage advisors and consumers alike, and
made it difficult for borrowers to quantify the benefit (largely because CMHC didn't initially launch a useful calculator for people to run scenarios).
Worse, it makes houses cost more. Just another example of politicians trying to increase demand for real estate at a time when too much of it is chasing too few listings. Mr. Market would sort a lot of this out if left on its own, especially if we stopped letting people buy houses with 20x leverage and taxpayer-funded insurance. Yikes.
Whether it's San Fran, 416 or YVR, the idea of sharing residential real estate equity is a dodgy one. We don't need more stimulus. And now Liberal MPs are getting restless about gutting the mortgage stress test. Will Chateau Bill hold firm, or cave to his leader and caucus?
Are you kidding?
Maybe the feds should do something about this, instead: TD will next month become the first bank to charge interest on interest. If you fail to pay all of your credit card bill, including the interest charged on unpaid balances, The green guys will levy new interest charges (at godawful rates) on that outstanding interest.
Says a notice Dorothy received this week. "We are adding your unpaid interest charge to your balance at the end of each statement period. As a result, we will now charge interest on unpaid interest."
She immediately cut up Bandit's $50,000 limit Golden Rewards Cashback Classic Insider Avion Special Breed Stud Privilege Affinity TD Visa. He may also pee on the branch.
STAY INFORMED! Receive our Weekly Recap of thought provoking articles, podcasts, and radio delivered to your inbox for FREE! Sign up here for the HoweStreet.com Weekly Recap.