January 2, 2020 | Day Two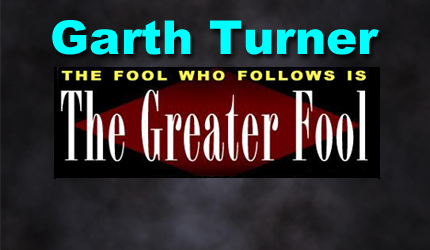 A best-selling Canadian author of 14 books on economic trends, real estate, the financial crisis, personal finance strategies, taxation and politics. Nationally-known speaker and lecturer on macroeconomics, the housing market and investment techniques. He is a licensed Investment Advisor with a fee-based, no-commission Toronto-based practice serving clients across Canada.
Welcome to 2020, shoppers!
Believe it or not, the 'spring' real estate market begins within the next few days in Vancouver and the LM. Within two weeks it will be rolled out in the GTA. After that it's basically rutting season everywhere, with the exception of frozen Quebec, the flat places and (of course) that Barbarian Wexit province.
As this shiny new year unfolds, what's the state of everything? Here's a quick review.
The cost of money
Cheap, cheap, cheap, despite the fact central banks have basically stopped dropping their rates. Five-year fixed-rate mortgages are available at a slew of dodgy places where they also sell falafels, for 2.7% or less. Major banks are hovering around the 3% mark. When inflation is more than 2%, this is a bargain. So it bodes well for housing, at least for now.
The news
What people believe about the economy is actually more important than the economy itself. Last year here was concern about the inverted yield curve thingy, crazy Trump's trade war, the dismal Canadian election, impeachment, scary recession headlines, Brexit, Hong Kong, Turkey, Syria. Ukraine and Greta. After a decade of uppa-uppa, it seemed things were headed for a wall. Or a cliff.
But now? Maybe not. Stocks are at record highs, and going higher. A China-US deal is two weeks away. Trump and Trudeau are still here. No recession on the radar. Brexit getting done. Wexit fizzled. Millennials are finally maturing.
The markets
All real estate is local. Most real estate boards fudge and deceive. But it appears Victoria is stable, YVR has more detached price declines coming (this week's assessments are brutal), Cowtown and Edmonton are comatose, Saskatchewan and the Peg are frozen, SW Ontario and the GTA are gaining strength, Montreal is hot, Halifax is boring-okay and NB is where the snow gets put. Last year prices overall went nowhere even though mortgages got cheaper and wages increased. But so did debt. The party may indeed be over. Despite this…
The politicians
Last year governments were shameful, while people trying to get elected were worse. The federal Libs unveiled a wacky shared-equity mortgage scheme inviting moisters to partner up with CMHC. Ottawa boosted the RRSP Home Buyer's Plan by a whopping 40% so a newbie couple can now suck $70,000 out of their retirement plans to spend on an inflated house. The stress test rate dropped – not by a lot, but still a reduction. And during the election T2 upped the Home Buyer Incentive limit and introduced new homeowner credits while the Cons promised to gut the stress test and shower new green money on property owners. In short, our elected people did all they could to make a house less affordable by increasing demand. Brilliant.
What's next
Looks like the Bank of Canada will be sitting on its hands for the next few months. Maybe the whole year. Inflation is tame. The Fed in the US is likely on hold until the election in November. Trade tensions are easing. Employment, corporate profits and GDP growth are all okay. So with low mortgage costs and pent-up demographic demand, this should be generally positive for housing.
But not entirely. Prices are still wholly unrealistic for average families in the major centres (other than Montreal). Household borrowing sits at record levels. And increasing. Debt servicing costs have shot higher, despite cheap loans. The savings rate is appalling. Household finances didn't improve in 2019 – they slipped. Political tensions increased.  Banks are laying off and the oil patch is sick. The next budget will raise taxes.
In 2019 national house prices rose about 2%. In Toronto the gain was 7%. In Vancouver values fell 5%. In Montreal, the market was up 6%. In Calgary, down 2%. No boom. No bust. All real estate is local, and factoring in the high costs of buying, owning and selling a house, almost nobody made money on property.
Meanwhile stocks markets advanced between 20% and 30%. A boring, low-vol balanced portfolio grew 15.2%.
Draw your own conclusions.
Note: no realtors were injured in the preparation of this article.
STAY INFORMED! Receive our Weekly Recap of thought provoking articles, podcasts, and radio delivered to your inbox for FREE! Sign up here for the HoweStreet.com Weekly Recap.