January 14, 2020 | China's Marathon Stock Market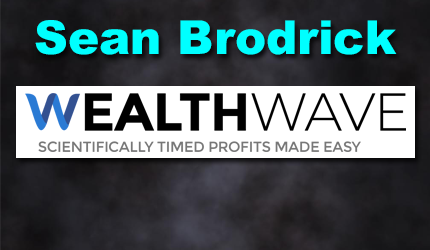 Sean is the natural resource analyst for Weiss Ratings. You can read his thoughts on gold, oil, cannabis, uranium and other natural resources at Wealth-Wave.com
I showed you over the past few months how China's on a mission — a "100-Year Marathon" — to replace America as the last, greatest empire in the history of mankind.
Well, have you noticed China's STOCK MARKET lately? It's soaring!
And yet, it's going unnoticed. That's because many are hesitant to invest in China. Which isn't surprising, especially given everything we've seen about the "China Dream" for world domination. (For full details, see the "America's Cold War with China" series: Part 1, Part 2, Part 3, Part 3.5 and Part 4.)
Plus, fears of an overinflated housing bubble and credit crunch in China abound.
You can't find many bulls on Chinese stocks, and that's precisely why this market deserves a closer look. From a true contrarian investor's perspective, it doesn't get much better than this as fears of an economic meltdown in China appear overblown.
But peel back the top layer of the inefficient, old state-owned enterprises, and you'll find a vibrant, growing domestic economy driven by a unique brand of oriental capitalism.
New political leadership in Beijing at the start of 2013 stressed social reform and rebalancing China's economy away from industrial-led export growth, in favor of more organic domestic consumption growth.
Greater reliance on consumer goods and services means faster employment growth and higher wages, which in turn promotes rising consumer wealth and spending. Despite a slowdown in the pace of growth, China is well on its way to becoming the world's largest economy.
Indeed …
China recently accounted for 16% of worldwide GDP, a share that has doubled in just the past 15 years. And consumption now accounts for more than half of total Chinese economic growth …
China's fast-growing consumer class spends more as a percentage of global GDP than Japan's, and they've pulled dead-even with consumers in all of Europe …
And these are savvy consumers too. China already has almost three-times more people online as in the U.S. and internet usage is growing 10 percent annually, versus only 2% in the United States. Plus, there are nearly four times more mobile phone users in China! In fact, in recent years China contributed more to global consumption growth than any other nation on earth, including the USA.
Still, the critics contend that much of China's recent growth has been squandered in misguided capital spending. But nothing could be further from the truth. In fact, the chart above shows that in historical terms, China's expansion is following roughly the same trend as in the United States.  Back in 2013, China's GDP was just up to the U.S.'s level when Neil Armstrong first set foot on the moon 50 years ago. And although it has grown quite a bit since 2013, its infrastructure is still far behind the United States.
That means there are still plenty more railroads, airports, pipelines, factories, businesses and shopping malls to be built. China has plenty of room for capital investment and growth for decades to come. And Beijing has directed capital spending toward more productive industries including technology, clean energy and consumer services.
Despite this remarkable transition from an export-led economy to internal consumption growth, investors remain skeptical about China's investment prospects.
I can understand why: Its stock market lagged far behind, then took a big dump in the face of Donald Trump's aggressive stance.
But that's beginning to change. Several analysts expect better things from emerging markets like China in 2020.
Kristina Hooper, chief global market strategist at Invesco, believes Chinese equities have been "beaten down unfairly" as two years of trade wars have taken their toll. With China's central bank in stimulus mode and a phase-one U.S.-China trade agreement set to kick in, China's economy should get a shot in the arm.
Bottom line: China is a giant, and it has awakened. And just as Napoleon warned in 1803 — it's about to shake the world to its foundations.
Three billion of the world's 7 billion people live in Asia. Anyone who thinks their newly awakened souls will stop desiring better lives for themselves, and their children, is sadly mistaken.
Asian demand will remain a strong force. And China is the poster child of Asian demand. Even with the global slowdown. And despite what the naysayers may tell you — China's economy is still growing much faster than America's is.
The People's Bank of China — the country's central bank — has had nearly $4 trillion in its piggy bank and its cash reserves are growing ever larger, month after month. Washington, on the other hand, has almost no cash on hand to speak of.
China has over 800 million workers, nearly five times more than the 156 million workers in the United States. Not only that: 97% of all Chinese workers are employed, whereas 19 million U.S. workers are either unemployed or underemployed. In China's urban areas, wages are rising by about 10% per year. In the U.S., inflation-adjusted wages for U.S. workers have been falling, stagnant or, at best, rising only marginally.
For those willing to take the risk and looking for exposure to China's marathon stock market, check out the iShares China Large-Cap Stock ETF (FXI).
All the best,
Sean
STAY INFORMED! Receive our Weekly Recap of thought provoking articles, podcasts, and radio delivered to your inbox for FREE! Sign up here for the HoweStreet.com Weekly Recap.