January 1, 2020 | Be it Resolved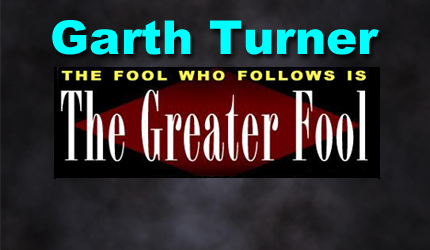 A best-selling Canadian author of 14 books on economic trends, real estate, the financial crisis, personal finance strategies, taxation and politics. Nationally-known speaker and lecturer on macroeconomics, the housing market and investment techniques. He is a licensed Investment Advisor with a fee-based, no-commission Toronto-based practice serving clients across Canada.
Bandit decided to throw up at 4 am on New Year's Day. A surprise, since he didn't even have that many Shooters last night. In any case, the hours spent sitting holding his paw provided time to finish your list of 2020 resolutions.
So be it resolved that you will…
Try to borrow nothing.
Easy credit is the crack cocaine of our society. Most people are addicted and loan servicing costs are bleeding families dry. If the economy turns this year, the indebted could be pooched.
If you do, make it tax-deductible.
Using real estate equity to build a non-registered portfolio can give you more net worth and a tax-deductible mortgage. But never do this without a plan, an escape hatch and some trusted help.
Max your TFSA.
Today. Six grand. Get it in there.
Seriously reconsider paying down your cheap mortgage.
First, why trash a sub-3% home loan with valuable after-tax dollars that could earn two or three times that amount invested? Second, shoveling more of your net worth into a single asset is gambling. Diversify.
Don't try to time markets. Invest when you have money.
Financial assets are expected to melt up early in 2020, then anything could happen. So stop looking. Invest when you have money. Do it correctly. Stay invested until you need the dough. How hard is that?
Adhere to the Rule of 90.
Try restricting the percentage of net worth in residential real estate to 90 less your age. In other words, buy what you can afford, no matter what the year brings.
Got a kid? Get an RESP. The right kind.
Schooling costs a bundle and not only does RESP money grow tax-free, but the government will give you funds every year. Where else can you get a guaranteed 20% return? But steer clear of the pre-packaged plans peddled by the baby vultures, and stay invested in growthy stuff.
No stock-flipping in 2020. Go with ETFs and balance. Set it & forget it.
Equities romped 30% last year, which is no guarantee of the future. And some assets (like weed stocks) crashed despite the market gains. When big-time fund managers can't beat the index, why would you? Hubris.
Spousal loan. Spousal RRSP. Get serious about income-splitting.
Taxes are going up in Canada. Again. The T2 government's return to power guarantees this, so fight back. Having a lower-income partner allows great opportunity to split income by contributing to a spousal RRSP (up to your own limit) or loaning him/her money for a non-reg investment at the CRA rate of just 2%. No attribution then.
Take capital gains early, thwart Morneau.
There's a budget coming in February or March. Ottawa's swimming in red ink and the masses expect more bread. One result may be a hike in the cap gains inclusion rate. If you've planned on cashing in some profits this year, sooner might be better than later.
Lock in your mortgage.
Rate cuts are so 2019. Given Trump and the Fed, the China trade deal and the November election, central bank easing is on hold. Loans are still dirt cheap. So lock a rate.
Don't let your parents get a reverse mortgage
The cost is ridiculous and interest snowballs on borrowed amounts. This is a wealth-destroying vehicle. Marketers should hang their heads in shame. Get your folks to sell, invest and rent a far nicer place. And leave boodles for you.
Get a will. And POAs. Name beneficiaries and a SH.
Everybody needs a will, so get one. Power of Attorney forms need to be exchanged between spouses, at a minimum. Ensure your RRSPs have named beneficiaries but your TFSA has your partner listed as a successor holder.
Don't buy insurance unless you need it.
Universal life, whole life and a host of other insurance products are costly and offer questionable investment benefits. Canadians are grossly over-insured, probably due to guilt. Get over it. Just insure against specific risks and usually a term policy is enough.
Never retire without a non-registered account. And make it joint.
RRSPs play an important role, but don't retire with all your funds in vehicles which goose taxable income. A non-registered investment account's a key part of controlling taxes, and need never be converted to a RRIF. Make it joint with your spouse so when you kick the funds become his/her property, instantly. No delay or probate.
Lease your car. Instead own stuff that appreciates.
All regular cars turn worthless. So why tie up tens of thousands in one? Rent things which depreciate. Buy things that appreciate. Also easier to write off auto expenses when you lease.
Rent proudly. Invest bravely.
Our real estate culture has enslaved a lot of people, forcing them into high leverage and a risky future strategy. Renting is a completely valid alternative, stabilizing costs, eschewing debt and freeing income for investing. Ignore what your mom says.
Never buy real estate with anyone you're not sleeping with.
Seriously. Buying property with friends, co-workers, other couples or relatives is a completely bad idea. The entry costs may be less. The exit costs can be deadly.
Retiring? Commute your pension.
Lots of pension plans are in trouble. More will be as rates stay low and demand increases. If you can get out, taking the money, controlling it yourself, do so. The tax burden can be cut. Plus the asset belongs to you and your heirs, forever.
Get a dog. Non-judgmental love, loyalty and sincerity. You need this. We all do.
Life is not about accumulating money. Wealth just makes it easier. Being loved, and needed, makes it worth living. Start here.
STAY INFORMED! Receive our Weekly Recap of thought provoking articles, podcasts, and radio delivered to your inbox for FREE! Sign up here for the HoweStreet.com Weekly Recap.