December 8, 2019 | What's Coming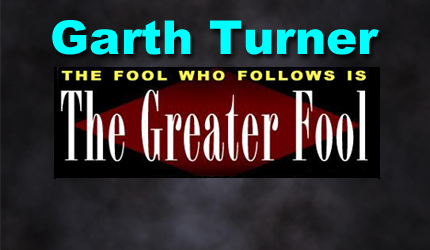 A best-selling Canadian author of 14 books on economic trends, real estate, the financial crisis, personal finance strategies, taxation and politics. Nationally-known speaker and lecturer on macroeconomics, the housing market and investment techniques. He is a licensed Investment Advisor with a fee-based, no-commission Toronto-based practice serving clients across Canada.
The average tat costs about $200. So soon you can have a new one, thanks to Justin Trudeau's government (he has a few). In the coming days the feds will table legislation to cut some taxes by increasing the basic personal exemption to $15,000.
That means no tax on that first fifteen grand (a $2,000 hike) so people earning less than $147,000 will see a small reduction in federal tax – about $600 per year per household when implemented. This will further remove some people from the tax rolls and cut federal revenues by $15 billion over four years, Scotiabank figures. You can be assured the shortfall will come from taxes on people earning over $147,000 annually.
Who's that?
Well 90% of Canadians make less than $80,500.The top 5% earn just under $180,000. The bottom 90% (all people over 16) have an average income of less than $29,000, which clearly signals something is wrong in our society.
The top 20% of families (average $179,000) earn 49% of all income and pay 56% of all taxes. The top 1% earn 10% of all income and finance 15% of all revenues. This is the same tax bill as the bottom 50% (by income) of all citizens pay. So, that's is how politics works. Tax success. Pander to the rest.
Of course, there is more coming. The T2 gang are now propped by the NDP (they want a wealth tax on top of income taxes) and the Bloc dudes, who hail from the highest-tax jurisdiction in the land. Likely targets are a higher inclusion rate for capital gains, some diddling with dividends, more grief for small business owners and professional corps, plus yet another whack at the $250,000+ income crowd. According to the latest StatsCan numbers, there are just 245,000 people in this category. That's 0.65% of the population. In the US 5% earn that much (and in American dollars).
The conclusion: we don't have enough rich people. If the 1%ers pay 50% more tax per capita than everybody else, don't we need more? Now that 40% of families pay no net tax (and this week's changes will increase that) it probably doesn't make sense to create incentives for people (like medical professionals) to leave. But logic and politics don't mix.
Anyway, this is all a reminder to the affluent and successful to exploit the tools you have left. The TFSA. The RRSP and the RRIF. A RESP or RDSP. Preferential rates on investment assets. Income-splitting with spousal RRSPs or low-interest family loans. Trusts, estate freezes or tax-deductible mortgages. If you earn over $150,000, you're the enemy. Arm yourself.
A tale of two cities: Urban Montreal has 4.1 million people. Greater Vancouver has 2.4 Million. The average house price comparison: $350,000 vs $993,700. In Montreal last month sales increased, listings fell and condos were flying off the shelf at an average price of $290,000. In Vancouver, apartment sales were also way up while the average price of $651,500 was down 4%.
The median household income in Vancouver is $86,100. In Montreal it's $82,000. So why are people in one (smaller) city willing to pay three times more for a house?
Sure, the climate's better in BC. And Montreal is bilingual. Quebec has a long history of flirtatious separatism (take note Alberta), which has certainly repelled investors. But mostly it comes down to local culture. More than 45% of Montrealers rent, which is 10% more than Vancouver. There is no shame in the country's second-largest metropolitan area in being a tenant. In fact it's practically a city-wide party every July 1st when people move from one apartment to another. Moisters in Van seem to crave a Forever House to croak in. On the shores of the Saint Lawrence they get off on variety. Maybe it's a French thing. Or perhaps BCers have turned into brain-washed property slaves.
It could be telling that this story got a lot of press in Van recently:
Forget paying for your home — in some Vancouver neighbourhoods it could take you as long as a century just to save up for a down payment. The findings were calculated based on median household incomes before taxes and benchmark home prices for detached homes and apartments, according to real estate firm Zoocasa.

The report showed that saving for a down payment of a detached home in Vancouver could be as far as 91 years away in East Vancouver, where the median household income is $65,000. Moving westward, it could take as long as to 217 years to save up for a down payment based on the same median household income.

"In the three priciest luxury neighbourhoods including Richmond, Vancouver West and West Vancouver, where benchmark home prices range between $1.5 to $2.9 million, it would actually take more than 100 years to come up with the needed funds," wrote Penelope Graham, managing editor of Zoocasa and author of the report.
BC is an angry place lately. The government's vindictive and grouchy. The kids are feeling disenfranchised. The household savings rate is, on average, negative. Financial stress is high and expectations higher. Tensions over income inequality and race pepper society. The Zoocasa nonsense fuels resentment and is typical of local media. This is why YVR is the country's most indebted city, and will remain so. House porn is everywhere.
The point is not to compare Montreal with Vancouver. You can't. Don't even try. But if you choose to stay in a crazy, obsessed place, stop complaining.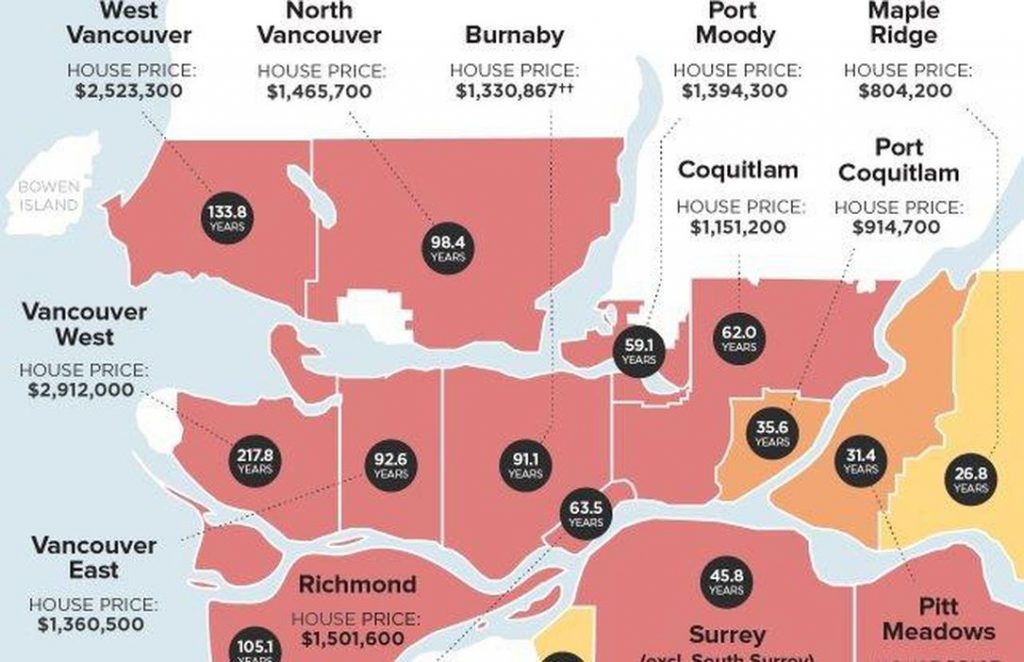 Source: Zoocasa (Click to enlarge and feel inadequate)
STAY INFORMED! Receive our Weekly Recap of thought provoking articles, podcasts, and radio delivered to your inbox for FREE! Sign up here for the HoweStreet.com Weekly Recap.