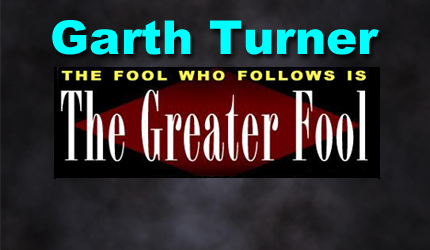 A best-selling Canadian author of 14 books on economic trends, real estate, the financial crisis, personal finance strategies, taxation and politics. Nationally-known speaker and lecturer on macroeconomics, the housing market and investment techniques. He is a licensed Investment Advisor with a fee-based, no-commission Toronto-based practice serving clients across Canada.
It's a weird Canadian thing. Everybody – buyers, politicians, moms – complains bitterly about houses people can't afford. But we call markets where sales are brisk and prices rising, 'healthy' and 'robust.' We say places where real estate is getting cheaper are 'in distress,' 'depressed' or 'struggling.'
So are lower prices and less debt a positive or a negative? Have we allowed the Real Estate Industrial Complex to set the agenda? When realtors are making big money on commissions and frequent deals is that a good thing for society? Given the fact we have $1.7 trillion in mortgage debt (a record), a savings rate of less than 1% (almost a record) and 40% of people living paycheque-to-paycheque (definitely a record) the answer would appear simple. Hell, no.
Apparently MLS® has eaten our brains. In Canada real estate values are a proxy for the economy. Even when job creation numbers tank, the banks miss earnings estimates and governments sink further into deficits, the average price of a property in Van or the GTA is supposed to tell the whole story. And speaking of that – news – let's have a moment of silence to mark the death of reporting. Media no longer discovers, distills and details the news. Its fresh job is to re-run press releases. Especially from the local real estate board. So much for trust.
An example from a day ago:
"Sales soar", while "prices rebound" – plus we have a "jump in activity" and "unexpected demand." Yup, all orchestrated to make you believe the market is soaring, rebounding, jumping and that houses are suddenly in demand. The desired result: FOMO. Realtors crave a sense of urgency and competition to spur sales and boost prices. The newspaper, which makes money from real estate, is happy to oblige.
So what's real? Are things great in Vancouver because people have to pay $1.5 million for a detached house? And are things terrible in Calgary where the same property goes for $450,000 and is getting more affordable every month?
Dane Eitel is one of the few thoughtful analysts calling out the housing cartel. It's a lonely job in a city like Vancouver, where real estate is porn. But he persists.
The increase in sales, he says, is no reflection of market strength. The people buying need to act for personal reasons. Investors are gone. Nobody should be expecting higher prices in 2020. In fact, the opposite. Eitel points out values are $120,000, or 7%, lower than at the end of 2017.
Not all markets in Greater Vancouver are created equal some areas are closer to the bottom while the majority still have significant percentage losses to come. The time to invest is on the horizon, however not at our feet yet. 2020 will experience needs-based selling as prices dip to 1.4 Million testing the current market cycle's previously-established prices. At the 1.4 Million price point the market will have correct a total of 23% from the peak – back down to the 2015 level, indicating all gains over the previous 5 years will have been erased. Patience is a virtue and those purchasers willing to wait will be rewarded with stiffer competition amongst sellers in 2020 and 2021.

Newly listed properties that are appropriately priced are likely the ones receiving the acceptable offers. Properties that have been on the market for months are continuing to sit there. 2020 will see the inventory tick back up and surpass the 7000 active listings experienced in the summer of 2018. Largely due to the needs-based selling upcoming. Money save is money earned. Since our initial forecast that the Greater Vancouver Market had indeed topped out and prices would begin to trend lower. The market has realized a $360,000 price loss.
Dan Eitel doesn't sell houses. Just information.
Re/Max has a different agenda. This is the company's forecast for 2020 for East and West areas of Vancouver:
The Vancouver East housing market is currently balanced, which is expected to continue into 2020 due to strong market activity in the region. The RE/MAX average sale price for Vancouver East is expected to increase by eight per cent in 2020. Continued population growth and price increases are expected to boost the residential market in Vancouver East.

The Vancouver West market is expected to increase by 4% due to an uptick in buyer confidence returning to the market. Currently there are 4.5 months of inventory left on the market, as sales increase, we are beginning to see inventory levels drop so this is expected to be 15% lower in 2020. The most influential factors impacting market activity in 2020 include supply, interest rates and how sellers price their homes. Higher prices are expected in 2020 due to increasing sales and reduction on inventory.
By the way, the fastest-growing segment of the Canadian economy lately has been real estate commissions. We're pooched.
STAY INFORMED! Receive our Weekly Recap of thought provoking articles, podcasts, and radio delivered to your inbox for FREE! Sign up here for the HoweStreet.com Weekly Recap.