December 7, 2019 | Trading Desk Notes December 7, 2019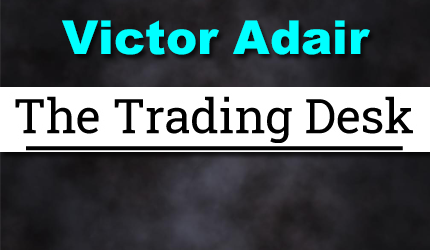 Victor Adair, author of The Trading Desk Notes, began trading penny mining shares while attending the University of Victoria in 1970. He worked in the mining business in Canada and the Western United States for the next several years and also founded a precious metals trading company in 1974. He became a commodity broker in 1977 and a stock broker in 1978. Between 1977 and his retirement from the brokerage business in 2020 Victor held a number of trading, analytical and senior management roles in Canada and the USA. Victor started writing market analysis in the late 1970's and became a widely followed currency analyst in 1983. He started doing frequent media interviews in the early 1980's and started speaking at financial conferences in the 1990's. He actively trades his own accounts from The Trading Desk on Vancouver Island. His personal website is www.VictorAdair.ca.
Stocks, bonds, currencies, crude oil and metals were all rocked this week as sentiment swung dramatically from "risk off" to "risk on."
The benchmark American stock indices traded at ATHs during the low-volume Thanksgiving week…hit new ATHs Sunday afternoon as this week began…but then a flurry of trade headlines sparked a wave of selling that took the 24 hour DJIA down ~900 points into Tuesday's floor session opening. The selling was fast and furious…Tuesday's share volume was a 2 month high…and implied volatility spiked higher from last week's 15 month low.  But Tuesday was "Turnaround Tuesday" for the stock indices and prices rallied the rest of the week with a kick higher Friday from the stronger-than-expected employment report.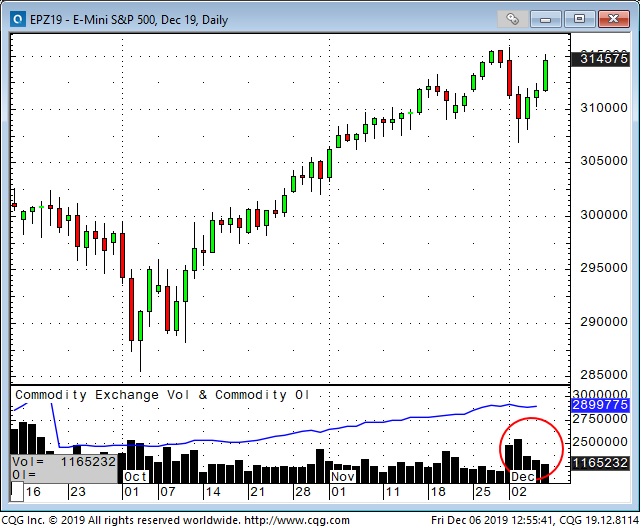 WTI crude was hammered last Friday for >$3 loss on worries that OPEC+ might not agree on production cutbacks…but WTI traded higher every day this week with Friday's high almost $5 above last Friday's low as OPEC+ agreed to production limits.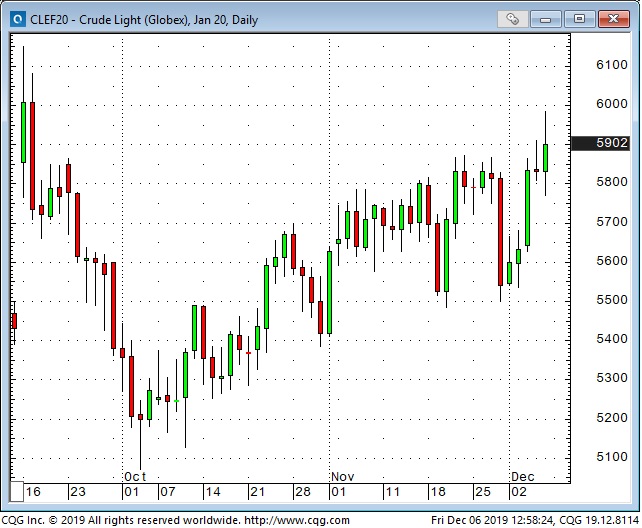 US Treasury bonds opened lower Sunday afternoon…dramatically taking out last week's lows…and stayed lower even as stocks started to fall hard but Tuesday saw bonds catch a "risk off bid" and the long bond rallied > 3 full points…only to give back all those gains into Friday.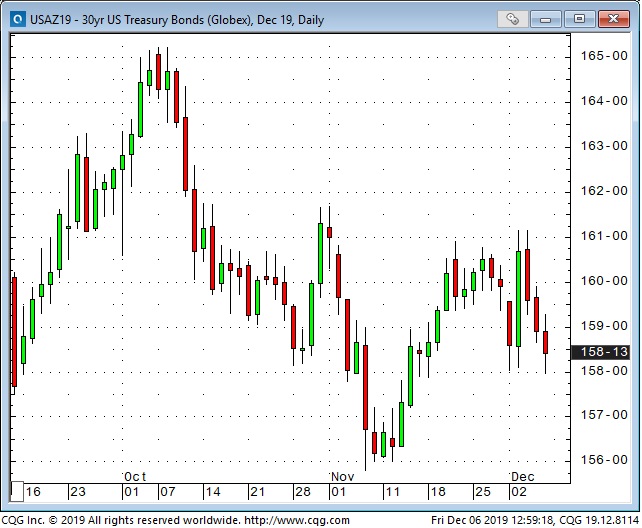 Copper ended the Thanksgiving week soft…fell to 6 week lows Tuesday on risk off sentiment…but rallied Wed/Thur/Fri to the best weekly close in 5 months.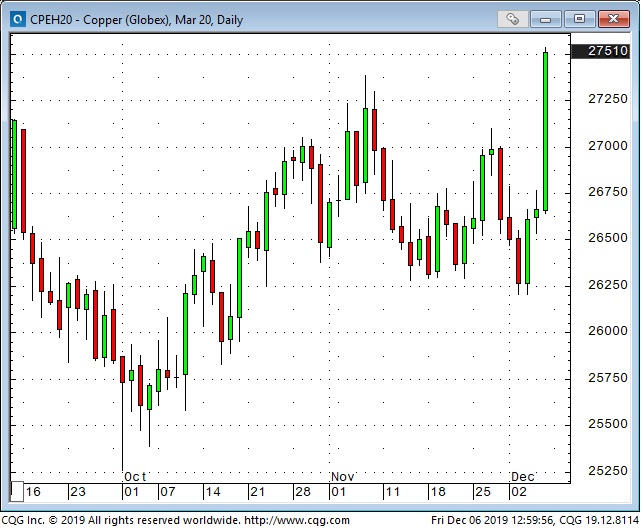 Gold and Silver dipped to 3 – 4 month lows last week but held support and then jumped higher on Tuesday this week as markets went "risk off"…only to reverse and slip lower later in the week as "risk on" sentiment returned.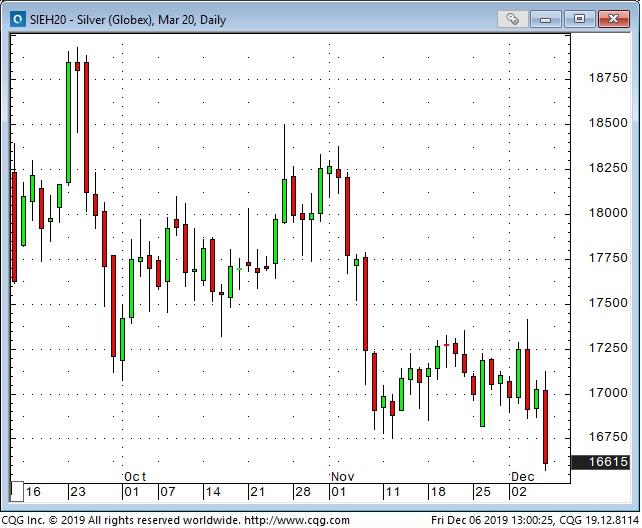 The Canadian dollar looked like it was ready to break below the 75 cent support level Tuesday morning as the major stock indices were making their lows…but as stocks started to rally CAD caught a bid then ripped higher to 76 cents on sanguine Bank of Canada comments…only to tumble more than ½ cent Friday morning on a hugely negative employment report.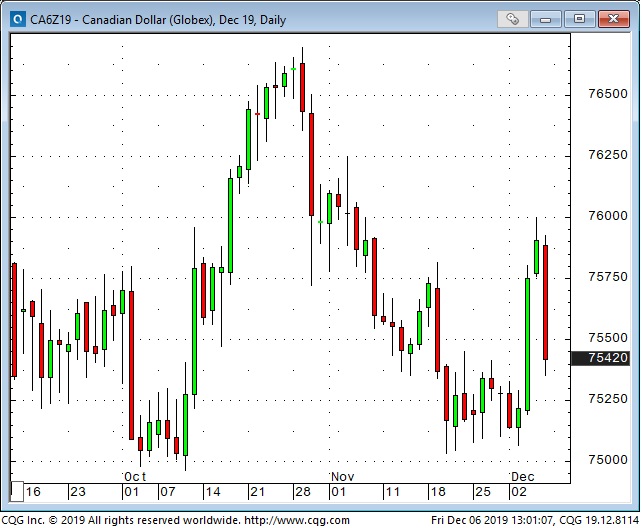 The most important stock in the world – AAPL – was looking a little "toppy" Thanksgiving week…fell a bit on Monday but then gapped lower Tuesday on strong volume…ripping right through the mid-Nov $260 support level. For an hour or two Tuesday morning it looked like stocks might be about to tumble…especially with the bond market rallying hard…but AAPL started to rally and closed on its highs. Peter Brandt tweeted, "Will today's bar in AAPL become an island bottom?" So far it is. AAPL gapped higher Wednesday morning and rallied to new ATHs Friday >$15 above the Tuesday island lows.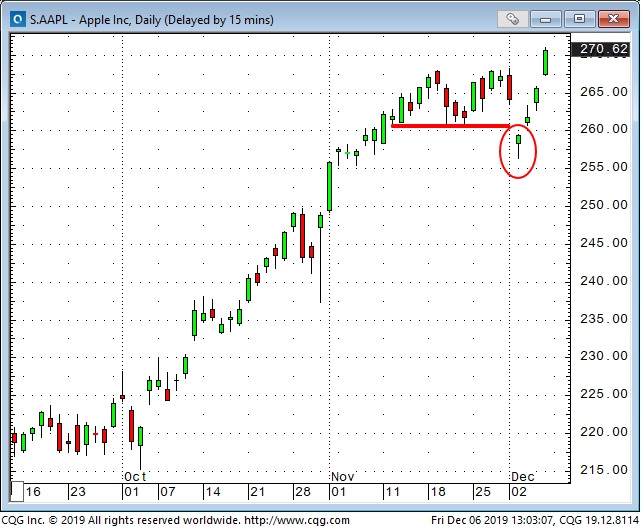 Here's some thoughts on how I trade:
I'll risk a limited amount of my capital on a specific trading idea but risk management takes precedence over any of my brainwaves. My mantra is, "It's only a trade." Protecting my capital and my emotional well-being is job one. I will not add to a losing trade. I always use in-the-market stops…placed where I know I'm wrong on a trade if they get hit. I think of stops as "disaster prevention" that will keep me from taking a bigger-than-expected loss. I will move my stops behind the market if it is going in my favor. I do not like to see a trade that was once profitable turn into a loser. If the market is moving against me I sometimes just close out a position rather than wait for my stops to be hit.
Trading is not a game of "perfect" and I'm "ok" with getting in or out of any trade too early. I don't worry about missing trades I "should have made." As much as I like any of my trading ideas I'm fully prepared to lose money on that idea. I expect that the P+L for most of my trades will just "offset" each other and that any net P+L gains I earn will come from just a few good trades…it is therefore critically important to NOT take any BIG losses. To stay in the game…to have a chance to get into a good trade…you have to play "good defense."
When I was younger I traded much more aggressively than I do now. I also broke a lot of telephones. These days I try to limit losses on any trade to 1% of capital and I stay pretty calm. I started this week long S+P puts (bought last Friday) short TNotes, CAD and MEX. I did a pretty good job of playing defense and I made money on the week.
Here's a brief recap of the trading I did this week…how I put my trading ideas into action:
Sunday night the S+P was going against me a bit but it stayed within my risk limits. I liked the way it broke down Monday. It kept falling early Tuesday before the floor session and my puts went ITM. There was BIG volume on the floor opening and VOL spiked to a 6 week high. I was long the puts at a 12 VOL and they were now 15 so my trade was making money as the market fell and as VOL spiked. In 2 days the major indices had nearly erased all of November's gains. Maybe too far too fast? I decided to play defense (protect the unrealized gains in my position) and sold OTM puts (same expiry date) at a 19 VOL to hedge my position. Later in the day I took good profits on the original put but stayed with the short put…covering it Wednesday morning for a small gain. In hindsight I should have stayed with the short OTM put as the market kept rising…but I was inclined to think that there was risk of the market falling and the short put had served its purpose as a hedge. Let it go.
My short TNotes broke down nicely before the Monday floor session but they started to catch a bid as stocks fell. I've had good success trading TNotes from the short side the past couple of months and I'd been on the sidelines the past couple of weeks as bonds rallied so I "liked" being short TNotes...but I knew the risk on the trade was that they could rally if stocks tumbled…so I cancelled my stops and closed the trade with a decent gain. Bonds had a BIG rally Tuesday and I was very happy I had covered my short position…but I just couldn't find a spot to get back short Wednesday through Friday. I missed a trade I should have made. Let it go.
My short CAD and MEX trades looked ok Monday but both currencies started to rally with stocks Tuesday. I was short MEX on the thought that it "might" suffer contagion from the social unrest/currency weakness in South America. An interesting idea but certainly not a "timing tool." I cancelled my stops and closed it out for a small loss. It rallied for the rest of the week along with stocks so I was happy to be out.
I was Short CAD because it had been trending down for about 5 weeks and I thought if it broke the 75 cent support level it could easily fall another cent. But it had closed higher Tuesday and was ticking higher early Wednesday ahead of the Bank of Canada meeting. I "didn't like it" so I cancelled my stops and got out at around breakeven. The BOC surprised the market and CAD jumped ¾ cent by Thursday. I was happy to be out. Good defense.
I bought the YEN early Monday when it traded above Friday's highs. It was a simple "the YEN will rise if stocks fall" play and all currencies were rallying Vs. the USD. I put stops near Friday's highs. The Yen rallied into Tuesday but backed off its highs as stocks began to rally. I closed the trade for nice gain.
I bought S+P puts late Thursday. My thinking was that the market break that started Monday was the beginning of a bigger break and now that the market had bounced back 50 points it might roll over. Volume on the Wed/Thur bounce back was much lighter than the volume on the Mon/Tues sell off. The UE report was coming out Friday morning and I knew that could rock markets so I wanted a limited risk position…so I bot OTM puts. The UE report was seen as very bullish and stocks rallied. I covered the trade right after the number for less than a ½ of 1% loss. I did not want to carry a losing trade into the weekend…although I see that volume on Friday was also light…I may look to get short next week. I'm flat going into the weekend.
I had a lot of fun doing a Market Huddle podcast last week with Kevin Muir and Patrick Ceresna. Here's the link:  https://www.youtube.com/watch?v=Xa5nq_FZbRM&t=3966s
My son Drew Zimmerman and I use the futures market to trade currencies, metals, interest rates, stock indices, energy and other commodities. Please give us a call or send us an email if you'd like to know more about trading futures.
Best wishes,
Victor Adair
SVP and Derivatives Portfolio Manager
PI Financial Corp
Canada
PI Financial Corp. is a Member of the Canadian Investor Protection Fund. The risk of loss in trading commodity interests can be substantial. You should therefore carefully consider whether such trading is suitable for you in light of your financial condition. In considering whether to trade or the authorize someone else to trade for you, you should be aware of the following. If you purchase a commodity option you may sustain a total loss of the premium and of all transaction costs. If you purchase or sell a commodity futures contract or sell a commodity option or engage in off-exchange foreign currency trading you may sustain a total loss of the initial margin funds or security deposit and any additional fund that you deposit with your broker to establish or maintain your position. You may be called upon by your broker to deposit a substantial amount of additional margin funds, on short notice, in order to maintain your position. If you do not provide the requested funds within the prescribe time, your position may be liquidated at a loss, and you will be liable for any resulting deficit in your account. Under certain market conditions, you may find it difficult to impossible to liquidate a position. This is intended for distribution in those jurisdictions where PI Financial Corp. is registered as an advisor or a dealer in securities and/or futures and options. Any distribution or dissemination of this in any other jurisdiction is strictly prohibited. Past performance is not necessarily indicative of future results
STAY INFORMED! Receive our Weekly Recap of thought provoking articles, podcasts, and radio delivered to your inbox for FREE! Sign up here for the HoweStreet.com Weekly Recap.