December 28, 2019 | Trading Desk Notes December 28, 2019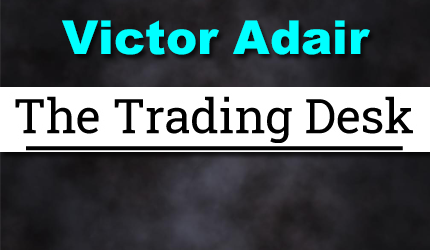 Victor Adair, author of The Trading Desk Notes, began trading penny mining shares while attending the University of Victoria in 1970. He worked in the mining business in Canada and the Western United States for the next several years and also founded a precious metals trading company in 1974. He became a commodity broker in 1977 and a stock broker in 1978. Between 1977 and his retirement from the brokerage business in 2020 Victor held a number of trading, analytical and senior management roles in Canada and the USA. Victor started writing market analysis in the late 1970's and became a widely followed currency analyst in 1983. He started doing frequent media interviews in the early 1980's and started speaking at financial conferences in the 1990's. He actively trades his own accounts from The Trading Desk on Vancouver Island. His personal website is www.VictorAdair.ca.
The most important message from the financial markets in 2019 was, "Don't Fight The Fed." The 180 degree turn in Federal Reserve policy…the Powell Pivot…caused markets to realized that it was, once again, "All About The Central Banks."
In December 2018 the Fed raised interest rates and indicated that they expected to be raising rates in 2019…but instead of raising rates they cut rates three times…stopped their quantitative tightening policies and wrapped up 2019 by pumping vast amounts of liquidity into the market.
The Fed's policy reversal inspired Central Banks around the world to step up their own monetary stimulus programs. That global shift to easier monetary policy may or may not have kept the world economy from slipping into recession in 2019…but it certainly helped drive global stock and bond markets to big gains. Bond yields hit All Time Lows, the "stack" of negative yielding bonds soared to a high of ~$17 Trillion and major stock indices kept making New All Time Highs.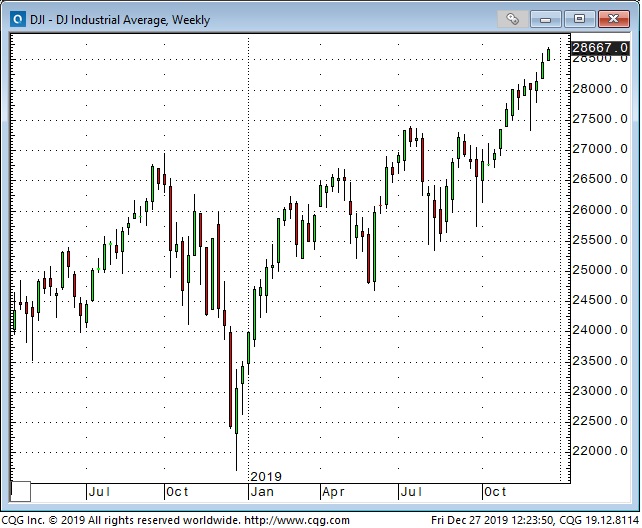 American capital markets out-performed the ROW again in 2019…continuing the process of drawing capital to the USA…boosting the value of the US Dollar. Average trading ranges in the currency markets this year were apparently the narrowest since the "free floating" era began in the 1970's. Euro volatility was the lowest since the currency was introduced nearly 2 decades ago.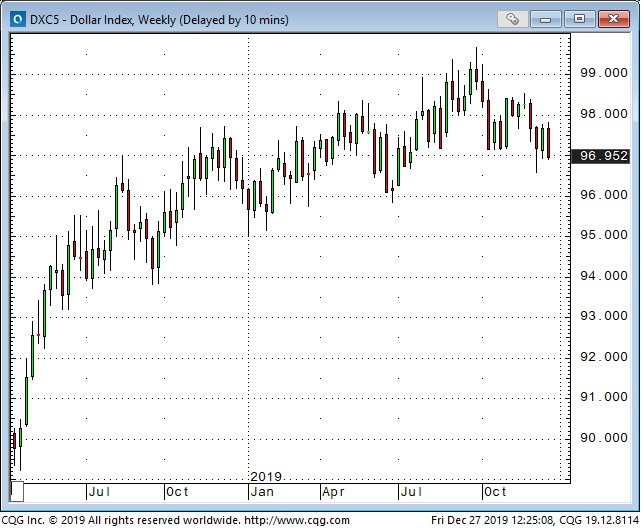 The steep gains in the major American stock indices from the lows of last December may have been underwritten by global monetary stimulus but they were also accelerated by buybacks and passive investing. Current market psychology seems to be well described by the acronym "FOMO" which may represent the modern equivalent of the Greater Fool Theory of Investing. But remember, "Don't fight the Fed."
Volatility across markets fell lower and lower throughout 2019 with any brief spikes apparently seen as selling opportunities. Low volatility metrics may represent investor complacency…there seems to be no shortage of that…but it may also be a consequence of massive and pervasive "vol selling" by people who believe it is just another easy way to pick up yield. Whatever the cause I don't expect this ultra-low volatility environment to last…and when volatility  starts to rise it won't be a slow and gentle rally.
Central banks have purposefully sustained extremely low interest rates for years. There have been intended and unintended consequences in markets and in social behavior. I don't know if rates are going to stay low…but for the past few months I've been writing about the Sept 3rd Key Turn Date…the date when the yield on the US long bond hit its All Time Low and turned higher. If that was THE low for bond yields (THE high for bond prices) and interest rates are headed higher we will see BIG changes across markets.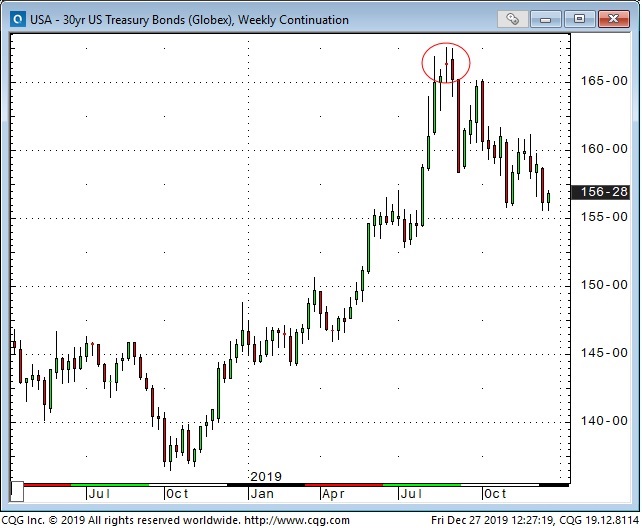 When markets go to extremes I expect to see reversals…in market prices and in investor psychology. That's just how it goes. As Bob Farrell wrote years ago, "Exponential rapidly rising or falling markets usually go further than you think, but they do not correct by going sideways."
My short term trading: I took a small long position in gold last week anticipating an up-side breakout. For the past couple of months I'd been trading gold from the short side as it fell from the 6 year highs it hit on the Sept 3rd KTD. I thought the HUGE net long spec position left the market vulnerable to a cascade of selling if prices seriously broke down. But the serious break down didn't happen and the spec longs sustained their positions. I thought that gold had rallied ~$350 from November 2018 to this year's highs in sync with the huge drop in real and nominal interest rates…and that if rates went up gold might fall. Rates have risen a bit and gold fell a little more than $100…but that was it. The real reason I changed my view on gold was that I've been thinking the US Dollar might be headed lower. I've been basically bullish the USD for years so that was a big turn-around for me.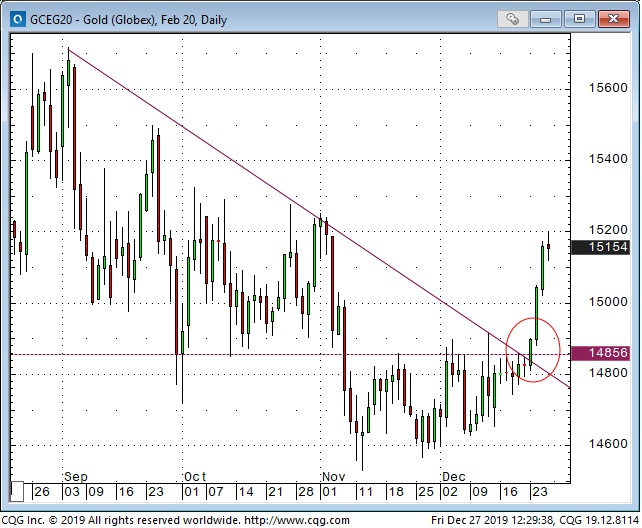 I took profits on my gold position after it rallied $30+ this week. That doesn't mean I don't think it can go higher…it's just that gold had an up-side breakout on very low volume during the typically low volume Christmas week. Open interest rose to a new ATH and the US Dollar weakened so I certainly don't want to be short gold.
I bought both EUR and AUD futures this week and will hold those positions into next week. Both of those currencies have had sustained weakness against the USD the past 2 years…they are both at extremes against the USD…so if the USD is turning down those markets could have a worthwhile rally.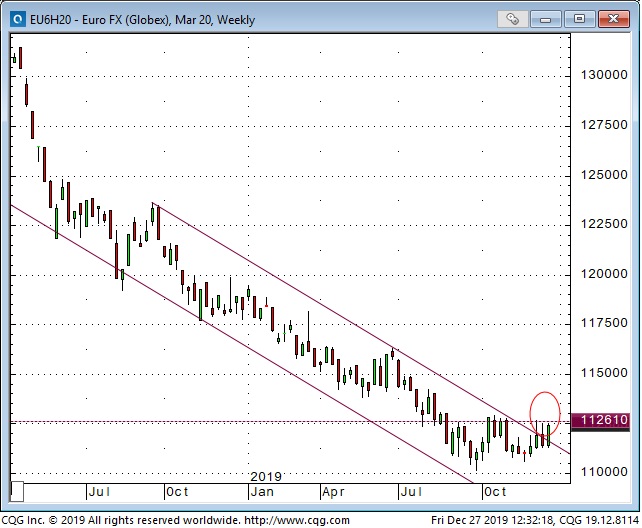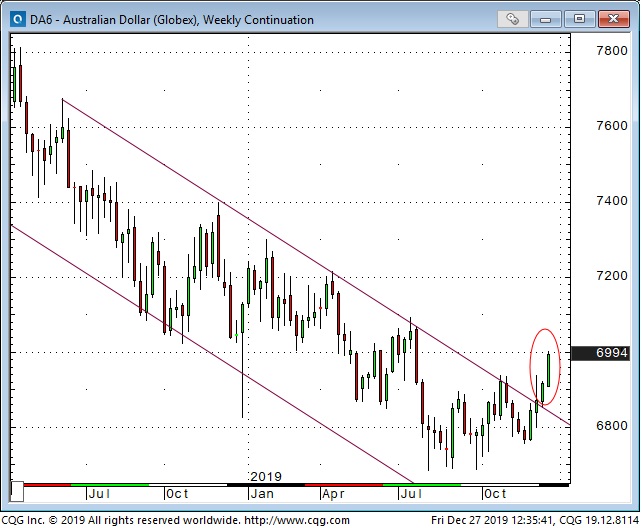 I've been trading futures markets since the mid-1970's and I'm more excited about the trading opportunities I see coming than at any other  time in my life. If we get some of the big swings I anticipate then the hardest thing to do may be to adjust to the volatility and to "stay" with the moves once they are under way.
Best wishes for success next year.
My son Drew Zimmerman and I use the futures market to trade currencies, metals, interest rates, stock indices, energy and other commodities. Please give us a call or send us an email if you'd like to know more about trading futures.
Victor Adair
SVP and Derivatives Portfolio Manager
PI Financial Corp
Canada
 PI Financial Corp. is a Member of the Canadian Investor Protection Fund. The risk of loss in trading commodity interests can be substantial. You should therefore carefully consider whether such trading is suitable for you in light of your financial condition. In considering whether to trade or the authorize someone else to trade for you, you should be aware of the following. If you purchase a commodity option you may sustain a total loss of the premium and of all transaction costs. If you purchase or sell a commodity futures contract or sell a commodity option or engage in off-exchange foreign currency trading you may sustain a total loss of the initial margin funds or security deposit and any additional fund that you deposit with your broker to establish or maintain your position. You may be called upon by your broker to deposit a substantial amount of additional margin funds, on short notice, in order to maintain your position. If you do not provide the requested funds within the prescribe time, your position may be liquidated at a loss, and you will be liable for any resulting deficit in your account. Under certain market conditions, you may find it difficult to impossible to liquidate a position. This is intended for distribution in those jurisdictions where PI Financial Corp. is registered as an advisor or a dealer in securities and/or futures and options. Any distribution or dissemination of this in any other jurisdiction is strictly prohibited. Past performance is not necessarily indicative of future results.
STAY INFORMED! Receive our Weekly Recap of thought provoking articles, podcasts, and radio delivered to your inbox for FREE! Sign up here for the HoweStreet.com Weekly Recap.