December 21, 2019 | Trading Desk Notes December 21, 2019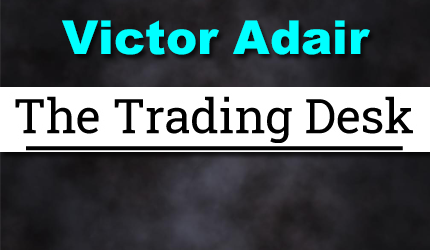 Victor Adair, author of The Trading Desk Notes, began trading penny mining shares while attending the University of Victoria in 1970. He worked in the mining business in Canada and the Western United States for the next several years and also founded a precious metals trading company in 1974. He became a commodity broker in 1977 and a stock broker in 1978. Between 1977 and his retirement from the brokerage business in 2020 Victor held a number of trading, analytical and senior management roles in Canada and the USA. Victor started writing market analysis in the late 1970's and became a widely followed currency analyst in 1983. He started doing frequent media interviews in the early 1980's and started speaking at financial conferences in the 1990's. He actively trades his own accounts from The Trading Desk on Vancouver Island. His personal website is www.VictorAdair.ca.
The benchmark North American stock indices keep printing new ATH…while complacency reigns even as the CNN Fear & Greed index is flashing extreme greed. Volatility is ultra-low across all markets, the put/call ratio is at a 5 year low and credit spreads are tight. People are reaching for yield and have no interest in buying downside protection. AAPL is up 100% in 12 months but TSLA has more than doubled in just 6 months…a poster child for the market's current exuberance!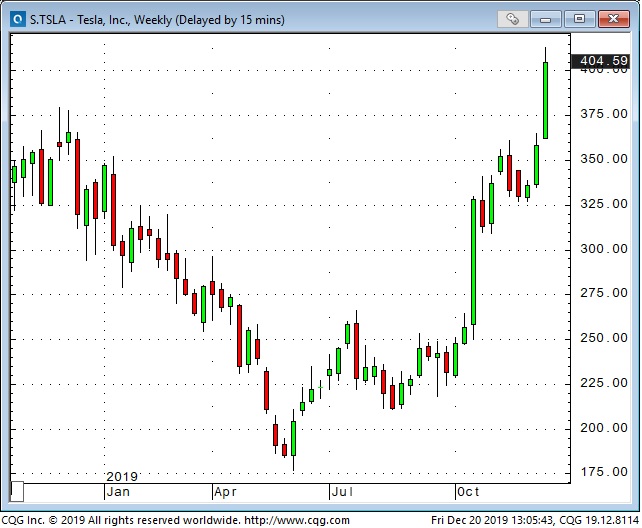 A year ago today the CNN index was flashing extreme fear...the S+P index was at 18 month lows…having fallen nearly 20% in less than 3 months…but just a couple of days later it began to rally and is now up ~37% from those lows.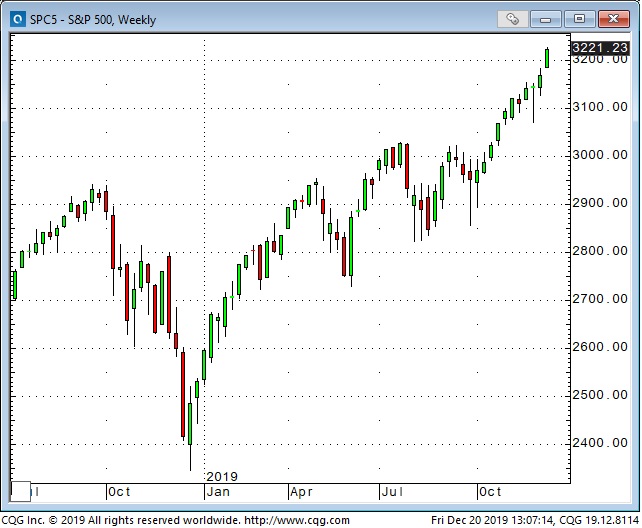 Why the big change?  Well, lots of reasons…but in 2 words…monetary stimulus. As Stanley Druckenmiller said this week,"…you have very low unemployment. You have fiscal stimulus in Japan.  You have fiscal stimulus and a lot of confidence coming to Britain.  We are running a trillion dollar deficit at full employment.  Apparently we are going to have some sort of green stimulus in Europe.  And we have negative real rates everywhere, and negative absolute rates in a lot of places. So with that kind of unprecedented monetary stimulus relative to the circumstances, it's hard to have anything other than a constructive view on the markets, risk and the economy in the intermediate term." 
Another reason for the huge rally in American markets is that they have been out-performing the ROW for a decade…the USA accounts for ~25% of world GDP but 40% of global market capitalization. There has been a self-reinforcing virtuous circle of money flowing to America…boosting the US Dollar and the American markets…which draws even more money into the US Dollar and the American markets.
Some of the capital flowing to America went into the bond market…not the stock market. You can imagine why European pension funds and insurance companies (needing a positive yield on their investments) would chose to buy American bonds rather than negative yielding European bonds. But to capture that positive American yield they had to leave their FX exposure unhedged…so their buying of American bonds helped boost the USD.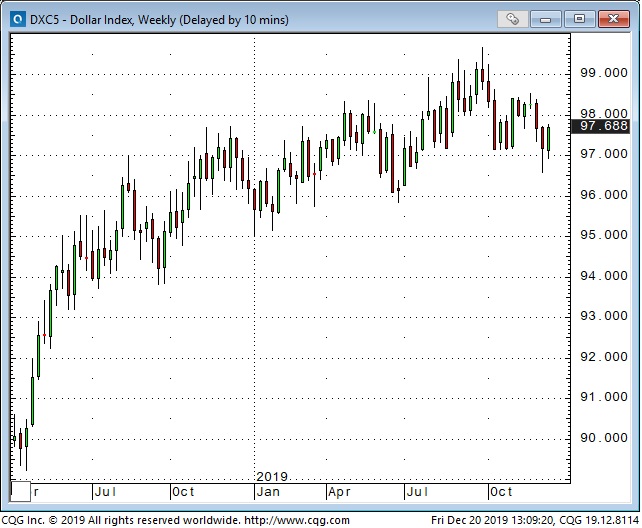 I've frequently referred to September 3, 2019 as a Key Turn Date...a date when a number of markets reversed direction…and because so many markets turned on (or around) the KTD the date became that much more important. I've often wondered what was the "epi-center" of the KTD…and until now I've assumed it was the bond market…because the US long bond printed its lowest ever yield on Sept 3rd and since then yields have been higher.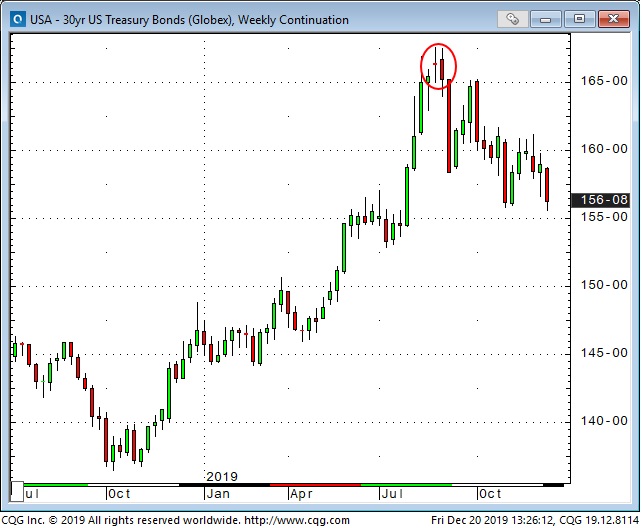 But the "epi-center" of the Sept 3rd KTD may have been the combination of a major low in bond yields AND a major high in the US Dollar.
I've previously noted that gold and silver turned down on the KTD while copper turned up. I noted that a number of commodities turned up on that date and  a number of currencies including the British Pound, the Chinese RMB, the Mexican Peso and the Euro/Yen cross all turned higher on the KTD…but I missed a BIG one...the St. Louis Fed Broad Trade Weighted US Dollar Index hit its All Time High September 4th and has drifted lower since. I guess I missed seeing the top in that index because we don't trade that index…I don't look at it every day but when I saw the chart this week it instantly made sense to me.
I believe all markets are interrelated…have an impact on each other. Sometimes the relationship is strong…other times not so much. For instance, it made perfect sense to me years ago when I was interviewing Jimmy Rogers and he asked, "How can you be trading wheat in Chicago if you don't know what's happening to iron ore in China?"
So…if indeed the Sept 3rd KTD marked a low in bond yields AND a high in the USD then that is going to have a BIG impact on every other market. Now I know there are some very smart people out there who think that bond yields are going to keep falling…and there are some very smart people out there (not necessarily the same ones!) who think that the US Dollar is going to scream higher. I get it. They may be right. I'm just proposing a "What if?" question. What if bond yields (around the world) are headed higher and the USD is headed lower? How would that impact the stock market? The commodity market? The stock market/commodity market ratio?
My short term trading: I started this week long OTM S+P puts and liquidated the position very early Monday morning. As I wrote last week I had been  struggling with the fact that I was "avoiding" taking a loss on the trade. I'm usually very quick to exit a trade that's not working (my mantra is "it's only a trade" and you have to protect your capital.) I had "justified" holding the position because the hit to my P+L was tiny and I wanted to have "something" that would benefit if the stock market fell. Over the weekend I changed my mind. I saw that I was trading what I thought "should happen" rather than what "was happening" and I was wrong to keep the position. If I had been holding a portfolio of stocks and had bought puts as some kind of a downside hedge I could easily have kept the position. But this trade was just a wrong-way bet on market direction so it had to go.
I bought a small gold position mid-week. For the past couple of months I've thought gold was at risk of taking a tumble given the HUGE net long speculative position…but gold hasn't fallen…open interest has crept to new ATHs and the HUGE spec long position has been maintained. The price range has been narrow for more than a month…but if Feb gold now trades above $1495 it might kick off a rally and I would buy more. The "story" that the Fed intends to let inflation run "a little hot" and seems to see no reason to raise short term interest rates is gold friendly.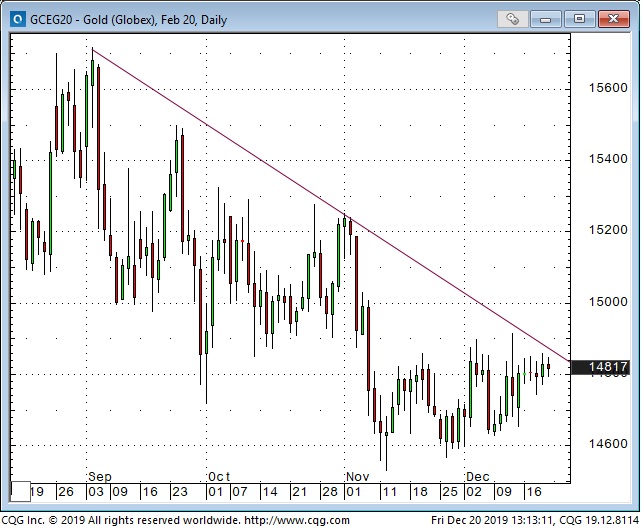 The British Pound gapped higher on the UK election results…and then proceeded to tumble below last week's low. A clear case of, "Buy the rumor, sell the news." I was looking at buying EURGBP, buying gold against the Pound, even just selling GBPUSD but I didn't get any of those trades done…I was just too slow to act.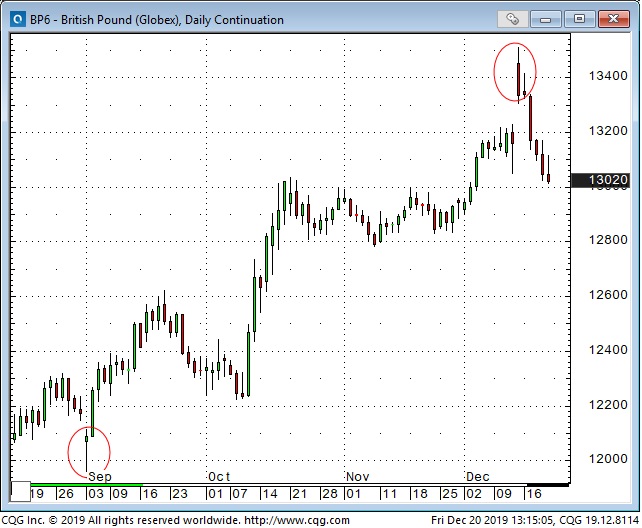 WTI crude continued its rally...now up more than $10 (20%) from its October lows. I couldn't bring myself to buy WTI because I've been thinking that stocks were due for a correction and WTI would probably fall along with the stock market. Some weeks you can't do anything wrong…other weeks…like this one…you just try to keep the damage to a minimum!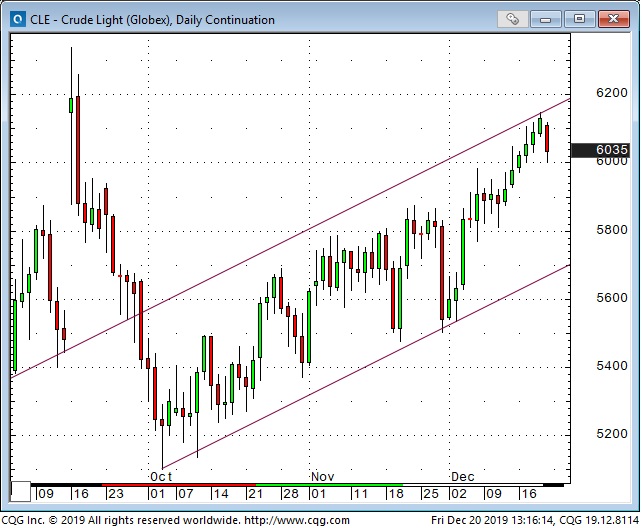 My son Drew Zimmerman and I use the futures market to trade currencies, metals, interest rates, stock indices, energy and other commodities. Please give us a call or send us an email if you'd like to know more about trading futures.
Best wishes for the holiday season,
Victor Adair
SVP and Derivatives Portfolio Manager
PI Financial Corp
Canada
PI Financial Corp. is a Member of the Canadian Investor Protection Fund. The risk of loss in trading commodity interests can be substantial. You should therefore carefully consider whether such trading is suitable for you in light of your financial condition. In considering whether to trade or the authorize someone else to trade for you, you should be aware of the following. If you purchase a commodity option you may sustain a total loss of the premium and of all transaction costs. If you purchase or sell a commodity futures contract or sell a commodity option or engage in off-exchange foreign currency trading you may sustain a total loss of the initial margin funds or security deposit and any additional fund that you deposit with your broker to establish or maintain your position. You may be called upon by your broker to deposit a substantial amount of additional margin funds, on short notice, in order to maintain your position. If you do not provide the requested funds within the prescribe time, your position may be liquidated at a loss, and you will be liable for any resulting deficit in your account. Under certain market conditions, you may find it difficult to impossible to liquidate a position. This is intended for distribution in those jurisdictions where PI Financial Corp. is registered as an advisor or a dealer in securities and/or futures and options. Any distribution or dissemination of this in any other jurisdiction is strictly prohibited. Past performance is not necessarily indicative of future results.
STAY INFORMED! Receive our Weekly Recap of thought provoking articles, podcasts, and radio delivered to your inbox for FREE! Sign up here for the HoweStreet.com Weekly Recap.