December 14, 2019 | Trading Desk Notes December 14, 2019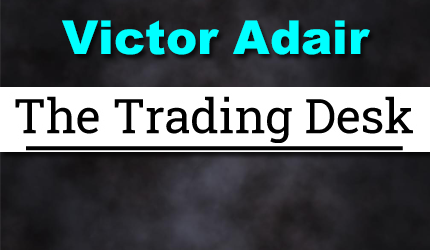 Victor Adair, author of The Trading Desk Notes, began trading penny mining shares while attending the University of Victoria in 1970. He worked in the mining business in Canada and the Western United States for the next several years and also founded a precious metals trading company in 1974. He became a commodity broker in 1977 and a stock broker in 1978. Between 1977 and his retirement from the brokerage business in 2020 Victor held a number of trading, analytical and senior management roles in Canada and the USA. Victor started writing market analysis in the late 1970's and became a widely followed currency analyst in 1983. He started doing frequent media interviews in the early 1980's and started speaking at financial conferences in the 1990's. He actively trades his own accounts from The Trading Desk on Vancouver Island. His personal website is www.VictorAdair.ca.
We saw very choppy short term price action this week in stocks, bonds, currencies, gold, and crude oil as markets were rocked by trade deal headlines, the UK vote, the impeachment process, the Fed and ECB meetings…not to mention the endless barrage of Trump tweets!
The apparent "de-escalation" of the US/China trade war was seen as a net positive for major global stock indices. Indications from the Fed that they will "stand pat" on rates, will allow inflation to "run a little hot" and will pour tons of money into the repo market over yearend also gave stocks a lift. The conservative victory in the UK election was seen as stock market positive.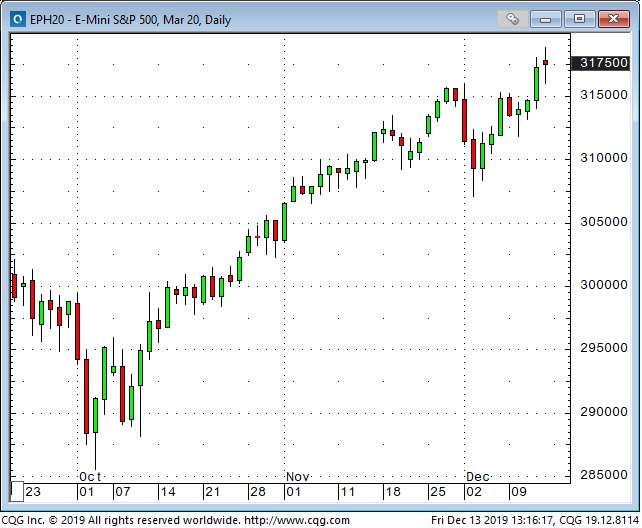 The S+P 500 has rallied ~35% from last December's lows to this week's ATHs…but is up only ~8% from September 2018 levels…the levels that were prevailing before the market took a steep (20%) tumble into the December lows. David Rosenberg reports that recent price to earnings, price to sales and price to book ratios for the S+P are ~1 standard deviation above historical norms…that the 2019 rally has been driven almost entirely by a multiple expansion. In plain language…people are willing to pay more and more and more for one dollar of corporate earnings.
The US Dollar Index (USDX) hit a 2 ½ year high at the beginning of October but has slipped ~3% since then…touching a 5 month low this week. Indications from the Fed this week that they are very unlikely to raise rates and that they will allow inflation to "run a little hot" are USD negative (and likely a Trump delight) while the prospect of recurring trillion dollar plus budget deficits also weighs on USD sentiment. For years my mantra has been that capital comes to America for safety and opportunity…and for the past several years the major US stock indices have outperformed the ROW as the USD rallied creating  a virtuous circle that has drawn more and more capital to America. Is that changing…or are we just in the low side of the trend channel?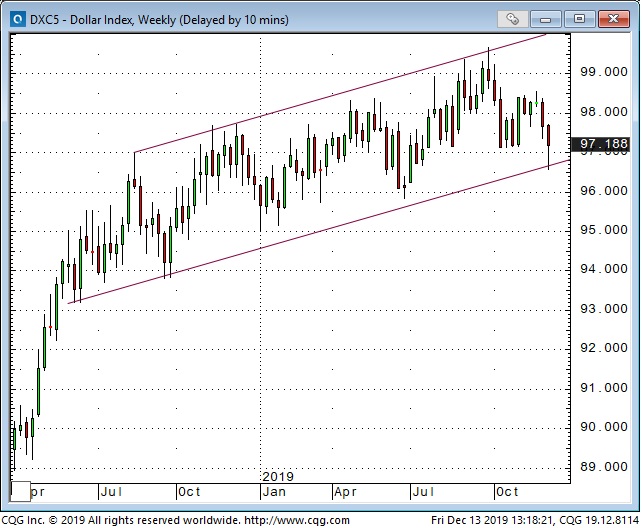 Gold has been in a $30 range for the past month or so after drifting down ~$100 from its Sept 3rd 6 year high. I've thought that the HUGE net spec long futures position left the market vulnerable to a cascade of selling…but that hasn't happened. I've also thought that the $350 gold rally from November last year to the Sept 3 KTD had be "underwritten" by the steep decline in real and nominal interest rates…and that if interest rates were pivoting higher from their historic lows then gold could fall. But it hasn't…at least not yet…and now I'm beginning to wonder if the weaker USD and the Fed's willingness to let inflation run a little hot will give gold a lift. I also think gold would rally if the stock market falls back from its ATH. A close above $1500 could generate some real enthusiasm for gold.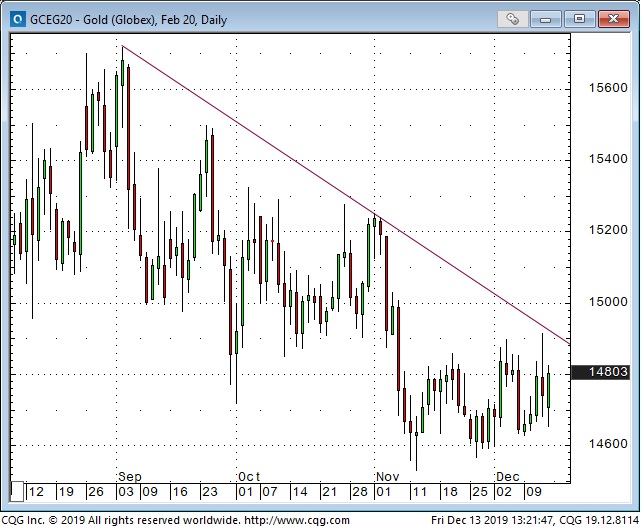 Copper hit a 2 year low on the Sept KTD right around the time that the "recession is coming" narrative was the strongest. As that narrative morphed into "maybe things aren't so bad" copper began to rally and is now up ~ 14% from those lows.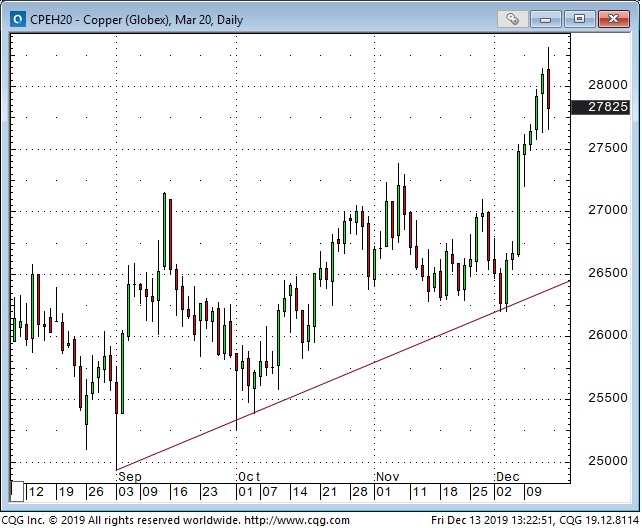 WTI crude oil traded to a 3 month high above $60 this week…despite bearish American inventory reports and IEA forecasts for a small global crude oil glut in 2020. WTI's ~17% rally from the October $51 lows occurred in virtual lockstep with the 11% S+P rally. I have frequently noted over the past couple of years that WTI and the S+P often turn and trend together.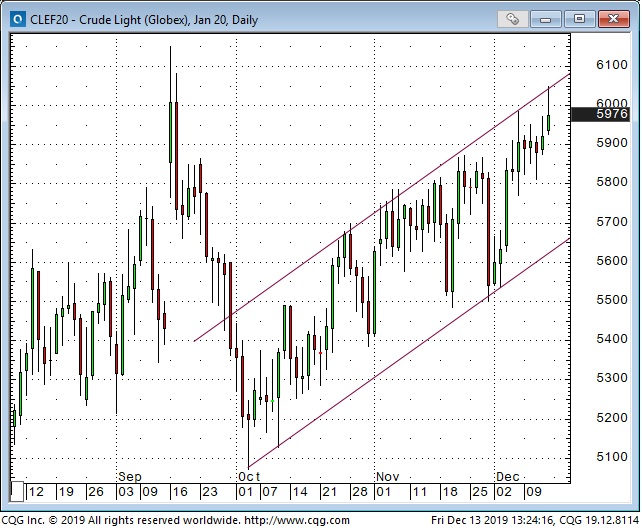 My short term trading: I came into this week flat after a good week last week and the only new trade I made was to buy S+P puts on Tuesday. My thinking was that the breakdown Dec 2 & 3 might have been the first sign of a correction to the strong rally we've seen since early October. I'd caught a good chunk of the Dec 2&3 break, had taken profits and then waited for the market to bounce back. Ideally, I was hoping  it would roll over after failing to make new highs. That seemed to be shaping up this Monday/Tuesday so I bot OTM puts. I'm buying puts to be cautious because it's been a runaway bull market and even if I rationalize that its WAY overdone (at least short term) there is a real risk that it can rip higher. The time to be more aggressive on the short side would be if/when the market takes out last week's lows.
The rally off the Tuesday lows and then the strong Wednesday close had me doubting the trade but I was only a tad offside so I kept it. The Thursday morning Trump tweet sparked a fast 40 point S+P rally and left me wrong on the trade. I should have just covered it…but I didn't because I thought this is probably as good as it gets…bullish news on the trade war, the Fed is seriously accommodative and "when they're yelling you should be selling!"
I also didn't panic out of the trade because my P+L hit was only ~ ½ of 1%…but I still didn't like the idea that I was "avoiding" taking a loss. That's certainly not a good way to trade and I'm usually very quick to cover a trade that's not working. This might be one of those very rare occasions when I "give it a little more time." If the option goes to zero (and I won't let that happen) the max P+L hit will be less than 1%…so I can easily afford to stay in the game and see if stocks weaken next week.
My son Drew Zimmerman and I use the futures market to trade currencies, metals, interest rates, stock indices, energy and other commodities. Please give us a call or send us an email if you'd like to know more about trading futures.
Best wishes,
Victor Adair
SVP and Derivatives Portfolio Manager
PI Financial Corp
Canada
STAY INFORMED! Receive our Weekly Recap of thought provoking articles, podcasts, and radio delivered to your inbox for FREE! Sign up here for the HoweStreet.com Weekly Recap.