December 4, 2019 | The slathering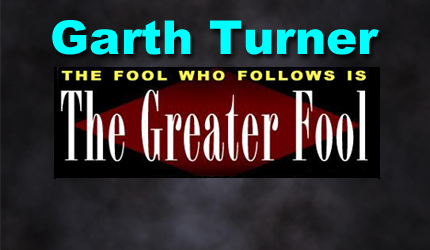 A best-selling Canadian author of 14 books on economic trends, real estate, the financial crisis, personal finance strategies, taxation and politics. Nationally-known speaker and lecturer on macroeconomics, the housing market and investment techniques. He is a licensed Investment Advisor with a fee-based, no-commission Toronto-based practice serving clients across Canada.
Why do big-city houses cost so much and rents are bonkers? Yeah, mortgages are too cheap and house lust too strong. But as big a reason as any comes packaged in one word: investors. Half all new condos and four in ten existing ones have been snapped up by people with no intention of living there. A bunch are speckers who rent them out (many in negative cash flow). A pile more are Airbnbers. In fact that company now has more than 22,000 listings in Toronto alone – at a time when the rental vacancy rate's barely over 1%.
As mentioned here recently, Toronto is trying to crack down on the pseudo-hotel business. So far, no impact. In fact the number of Airbnb places for the GTA has actually increased since anti-rental rules were approved.
Let's compare that with Boston. Politicians there are apparently tough mothers.
Airbnb scrubbed more than three-quarters its listings for the city (from 4,000 to less than 800) this week after Boston banned short-term rentals in any dwelling not owner-occupied for at least nine months of the year. Hosts may own only one single listing (in Toronto there are scads of people with multiple offerings – it's a business), and they must register annually with the city. Plus pay a licensing fee.
"Across the city, rents are growing more and more out of reach," says councillor Michelle, sounding familiar.  "Through closing the corporate loopholes for de facto hotels in residential neighborhoods while preserving homeowners' ability to benefit from home-sharing, the regulations are designed to help more Bostonians stay in their homes."
Expect more of this. Everywhere Airbnb operates it has helped boost property values, turned homes into hotels, depressed vacancy rates, made real estate less affordable and increased rents – as well as endangering the business models and jobs of people legitimately in the hospitality business, many of them lowly-paid and vulnerable. It's a scourge. Like vaping. Tats. And that godawful Drake.
Airbnb is getting ready for a blockbuster IPO next year. Don't even think about investing. You'll regret it.
$     $     $
Also big news: no rate change from the Bank of Canada (as expected) , Trump calls Trudeau 'two-faced' (a step up from blackface) while Calgary is down again, Toronto isn't and Vancouver sputters, despite the headlines.
Cowtown and Montreal remain the two most affordable big-city markets in the nation. Prices in the second-largest urban area have been going up steadily, month after month, while in Calgary it's been a story of continual decline. If you've been trying to flog a condo in Alberta's main city you know the story – falling prices, no buyers, no showings and certainly no offers.  Overall the average price of real estate has dropped another 4.5% from a year ago and sellers are giving up, with listings off 11%.
At least the realtors are being truthful: "Achieving more stable conditions will take time. While the amount of supply in the market continues to ease, the persistent oversupply continues to weigh on prices."
As Wexit sentiment grows, prices will crumble. Be careful, rebels, what you wish for.
More price declines in Vancouver, too. Sales were up a lot from last November (55%) but dropped from the month before (-12%). Prices overall are almost 5% less than last autumn and detached homes have slipped about 6% (to $1.4 million), although a lot more sold (825 as opposed to 516).
So here we are, two years into the Dipper war on VYR real estate and the average price is still just a hair under $1 million. Condos average more than $650,000, and sales of apartments have jumped 50%. Demand has been pushed down to lower price ranges, jacking the cost of units people can afford, while detacheds stay firmly out of reach. And this is in a market where foreign buyers have exited – kicked out by punitive taxes and xenophobic nastiness.
Conclusions: (a) politicians have no idea what they're doing and are making stuff up as they go along. Like the 25% hike coming in the empty-houses levy. Taxing real estate as never before has not crashed prices. Just hurt owners. (b) The Chinese invasion wasn't a thing. Punting offshore buyers hasn't made it any easier for average families to buy average houses. That's because the impact was over-stated by government and media, and gave people something to hate and blame – when they should have been looking in the mirror.
Real estate is a cult and a fetish in the LM. It's all people talk about. It's the goal of their existence on this earth. And they are paying the price of obsession.
Toronto?
The realtors say sales are up year/year (14%), listing down (-22%) and prices ahead (7%). The credit is going to cheap mortgages and a drop in inventory. Of course you will recall that study described here a few days ago which found 70% of sales in a hot Toronto hood were below the asking price. So, who do you believe?
In any case, the average detached house (at $1.36 million) is still lower than it was three years ago, despite all the pumping, the rock-bottom mortgage costs, the political pandering and media slathering. Apparently there are better places to put your money. Who knew?
STAY INFORMED! Receive our Weekly Recap of thought provoking articles, podcasts, and radio delivered to your inbox for FREE! Sign up here for the HoweStreet.com Weekly Recap.