December 20, 2019 | The Shock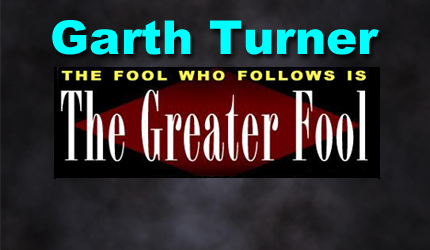 A best-selling Canadian author of 14 books on economic trends, real estate, the financial crisis, personal finance strategies, taxation and politics. Nationally-known speaker and lecturer on macroeconomics, the housing market and investment techniques. He is a licensed Investment Advisor with a fee-based, no-commission Toronto-based practice serving clients across Canada.
Scotiabank offers a "Power Savings Account" with a premium rate of interest. It's 0.02%, but to gain that a balance of $5,000 is required. Under five grand on deposit, the rate changes to 0.00%. Chequing accounts at all of the banks, where most people cycle through the bulk of their income, pay nothing.
High-interest accounts? The best rate at any of the Big Six banks is 1.6%. The best bank GIC is 1.8% for a three-year lock (TD, RBC, BMO) while the top payer is Oaken at 2.7% – which takes your money and lends it out as high-ratio mortgages to people you hope to never meet.
The point? Cash is trash, it seems. Savers have been nailed to the cross of Accommodative Monetary Policy, as central banks keep rates low enough to spur economic growth. The latest inflation number for Canada is 2.4%, the highest in a decade and 25% above last year's number. It also tops the Bank of Canada's benchmark rate of 1.75%, which means we essentially have a negative interest rate policy.
The implications are legion. Mortgages are too cheap, encouraging rampant debt accumulation, pushing up the value of assets bought with borrowed money and hurting society as a result. What's the benefit of owning an expensive house when you owe a fortune on it? Also, why pay off a 2.5% mortgage when the inflation rate is about the same? After all, it's almost free money.
Dawn in Saskatchewan talked with me about that issue this week. Her home is worth $150,000 in a small community and she has $60,000 remaining at 2.39%. She's been making accelerated payments and annual prepayments, doing everything possible to eliminate debt – at the same time she has zero liquid assets and is 15 years from retirement with no defined benefit pension. The money you're using to retire a 2% debt could have made 13% in a balanced portfolio this year, I said. When the big R comes you'll need income more than anything else.
Of course, the inflation numbers understate everything. Food, insurance, gas, home heating fuels, clothes, cars, drugs, kibble – it all costs more than 2% above last year's levels. The carbon tax alone has impacted much. Savers are being crushed yet again. The old maxims of trashing debt and packing cash into things like savings bonds are junk. Those CSBs are actually gone. Now you have to trust some weird, online outfit with your savings just to make more than the cost of living. And meanwhile all interest is taxable outside a RRSP or TFSA.
A negative real central bank rate is a big problem as inflation rekindles. It's surpassed the BoC's target which means a rate cut in 2020 is not in the cards. That would just encourage more borrowing, more spending, asset inflation, a lower dollar and greater imbalance. But a rate hike – normal procedure to cool off rising prices – would be a bitter blow to those legions of Canadians who can barely make existing debt service payments, while corralling economic growth.
Meanwhile the US economy and markets are about to melt up as Mr. Impeached does everything possible to win re-election in November. That could include a China trade deal, more deregulation and quite likely a personal tax cut. The American deficit will erupt, equities surge, wages pop as labour shortages spread and commodity prices jump as the stimulus spreads globally in a post-Brexit world. Yup, more inflation. Washing over us. How will our bank handle it?
This is the big nasty that we've been warned about. A rate shock. Once inflation here moves above 2.5%, on its way to three, the Bank of Canada cannot maintain its current 1.75% level. So next year could contain exactly the opposite of what many people think – loan, mortgage, credit card, HELOC and line of credit charges that get fatter, not thinner.
Will that reward savers?
Nah. Fuggedaboutit. The big banks have been under profit pressure lately (check out the quarterly earnings). Higher rates will increase their spreads helping restore the bottom line. Besides, the bankers know they don't need to give you interest on your chequing account or pad the HISA rate since your behaviour won't change. When 80% of all TFSA money is in savings accounts and GICs, the die is cast.
Our central bank wisely resisted dropping rates when the Fed cut earlier this year. Three times. But the damage was already done. A nation pickled in debt has continued adding to its pile of obligations. Real estate values have been edging up again. The savings rate sucks. Families and households owe more money than the size of the entire economy. And now we seem to be approaching a policy crossroads.
Governor Poloz, the head banker dude, is gone in a few months. Trudeau will anoint a new one. Many will be surprised.
STAY INFORMED! Receive our Weekly Recap of thought provoking articles, podcasts, and radio delivered to your inbox for FREE! Sign up here for the HoweStreet.com Weekly Recap.