December 26, 2019 | The Envelope, Please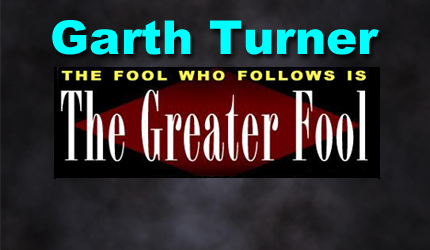 A best-selling Canadian author of 14 books on economic trends, real estate, the financial crisis, personal finance strategies, taxation and politics. Nationally-known speaker and lecturer on macroeconomics, the housing market and investment techniques. He is a licensed Investment Advisor with a fee-based, no-commission Toronto-based practice serving clients across Canada.
1. Justin Trudeau is the prime minister after the Oct. 31 election. What percentage of the vote did he receive in order to form government? (a) 71.4% (b) 33.1% (c) 52.3%
You don't need a majority of voters supporting you to form government in Canada. You don't even need to get the most votes. Trudeau trailed Andrew Scheer in popular support. He's PM and Scheer is soon to be unemployed. Go figure.
2. The composite benchmark house price in Toronto hit its highest-ever point during which month? (a) Nov 2019 (b) April 2016 (c) May 2017
The average detached house price crested two years ago, but the composite benchmark price hit a new all-time high just last month. It was $815,000, up almost 7% year/year. In 416 the benchmark was $903,700, according to real estate board stats. And realtors never lie.
3. When does an RRSP have to be cashed in and taxes paid, or converted to a RRIF (registered income fund)? (a) At age 65 (b) on your 71st birthday (c) by December of your 71st year.
When you turn into a crusty old wrinklie, RRSP contributions end and retirement savings must be cashed (tax is due), turned into an annuity (bad idea with low rates) or converted to a RRIF (retirement income fund). A small amount is then withdrawn yearly and added to your income. The conversion must take place by the last day of the year in which you turn 71. But if you have a younger spouse, contributions can still be made to his/her plan.
4. What's the tax rate on capital gains? (a) 100% (b) 33.3% (c) 50%
When you buy something outside of a tax shelter and make bank – a stock, ETF, baseball card, ounce of gold or real property – it's a capital gain. Half is tax-free. The other 50% is added to income for the year and taxed at your personal rate. Since the top marginal rate in Canada is around 53%, the maximum tax on a capital gain is 27%. For most people, it's closer to a 15% hit. So this is a good way to make money, unless Justin messes it up in the next budget.
5. What's the average detached house price in Canada's second-biggest market, Montreal? (a) $789,540 (b) $1,123,560 (c) 259,000 (d) $350,000
Hard to believe the difference in price between Canada's #1 and #2 markets, just five hours apart by car. What costs over $1 million in the GTA can be yours for $350,000 in Montreal, where prices are up 6% and sales have increased 11% over the past year. Montrealers are complaining about a property bubble, too. Sheesh.
6. What is the maximum contribution to an RESP in order to score the government's 20% grant money? (a) $7,000 (b) $2,500 (c) $750
It's free money, of course. The feds will top you up 20% of a contribution to an annual max of $2,500. There are also some provincial grants available, so check that out. Plus, you can go back a year at a time to claim missed grants. In total, subscribers can sock up to $50,000 into one of these plans, where it grows tax-free. Do it.
7. When did the TSX on Bay Street hit its highest-ever level? (a) Nov 3 2016 (b) Dec 23 2019 (c) July 17 2019
That would be now. Bay Street is on a roll, with the index at a record point, ahead 19.95% so far in 2019, for a 12-month gain of 28.69%. This is despite a collapse in weed stocks, and a lacklustre performance of late by the banks. The Canadian market was clearly under pressure and undervalued a year ago. Remember: never exit an asset class. Here's an example why.
8. What's Elon Musk worth? (a) $14 billion (b) Nothing. He owes more than he has (c) $23 billion
He's the longest-serving CEO of a car company, but Musk is also the guy behind PayPal, SpaceX, a red Tesla convertible in orbit, the failing solar roof-tile enterprise (among other things) and is on the SEC's hit list of troublesome people who enjoy giving regulators the finger. How can you not like him? And he's worth $23 billion.
9. What's B20? (a) Boeing product (b) Cannabis edible (c) stress test
It's real name is the Residential Mortgage Underwriting Practices and Procedures Guideline, issued by the bank regulator (OSFI). Yes, it contains the mortgage stress test designed to protect the integrity of the banks' mortgage portfolios. They were under assault from the Bank of Mom, with too many moisters being gifted down payments thereby avoiding mortgage insurance. No more. Now everybody must prove they could handle a rate increase. Good thing. One's coming.
10. When bond yields rise what happens? (a) An inversion (b) Bond prices fall (c) Stocks rise
There's an inverse relationship between bond yields and prices. So as yields go up bond prices fall. Normally higher interest rates depress equity values so by owning bonds an investor can achieve balance and less overall volatility. The best way for most people to own bonds is through an ETF.
11. What's the maximum TFSA contribution for 2020? (a) 5,000 (b) 6,000 (c) $6,500
It stays at six grand for 2020, due to our relatively low inflation rate. When the Trudeau government chopped the annual contribution from $10,000 it also indexed the limit, so there may be a small increase in 2021. If you wish to feel inadequate, compare our TFSA to the British equivalent, the ISA. The current annual ceiling there is the Canadian dollar equivalent of over $34,000.
12. Who did Bill Morneau marry? (a) Mrs. Morneau (b) Jane Philpot (c) Nancy McCain
Nancy McCain is heir to the privately-held family fortune (McCain Foods) which is currently estimated to be $4.51 billion. Bill owns about two million shares in his family's company, Morneau Shepell, worth about $40 million, and declaring $140,000 a month in dividends. Power couple. But he feels for you.
13. Since pot was legalized in October of 2017, how much have investors lost on cannabis stocks expressed as an average negative return? (a) 14% (b) 57% (c) 38%
It was a classic bubble. Some people who got in early and cashed out fast, made a bundle. Most others have seen the average weed issue fall by 57%. Now there are health concerns about vaping, while edibles are hitting the market even without regulatory testing. Weed sales have been way below expectations and as long as Trump's around, the US won't be joining the party any time soon.
14. When does Stephen Poloz quit as head of the bank of Canada? (a) January (b) June (c) 2021
He's gone at the end of a seven-year term this summer. Less flashy than Mark Carney, who went on to lead the Bank of England and will soon be working with the UN to prepare the global financial sector for climate change, Poloz has been workmanlike, low-key and successful at keeping Canada growing. The cost has been an asset bubble puffed up by cheap money.
15. What's the difference between a TFSA beneficiary and successor holder? (a) Children cannot be a SH (b) Beneficiaries get paid faster (c) A SH inherits the account
A beneficiary to a TFSA gets the money or assets contained in that account when the holder croaks. But the account is deemed to have been cashed at the moment of death, so tax could accrue on growth before the bene receives it. A successor holder in effect takes control of the tax-free account at the time of the owner's death and assumes ownership. No tax. To pull this off, you need a spouse.
16. Why are preferred shares preferred? (a) Dividends are paid first (b) The dividend tax credit (c) Issued by regulated, blue chip companies
Preferreds are a hybrid of stocks and bonds. Technically they're equities, but the dividends are fixed and they're more stable than common stocks. They are preferred because dividends must be paid out to owners before a single cent is paid to those who hold the company's common stock. These days prefs deliver close to 5%, plus offer the dividend tax credit.
17. What's a basis point? (a) Part of credit scores (b) One 100th of 1% (c) A bond measurement
One percentage point is made up of 100 basis points. If you have a credit score of 100 you probably like the Trailer Park Boys.
18. Capital gains on houses are tax-free if: (a) You have owned it for at least a year (b) only if the PR Exemption is claimed (c) It has never been a rental
There is no set time limit on ownership of residential real estate to qualify for tax-free profits. It's what the CRA thinks it should be, on a case-by-case basis. That's how they catch flippers, speckers and renobombers. As for renting out a place, that may not affect the PR exemption unless it alters the basic use of the property or involves renovations. In any case, no exemption will be allowed unless you apply for it through your annual tax return. This has been the case since 2016, when the recording of all transactions became mandatory. Guess why.
19. The limit on bank deposit insurance is: (a) $100,000 (b) unlimited (c) Up to $700,000 per institution
CDIC will cover an account at a single institution for up to $100,000. But this is only for cash or cash-equivalent assets like HISAs or GICs. No stocks, mutual funds, ETFs, bonds or other negotiable assets are included. However you can have accounts at several banks, all insured. And CDIC will actually cover seven different kinds of accounts to the maximum at any one bank.
20. How long, in dog years, is the average stock bear market? (a) 13.2 (b) 2.3 (c) 8.1
Since WW2 the average bear market (a drop of 20% or more) has lasted 14 months, while corrections (a decline of 10% to 20%) have taken an average of five months to recover. If we assume one year equals 7 dog years, the average bear lasts a little over eight DYs. But your canine doesn't care. And neither should you.
STAY INFORMED! Receive our Weekly Recap of thought provoking articles, podcasts, and radio delivered to your inbox for FREE! Sign up here for the HoweStreet.com Weekly Recap.