December 11, 2019 | The Big Proboscis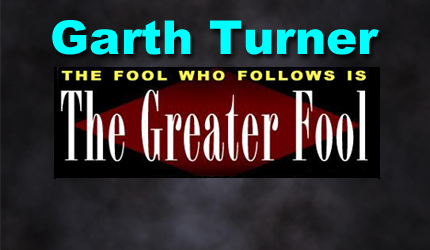 A best-selling Canadian author of 14 books on economic trends, real estate, the financial crisis, personal finance strategies, taxation and politics. Nationally-known speaker and lecturer on macroeconomics, the housing market and investment techniques. He is a licensed Investment Advisor with a fee-based, no-commission Toronto-based practice serving clients across Canada.
Hey, time for another ok-Boomer paranoia blog. While the kids today are perfectly compliant when it comes to gutting the notion of property rights and happy to stick it to existing homeowners and rentiers, the crusty ones are not. In an overtaxed land, using more taxes to drive down asset values is a flawed idea. But what else would you expect from Dippers and moisters?
Hence, this post.
In a couple of weeks BC will start taxing raw land to make houses more affordable and increase rental units. Yes, that's NDP logic. Although nobody can live on vacant land, it's bad. Taxable. And at a withering rate of 2% per year of its value.
In fact the 'speculation tax' which is really a grab from Albertans and other non-locals silly enough to own property in BC is rising four-fold as of the new year, from 0.5% of the market value to 2%. That's atop municipal land taxes, acquisition and ownership costs. Last year the province Hoovered off $115 million from owners, many of them families which have used their places for decades as cottages or cabins. So, this is just a tax on wealth – the pointy tip of a giant, hairy government proboscis now thrusting into private wealth. Not income, but assets. Big difference. Pay attention.
There's more. If you own real estate, forget about privacy.
BC is the first jurisdiction (there will be more) to erase the right to keep private all personal information, including your email address and SIN. Property owners on the spec tax list must now surrender name, address, date of birth, social insurance number and email details, "which are necessary for the program of administering the tax."
You may not live in BC. Or have property there. Or be subject to this arbitrary levy. But this is the future.
Now to Hamilton where councillors there love what they see out West.
The city's politicians have voted unanimously to craft a new tax on 'empty' homes, just like the one helping to degrade owner  rights in Vancouver. Of course, council admits there's no data on speculation happening in the city. Nor on the number of residential units that are not rented or occupied full-time. Absent is information on what impact speculators may have had on real estate prices. But, of course, such details are moot when there is… anecdoctal information!
"I've received anecdotal information from residents that they cannot find housing accommodations in our city," says the pol spearheading the move. "At the same time, there's also anecdotal information I've received from other neighbours that they know there's buildings that are sitting vacant. Not just buildings, but homes. Homes that could be rented out."
By the way, rents in the Steel City average $1,600 – and that's for all properties, including houses. One-bedroom apartments go for $1,100 to $1,500. Down the QEW in Toronto, by comparison, one-bedders DT range from $2,500 to $3,200 for a small box. The average price of a detached house in Hamilton is $575,000 – or about $900,000 less than in 416, an hour away. The year/year increase in 2019 was 4.3% and sales grew 5.5%. Toronto prices advanced 7% and sales spiked 14%.
So is Hamilton a hotbed of speculation? Nah. Hardly.
It's just another grab, more snouting into the brave new world of wealth taxation. The argument that taxing real estate held as an investment asset will make housing more affordable for low-income folks is specious. The most 'affordable' housing in Vancouver, for example, has been the segment with the greatest price hikes since NDP taxes blossomed. Rents have gone up, not down, since the socialist hordes started vacuuming the investor class. The only real impact has been on the value of detached and luxury homes, partly because non-BC owners are now so discriminated against.
Does housing cost too much?
In urban Canada, for sure. This is largely the result of interest rates which promote excessive borrowing plus our policy of not taxing residential real estate profits, encouraging massive ownership. Face it: we've created a property cult. Houses are unaffordable not because of speculators, hoarding by the wealthy, or boatloads of rich Chinese dudes. Whacking empty houses, part-time residences, second homes or cottages will do squat for valuations or rents. But it will flow more taxes.
Which is the point. And this is the start. Now get off my lawn.
STAY INFORMED! Receive our Weekly Recap of thought provoking articles, podcasts, and radio delivered to your inbox for FREE! Sign up here for the HoweStreet.com Weekly Recap.