December 3, 2019 | Six Words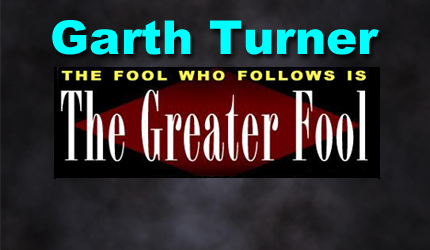 A best-selling Canadian author of 14 books on economic trends, real estate, the financial crisis, personal finance strategies, taxation and politics. Nationally-known speaker and lecturer on macroeconomics, the housing market and investment techniques. He is a licensed Investment Advisor with a fee-based, no-commission Toronto-based practice serving clients across Canada.
Trump snorted and stocks got the shakes this week. Fresh from hitting record highs, equity markets shed hundreds of points. The issue? China. After  hinting a trade deal was at hand, Tariff Man reappeared saying he was in no hurry to sign anything. In fact a new set of levies may be imposed on the 15th. It's a risk-off moment. Down she goes.
There are three points in today's blog post. (A short quiz may be taken later.)
First, this has been a boffo year. Anybody cowering in cash and afraid to invest has robbed themselves or their clients. American equity markets have given a total return of more than 20%. Even Bay Street has been a star, despite energy woes and a silly federal election. Balanced, diversified portfolios are ahead double-digits, and the four-year advance has been more than 25% – despite the plop in 2018, Trump, trade wars, volatility, Brexit, inverted yield curves and the girls on Tiktok. It sure pays to stay invested.
Second, Trump could well trash the Santa rally. New tariffs in 12 days' time, coming after the pro-Hong Kong, anti-Beijing message from Washington are enough to heat the trade war to a new boil. Obviously the wily but weird president wants to save the big détente for closer to the 2020 election campaign, so he can blow up the Dems. But it'll come. That probably makes what's ahead over the next month or two a buying opportunity, if you have cash. And guts.
Third, the storm is over. There's no recession on the horizon for the US. No reason to hunker in cash or a GIC. The yield curve is the banana it should be. Central banks have been (like me) serious but  stimulating. Corporate profits solidly beat expectations. Unemployment in the States is at a 50-year low. Consumer confidence and spending are strong. Global growth is steady. And there's big momentum.
"We find that the signs of a global cyclical recovery are firmly in place," says Van-based equity analyst Cam Hui. "Both U.S. and non-U.S. equity indices have flashed long-term buy signals that have proven to be remarkably effective in the past."
So, it's a 'buy' signal, he says.
Global recovery firmly in place: 'Buy'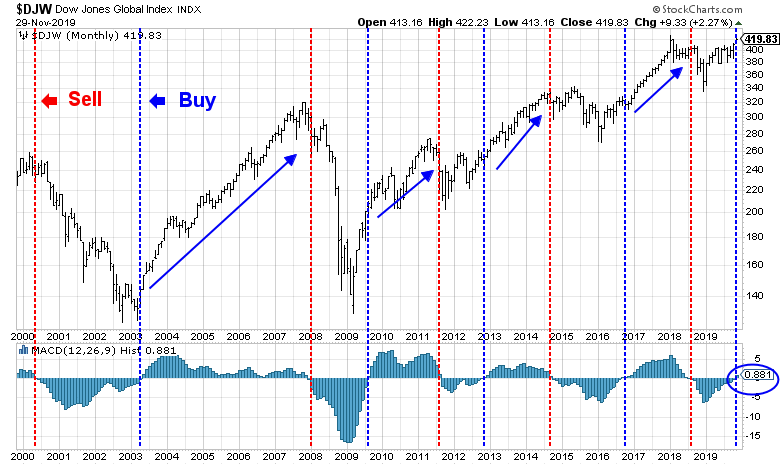 Source: Pennock IdeaHub. Click to enlarge.
If you believe this, stay invested. Even if December, 2019 turns out to be a pale imitation of the final weeks of last year, when Trump again did his grinch thing. Everybody with liquid assets should expect markets to gyrate, vibrate and occasionally capitulate. It's normal. Traditionally there's a 5% plop a couple of times a year (a "pullback"). Meaningless. Once every three years or so there's a market decline of between 10% and 20% (a "correction'). They're short and shallow, normally regaining all lost ground in about four months. Most of the time a correction doesn't signal bigger losses coming. Occasionally it does. A drop of more than 20% (a 'bear market") is painful – we had one at this time last year – but equities have always recovered. So the only people who are truly whacked are those who panic and bail.
Humans are consistent in their emotions. We fret over losses more than we relish gains. Fear has always trumped greed, but those two emotions are the primary drivers of all markets – from stocks to houses. Meanwhile logic and experience show us that investing, staying invested and investing more when everybody is freaking out, is an excellent strategy.
If all you did were to find a hundred bucks a week starting from zero, and stick it into your TFSA in assets pacing the major stock markets (through an ETF) for your working life (35 years), you'd end up with $784,000. That would provide a tax-free income of $47,000 forever without diminishing the principal. Add in OAS and CPP and that becomes an income of about $65,000, and no tax. Add a spouse doing the same thing and you have household income of almost $130,000. And a tax rate of about 9%.
To clarify: that's without putting money in RRSPs. Never having a non-registered investment account. No corporate pension. No inheritance. No lottery winnings. No GoFundMe page. Not even any crime involved. Just one simple action.
So here's another chart. The market advances are in green. The contractions in red. Over the last half-century you can see what happened. Those who let fear win, lose. Six words to remember.
Big bulls, little bears. The 50-year story.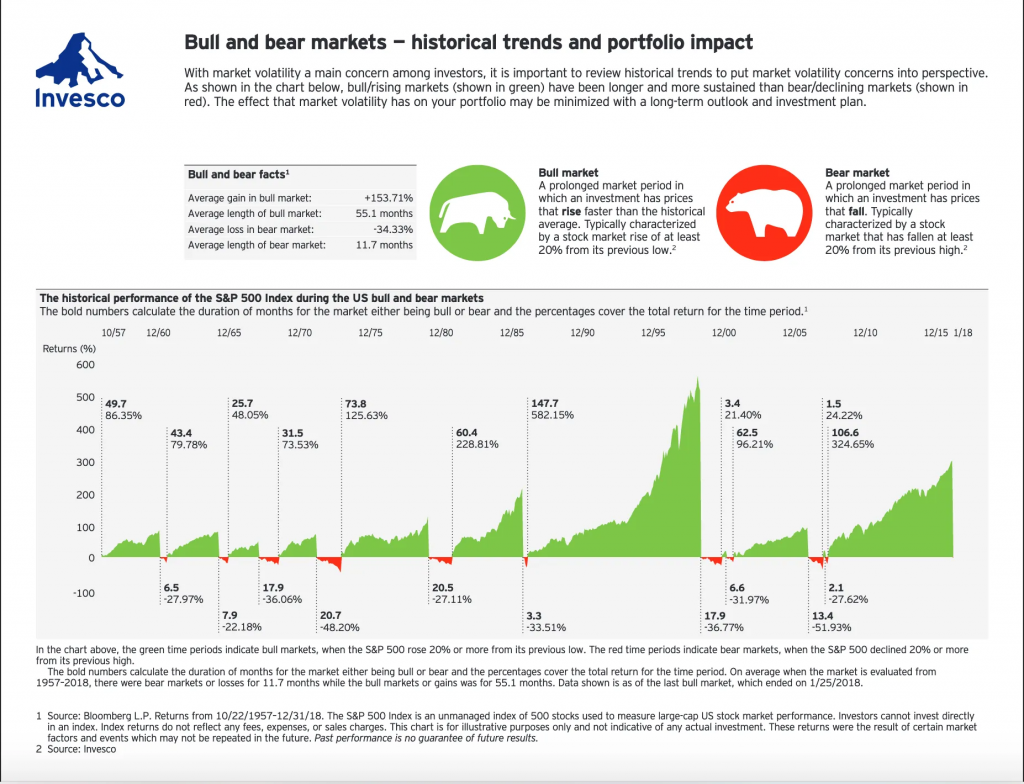 STAY INFORMED! Receive our Weekly Recap of thought provoking articles, podcasts, and radio delivered to your inbox for FREE! Sign up here for the HoweStreet.com Weekly Recap.