December 27, 2019 | Signs Of A 2020 Top: "Buyers Return to Riskiest Junk Bonds"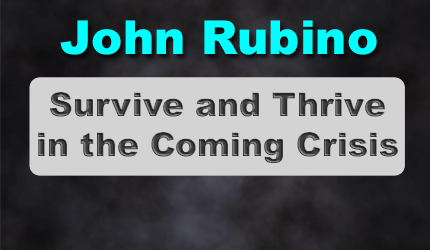 John Rubino is a former Wall Street financial analyst and author or co-author of five books, including The Money Bubble: What To Do Before It Pops and Clean Money: Picking Winners in the Green-Tech Boom. He founded the popular financial website DollarCollapse.com in 2004 and sold it in 2022.
If you're managing money and need positive results in the year ahead, you're in a tough spot. Stocks are at levels that in the past have preceded cycle-ending crashes while high-grade bonds yield virtually nothing but could easily produce big capital losses if interest rates rise even a little.
What do you do? Retire, if you care about your health. But if you choose to stay in the business, you'll have to move waaayyy out on the risk spectrum. In fixed income, that means not just junk, but extreme junk. From this week's Wall Street Journal:
Bonds with the lowest junk credit ratings have rallied in December, rebounding from a beating taken this fall, as fund managers prepare for 2020 by adding risk to their portfolios.

The junk-bond bounce comes as optimism about global growth and easing trade tensions stokes investor appetite for other risky assets such as copper.

"People are looking at their funds and thinking 'what can generate performance next year?'" said Eric Hess, credit analyst at mutual-fund manager Newfleet Asset Management. With higher quality bonds trading near record highs, investors are dipping back into the riskiest patch of high yield, he said.

Bonds rated triple-C—one of the lowest ratings rungs in the below-investment-grade category—returned 4.7% this month through Dec. 23 counting price changes and interest payments, according to data from Bloomberg Barclays Indices. The rebound erased the 3.2% loss triple-C bonds posted from August to November, when fears of rising defaults prompted investors to dump riskier debt and buy the safest high-yield bonds rated double-B.

The flight to safety this autumn helped double-B bonds gain about 14.6% this year through Dec. 23, pushing yields of the safer debt to a near-record low of 3.5% from around 6.2% at the end of 2018, according to data from Bloomberg Barclays. The yields bonds pay investors drop when prices rise.

At such tight yields, double-B bonds are far less likely to outperform next year, analysts said.

"We don't like them because there is nothing left there in terms of upside potential," said Oleg Melentyev, high-yield strategist at Bank of America Corp. "The only pocket of opportunity left is in lower quality names."
There's just one little problem. In the following Bloomberg interview, economist David Rosenberg explains that record high corporate borrowing isn't generating more capital spending; it's just producing more leverage.
Think this through for a minute: Continued economic growth requires more credit creation, but only the riskiest sectors of the economy feature bonds that are attractive to investors. The result: The weakest companies raise the most debt, and the financial system gets riskier without producing the wealth that's necessary to offset the mounting risks.
2020, in short, is looking like a typical end-of-cycle year, just waiting for a pin to pop the bubble.
STAY INFORMED! Receive our Weekly Recap of thought provoking articles, podcasts, and radio delivered to your inbox for FREE! Sign up here for the HoweStreet.com Weekly Recap.