December 18, 2019 | Of Sheds and Men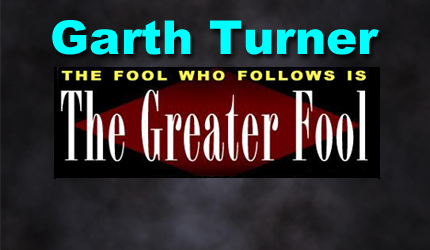 A best-selling Canadian author of 14 books on economic trends, real estate, the financial crisis, personal finance strategies, taxation and politics. Nationally-known speaker and lecturer on macroeconomics, the housing market and investment techniques. He is a licensed Investment Advisor with a fee-based, no-commission Toronto-based practice serving clients across Canada.
Ottawa is such a riotous place that we have yet another report today on what may be about to shake the real estate world. But first, a glimpse into the wonderful world of amateur (and illegal) landlording, also from the nation's capital.
This Kijiji listing has appeared, looking for a nice "professional working male" who is daft enough to move into some lady's garden shed in the burbs. Gail writes:
SHORT OR LONG TERM STRESS FREE STUDIO/ROOM, NOT LOCKED INTO A LEASE. SEPARATE FROM MAIN HOUSE, FULLY FURNISHED. FRESHLY PAINTED, WELL INSULATED, HEATED & ELECT. INCLUDED. IMPECCABLY CLEAN & QUIET FOR A PROFESSIONAL WORKING MALE. QUICK ACCESS TO DOWNTOWN & HIGHWAYS. ALL CONVENIENT STORES AT YOUR DOOR-STEP. SNOWPLOWED PRIVATE PARKING & CLEANING SERVICE OF LINENS & VACUUMING PROVIDED. All you need is your suitcase ! Please communicate by phone. Reference is required
ALL INCLUSIVE_ COMFORTABLE NEW MATTRESS WITH QUALITY LINEN _ UNLIMITED WIFI , TV _ SMALL KITCHEN TABLE, FRIDGE, MICROWAVE, _ COFFEE MAKER, KETTLE , TOASTER, DISHES & UTENSILS _ COMFORTABLE WORK CHAIR AND DESK _ AMPLE SHELVES, DRESSERS< LARGE ITALIAN CLOSET & STAND UP COAT & HAT HANGER _ LAUNDRY FACILITIES INSIDE _ TENANTS PRIVATE PARKING _ & BACK YARD PRIVACY. IT COULDN'T BE MORE QUIET !
SHORT & LONG TERM RATES : NOT BOUNDED TO A LEASE
– $50. per night, minimum a week – $ 450. /2wks – $650.mo. 4wks _ $675. mo.4wks, Inclu. Private Parking
Of course if this were in Vancouver, Gail could sell it for $899,500. Anyway here it is, inside and out: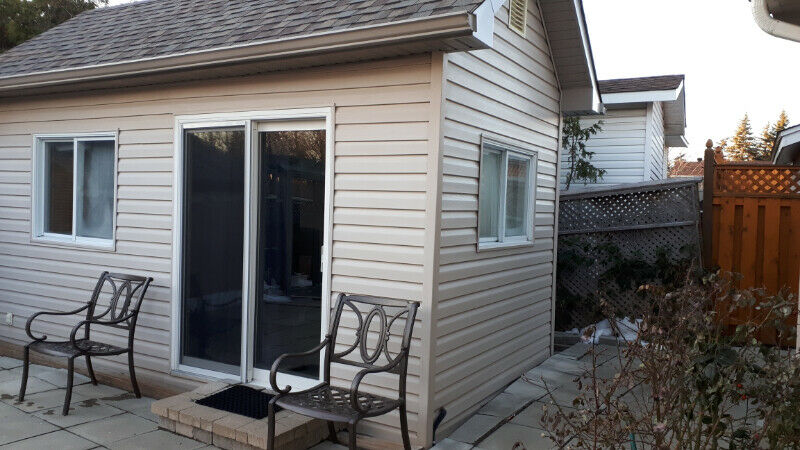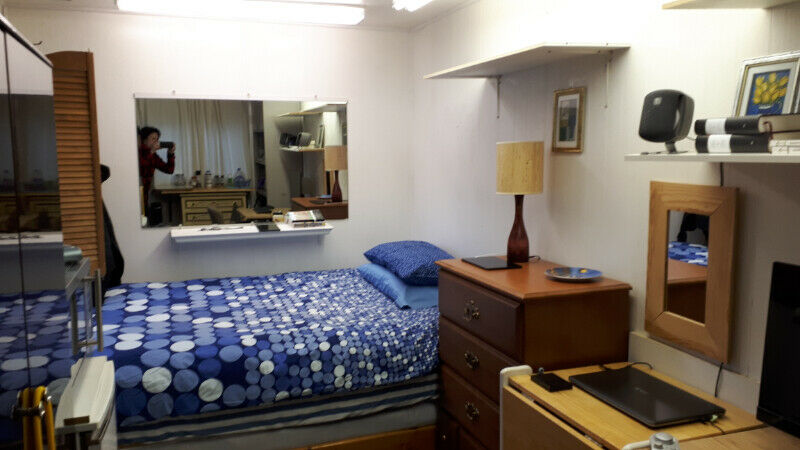 $     $     $
Yesterday regional finance ministers beat on Morneau for more money than the $81 billion Ottawa will transfer to the provinces this year. What will Bill do? Cave, of course. There are Quebec separatists in Parliament and Wexiters organizing in AB. Several provinces are suing over the carbon tax and every single government wants more health care cash. No doubt the Trudeau minority government will pony up more – then have to cover that with increased tax.
As we told you yesterday the federal finances are already deep in the red, suggesting the prime minister fibbed during the election. Just weeks after the vote we learned about a massive job loss in November (over 70,000 people punted) and a way bigger hole in the budget (another seven billion in deficit). The projections Morneau gave us Monday did not take into consideration massive new spending announced during the campaign (expanded child payments and the shared equity mortgage, among more), and certainly not the new billions provinces will get.
But does anyone care?
Well, this is interesting. It's a poll done by Bloomberg asking the elitist, rabid, right-winger, capitalist, Porsche-driving overlords who populate that site to weigh in on the financial plan the government unveiled this week. They're not buying it. Maybe you shouldn't either. Man those tax shelters!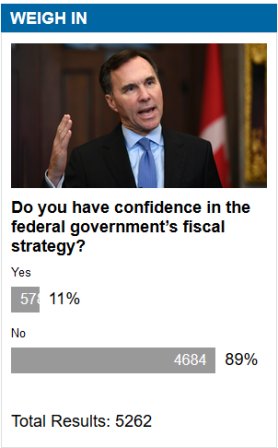 $     $     $
More Bill. The PMO gave our finance guy a mandate letter recently telling him to review the mortgage stress test to make it "more dynamic." That's been interpreted in real estate circles as a defanging of the rules which have kept up to 20% of young buyers on the sidelines, depressed sales and jacked the price of lower-cost homes. You may recall this was the Cons' position during the election. Not their finest hour.
Details have yet to emerge on how the test will be neutered, but meanwhile comes news people may once again be able to mortgage $1 million+ houses with small downpayments. You may remember that dearly-departed F, the elfin deity, put the kybosh on this seven years ago as a way of cooling off the market. Prior to that buyers could finance a seven-figure house with just 5% down and a CHMC-insured home loan. After the change, the minimum deposit was made 20% and no taxpayer-backed mortgage.
Now, reports broker/blogger Rob McLister, Genworth has applied to the feds for permission to insure million-dollar-plus mortgage when a buyer has but 10% down on a property worth up to almost $2 million. The good news is that the buyers would have to pay their own loan insurance (costing maybe 4% of the face value), so CMHC wouldn't cover. The bad news is this helps cause house price inflation.
The target market: young, highly-paid professionals (doctors, lawyers, dentists, people who publish free financial blogs) with fat incomes but little saved, who are happy to shoulder one mother of a big borrowing. Genworth and others see this as a beachhead for the creation of a privately-insured mortgage market in Canada, taking some pressure and risk off CMHC or the banks. Good thing, since taxpayers today are on the hook for the vast majority of all residential loans.
By the way, what do you need to buy a $1.75 million house in Toronto with 10% down?
Cash of $175,000 plus enough to cover land transfer tax of $62,950 and $6,300 for insurance, then monthly payments of $7,500 (plus insurance and property taxes), requiring an income of a bit less than $270,000. And that would buy you an unrenovated bung in midtown.
Or, you can call Gail.
STAY INFORMED! Receive our Weekly Recap of thought provoking articles, podcasts, and radio delivered to your inbox for FREE! Sign up here for the HoweStreet.com Weekly Recap.