December 25, 2019 | Now What?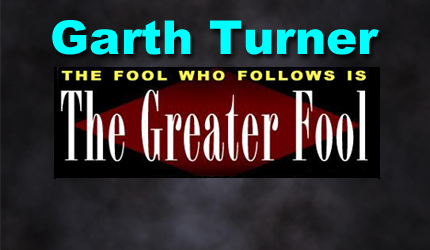 A best-selling Canadian author of 14 books on economic trends, real estate, the financial crisis, personal finance strategies, taxation and politics. Nationally-known speaker and lecturer on macroeconomics, the housing market and investment techniques. He is a licensed Investment Advisor with a fee-based, no-commission Toronto-based practice serving clients across Canada.
Okay, it's over. Presents done. Kids jollied. We're all bored now.
So, let's have a wee quiz, just to see if you've been paying attention to this pathetic blog over the past year. Answers tomorrow. Do not cheat and ask your 5-year-old niece to Google any of the questions. Be humble.
1. Justin Trudeau is the prime minister after the Oct. 31 election. What percentage of the vote did he receive in order to form government? (a) 71.4% (b) 33.1% (c) 52.3%

2. The composite benchmark house price in Toronto hit its highest-ever point during which month? (a) Nov 2019 (b) April 2016 (c) May 2017

3. When does an RRSP have to be cashed in and taxes paid, or converted to a RRIF (registered income fund)? (a) At age 65 (b) on your 71st birthday (c) by December of your 71st year.

4. What's the tax rate on capital gains? (a) 100% (b) 33.3% (c) 50%

5. What's the average detached house price in Canada's second-biggest market, Montreal? (a) $789,540 (b) $1,123,560 (c) 259,000 (d) $350,000

6. What is the maximum contribution to an RESP in order to score the government's 20% grant money? (a) $7,000 (b) $2,500 (c) $750

7. When did the TSX on Bay Street hit its highest-ever level? (a) Nov 3 2016 (b) Dec 23 2019 (c) July 17 2019

8. What's Elon Musk worth? (a) $14 billion (b) Nothing. He owes more than he has (c) $23 billion

9. What's B20? (a) Boeing product (b) Cannabis edible (c) stress test

10. When bond yields rise what happens? (a) An inversion (b) Bond prices fall (c) Stocks rise

11. What's the maximum TFSA contribution for 2020? (a) 5,000 (b) 6,000 (c) $6,500

12. Who did Bill Morneau marry? (a) Mrs. Morneau (b) Jane Philpot (c) Nancy McCain

13. Since pot was legalized in October of 2018, how much have investors lost on cannabis stocks expressed as an average negative return? (a) 14% (b) 57% (c) 38%

14. When does Stephen Poloz quit as head of the bank of Canada? (a) January (b) June (c) 2021

15. What's the difference between a TFSA beneficiary and successor holder? (a) Children cannot be a SH (b) Beneficiaries get paid faster (c) A SH inherits the account

16. Why are preferred shares preferred? (a) Dividends are paid first (b) The dividend tax credit (c) Issued by regulated, blue chip companies

17. What's a basis point? (a) Part of credit scores (b) One 100th of 1% (c) A bond measurement

18. Capital gains on houses are tax-free if: (a) You have owned it for at least a year (b) only if the PR Exemption is claimed (c) It has never been a rental

19. The limit on bank deposit insurance is: (a) $100,000 (b) unlimited (c) Up to $700,000 per institution

20. How long, in dog years, is the average stock bear market? (a) 13.2 (b) 2.3 (c) 8.1
Good luck! All winners will receive a Wexit ballcap full of unicorn fur.
STAY INFORMED! Receive our Weekly Recap of thought provoking articles, podcasts, and radio delivered to your inbox for FREE! Sign up here for the HoweStreet.com Weekly Recap.